How to promote your blog when you're a brick-and-mortar store
If you have a brick-and-mortar store, adding a blog to your marketing mix can be an exciting thing to ponder, particularly if this is the start of your transition to digital. Questions run through your mind: Will people like it? Will they even read it? How the heck will they find it? How will you promote it?
One of the keys to success is a seamless, reader-focused blog launch plan.
Here are the things you need to know.
Build an email list to promote your blog before it launches
If you have an existing site…
Find a prominent spot on your site to start talking about your upcoming blog. Go beyond an announcement that just says, "coming soon." Get people so excited about your topics and plans that they will want to subscribe before you even publish your first post.
There are several options for starting your email list, from signups in the sidebar to pop-ups, and everything in between. While pop-ups have their pros and cons, be careful about making the decision based on your own personal feelings. Because even if they are annoying to you, the truth is, they work. So do your research and consider finding a few to test on your site.
If you don't have an existing site…
Create a landing page and find ways to drive people to it. In its simplest form, your landing page will be just a single page that you send people to for a brief announcement, with a sign-up to be notified when you launch your blog.
Consider offering an incentive. If you are a B2B business, consider offering a white paper or a useful guide. Don't be worried about the people who will sign up only to get the gift and then unsubscribe the first chance they have, because there are always a few of those. But for the most part, these are your customers who already know and like your stuff. Enough of them will give you a chance.
If you're using WordPress, several plugins allow you to create a landing page or a '"coming soon" page. But be sure to offer a teaser or a small taste of your content and a signup form because "coming soon" is not enough of an enticement.
Take advantage of social media
You might have a Facebook page that has served as your business's online presence. Now that you are ready to launch that blog, don't hesitate to share it with the world. Facebook is another good place to give readers teasers that will show them what they can expect on your new blog. From there, send them directly to the landing page so they can subscribe.
Consider using Facebook ads or promotions to get the word out and increase your pre-launch subscription numbers. You can even create a separate tab on your Facebook page.
Take advantage of your other social platforms as well. If you are on Twitter, intersperse your regular tweets with your blog launch news. If you are active on Pinterest and Instagram, add visuals to promote the new blog. Get it out as much and as often as you can.
Leverage your current marketing activities
Are you sending out postcards? Do you send a newsletter out to clients via mail or electronically? Are you running ads elsewhere, in print and online?
Find creative ways to include the announcement of your blog. If you have a current physical or digital mailing list, include interesting information about your new blog. If you offer an incentive for people to sign up, make that section prominent.
Embrace your brick-and-mortar advantage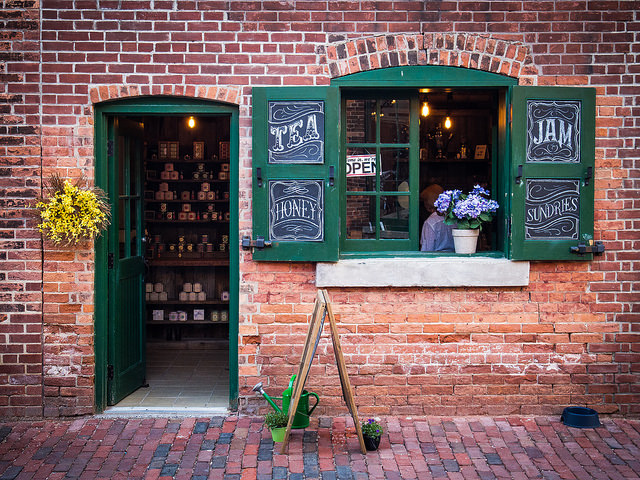 If you have a physical store, you are ahead of the game because you have a customer base that is already coming to you. Take advantage of all the face-to-face interaction you've had with your customers — and the deeper relationships you've developed.
Signage
If appropriate, create in-store signage about the blog. Although most people won't take the time to write down your new blog address, it will still be a visual introduction that will stick in their heads. Have fun and be creative. Try humor, if appropriate.
Business cards
If you hand out a lot of business cards, get new ones printed up with your blog's URL on them. They are much easier to put in the pocket vs. a postcard or some other full-sized printed piece.
Drop an announcement in the bag
Insert small postcards or flyers in your bags. Although you might question just how many people will take the time to read it, it's worth it even if you just have a small base of loyal customers.
Add something to the receipt
If you are able to add information to your receipts, consider adding your new blog address. A lot of people do check their receipts and it may get them online and checking you out.
Talk to your customers
This is your biggest advantage. Make sure you and your employees mention the new blog to your customers. But also make sure that it fits naturally into the conversation and doesn't come across as just another sales pitch.
Building your blog readership takes time
Not only does a blog take work to put together and keep current, it also takes time to get the word out. As with anything, you can't just build it and expect people to come. Be patient and provide good content.
Building a successful following can take anywhere from 12 to 18 months. Share your expertise with the world and keep on sharing. And if you try some of these strategies for pre-launch, you'll be a step ahead.