How to sell art: New year, new strategies
Trying to keep up with the newest trends in art marketing can make you feel a little bit crazy. New phone apps and eCommerce marketplaces that claim to sell art are constantly being launched. But are they really the best way to grow a solid, long-term business?
What are the most effective ways to sell art in today's competitive online retail environment?
Rather than chasing trends, artists and makers who want to increase sales this year should focus on making a lasting connection with their audience, while offering a variety of merchandise that's profitably priced.
Here are my top three strategies for artists who want to sell more work in 2018.
3 strategies for selling art in 2018
Potential buyers of your work are all around you. Here are my tips for connecting with more of them.
Convert followers to email subscribers.

Vary your price points and offerings.

Use tech to your advantage
Want to sell more in 2018? A few strategic moves will help.
1. Convert followers to email subscribers
Social media sites like Facebook and Instagram are in business to make money, and they are using new algorithms and policies to force users like you to pay for engagement.
You might have noticed this yourself, if you struggle to reach followers who once saw your posts easily.
While it's fine to build a social media following, you must make it a priority in 2018 to pull those followers into your own email subscriber list.

Artist Kelly Kincaid, creator of Jetlagged Comic found this to be true for her popular cartoons. Jetlagged appeals mainly to flight attendants and crew members in the airline industry.
"After five years of building a Facebook fan base, I had 64,000 followers I could market to," says Kelly. "But then Facebook changed the rules. I had to pay to link posts from my website to my fan page. I suddenly realized I needed to change things, and fast! I began converting my social media fans to website email subscribers."
Taking control of her own future
Here are the steps Kelly took to sidestep the rising costs of marketing her work via Facebook:
Placed an email subscription link on her Facebook page to encourage subscriptions.
Put a link in every Facebook post to lead readers to her own website, which has a popup email subscription offer with an incentive to subscribe.
Ran a contest to encourage followers to join her email list.
Within a few weeks, she had hundreds of new subscribers on her email marketing list. Because she owns the list, she can sell art and other merchandise directly to them — no middleman.
Basing your business solely on social media is like renting space on someone else's website.
They are in control, and can grant or deny access, charge you for services — or even delete your account. Email marketing to your own proprietary list of subscribers is the most effective way to cultivate your audience over time. Tools like GoDaddy Email Marketing make it easy to turn that list into an automated stream of emails that generate interest — and sales.
Because you own the list, you are in control of when and how to reach out to your audience. It puts you in a position to more effectively market and sell art, and gain repeat sales, too.
2. Vary your price points and offerings
Why sell art originals only, when you can increase sales by selling a variety of products that feature your work?
For years, artists have offered reproductions made by fine art printers to offer lower-priced versions of their original art. In today's marketplace, technology makes it easy to offer art in many different formats, which means there are even more ways to earn.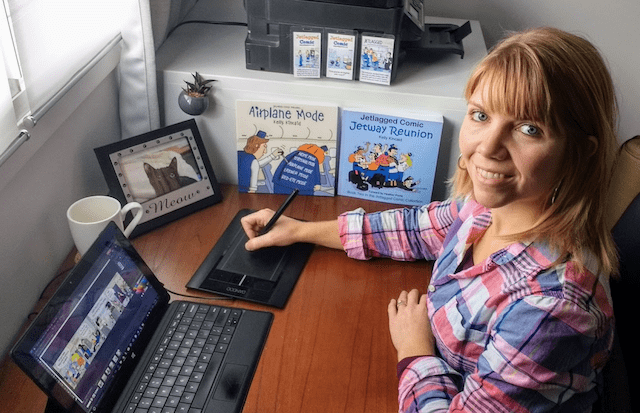 Kelly has taken advantage of this option also, selling two books of her cartoons, as well as luggage tags, with other products planned for the future.
By offering a selection of merchandise featuring your designs, you can attract new customers who would not necessarily be interested in buying original art.
Increasing your product selection as well as offering a variety of price points means that you can appeal to new customers who might have a small budget or would prefer another product. It also means that you have even more available for your collectors to consider when they buy again. And, you can increase sales by bundling merchandise into sets or gift packs.
3. Use tech to your advantage
Some artists grow their businesses by using turnkey print-on-demand (POD) providers to sell art printed on any number of products — cell phone cases, tote bags, pillows and clothing. The artist only earns a small amount from each sale using this method, because they are working with a POD service that does the heavy lifting by maintaining an eCommerce website, accepting payments, creating and shipping products and providing customer service. POD providers take the lion's share of the price because they do most of the work.
The solution for artists who want to earn more from each sale of merchandise bearing their designs is to avoid POD providers and become  "mini-facturers" themselves.
In-studio production equipment, such as 3D printers, laser cutters and other technology are becoming smaller in scale and increasingly less expensive to buy. They can produce merchandise quickly and easily, thereby increasing profit margins and putting more money into the artist's pocket.
Jetlagged Comic's Kelly plans to expand her business by producing merchandise and shipping it herself. She explains, "I'll keep my production costs low by using a sublimation printer and creating products in-house. Having control over when a product gets made also means I'll be able to create more as demand comes in."
She will run the production, control her inventory and provide customer service. This serves to help build strong customer relationships, and drive repeat and referral sales. Her plans also include wholesaling products to retail stores, which opens up a huge marketplace to grow her art business even further.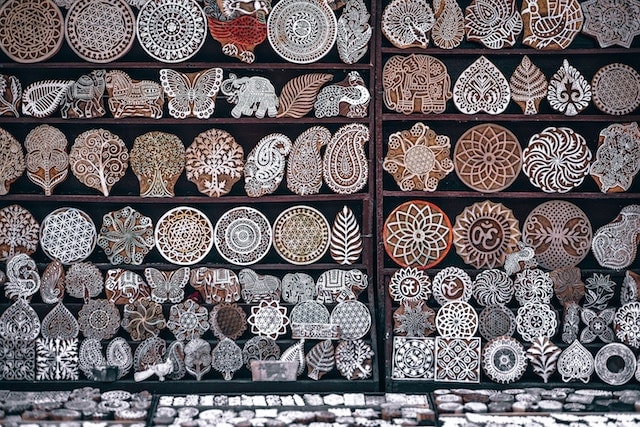 Sell art on your own terms
These growth strategies center around bringing your marketing and production under your own control, rather than depending on services or other platforms to sell for you. The more control you have in your small business, the more you will be able to interact with customers and prospects, and sell art with a larger profit margin built in. And that is a recipe for success.
Check out all your options for selling work online in our free guide.
Image by: Alfred Leung on Unsplash