How to start a car insurance company — 7 tips from a pro
Car insurance is a legal requirement in almost every state in the U.S. This means there is constant demand for the services of car insurance agents. If you're looking to start a business in this area, you can rest in the knowledge that there is an available market for your business. However, if you really want to be successful, it's important to know beforehand how to start a car insurance company correctly. The right information will help ensure your business gets off the ground and actually achieves its business objective. The following tips are designed to guide you in starting your own car insurance company.
Start a car insurance company in 7 steps
Selling car insurance is a lucrative business — if you do it right. Follow these seven steps to learn how to start a car insurance company successfully.
Get licensed in your state.

Write a business plan.

Register with the state.

Get insurance for your business.

Secure financing if needed.

Start bringing in clients.

Expect challenges.
I started my insurance business with no clients and not enough funding. Keep reading for an in-depth look at these tips to make sure you start off on the right foot.
1. Get licensed in your state
If you aren't already licensed to sell insurance in the state where you plan to launch your business, this is the first thing you need to do.
Without a property and casualty insurance license from the state, you will not be able to legally sell car insurance there.
To obtain this license, you'll need to attend a pre-licensing course and take a state-administered exam. You might also be required to fulfill other requirements, depending on which state you're in.
In some cases, if you're already licensed to sell car insurance in another state, you might be allowed to transfer your license to your current state. You can find a lot more industry information at the National Association of Insurance Commissioners (NAIC), as they regulate the insurance industry in the U.S.
2. Write a business plan
As with any other business, one of the most basic pieces of advice on how to start a car insurance company is the need for a business plan. A business plan describes the market for your services, the competitive landscape, how much you'll spend in starting up, how to get customers, how much you can potentially make, and what key partners you'll be working with.
One of the key factors to consider is your ability to determine risk levels when you're issuing insurance to your clients.
If you've never written a business plan, you can either hire the services of a professional (recommended) or you can do it yourself. To do it yourself, use this post from the Small Business Association as a guide for what you need to put on paper to make your business plan.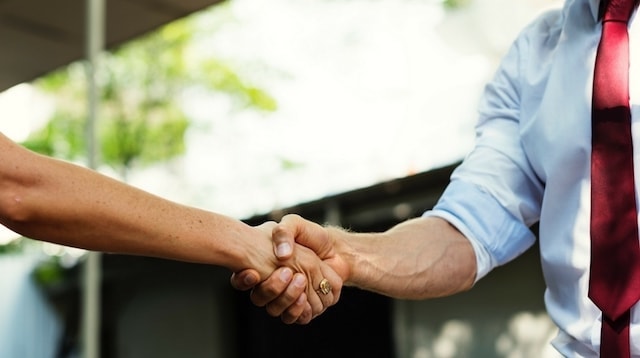 Your business plan should include strategies for mitigating any risks that might arise. You'll also  need to regularly revisit and update your business plan to ensure you're still on track in achieving your goals. Reviewing your business plan also helps you know what's working and what's not.
3. Register with the state
A critical question that anyone wondering how to start a car insurance company must answer relates to business structure. You need to be registered as a company within the state in which you operate. This entails deciding on a legal structure for your company, registering a company name, and applying for a tax identification number (TIN).
Decide on a legal structure
In choosing a legal structure for your business, you can opt for any of the following:
Sole Proprietorship
Partnership
Limited Liability Corporation
Corporation
S Corporation
Each of these structures has its own unique risks and benefits. Check out this Entrepreneur article to compare them and find which one is most suitable to your business.
Name your business
When deciding on a name for your business, choose one that stands out, is not overly complicated, and also embodies your company's values and characteristics. It's advisable to also purchase a domain name for your company website at the same time. I own several domain names, including AutoInsurance-Houston.com and FrankMedinaInsurance.com. Having multiple websites increases my exposure, creating more opportunities for insurance shoppers to find me  on the web.

Get a tax identification number
Applying for a TIN is a simple process that you can do online and it's free. You simply need to supply the IRS with basic information, like the structure of your business, your personal information, addresses and other details relating to your business.
4. Get insurance for your business
You're an insurance professional, so you understand the importance of this one. You'll need either Errors and Omissions  or Professional Liability insurance. This is one way to mitigate the risks of running an insurance business — especially if your business is registered as a sole proprietorship. This insurance will cover you in the event of any claims or lawsuits brought against you by clients claiming inadequate work or negligent actions.
5. Secure financing if needed
As you research how to start a car insurance company, you should also estimate how much you need to get the company off the ground. If your business plan shows you'll need more money than you currently have, then you'll need to get money from other sources.
In approaching individuals or organizations for funding, you need to prepare a proper business proposal to secure debt funding (loan) or equity funding (shareholders) for your business. Your proposal should include how much you need, how much you plan to spend and on what, and how much you can make.
Although commercial banks are usually skeptical about giving loans to new businesses, government agencies like the Small Business Administration (SBA) exist to provide such services to entrepreneurs and small businesses. You can also approach friends, family and business contacts to obtain financing.
Editor's note: Read more about overcoming funding and other startup hurdles here.
6. Start bringing in clients
Now that you have all the basics covered, it's time to think about how to get clients. You can start by building a website and creating an online presence.
GoDaddy Websites + Marketing includes all the features you need to create a website that will convey a professional image to prospective clients. Your new car insurance website can be up in less than an hour.
Start your 30-day trial
Click here to start your free GoCentral trial — you don't even need a credit card. Choose one of our pre-built templates and start building now. If you don't like it after 30 days, you aren't out anything.
Pick a great photo for the top
To swap out the main photo in your template, click Header in the right column then scroll to Cover Photo. Choose a picture you like from the hundreds that come with GoCentral or upload one of your own. Find more photo options here.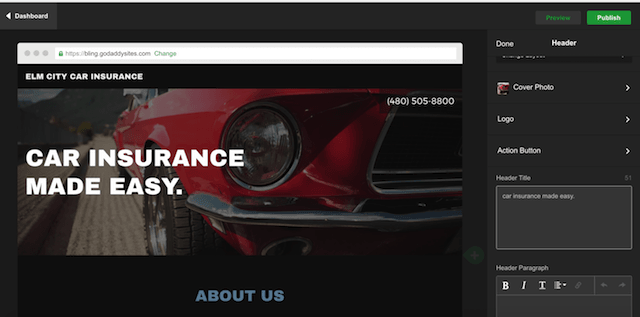 Add your information
The following sections are already built in — just click on any one of them to add your own words and pictures:
About Us. This is where you tell the story of why you started your business.
Sign up. Ask website visitors to sign up for the latest car insurance news and tips from you.
Contact Us. Add your email, phone and office address, as well as a Google map.
Footer. Insert this standard verbiage: "Copyright © 20xx Your Business Name."
Complete each section and include anything your customers will want to know about you, such as services, awards, experience, etc.
Preview, preview, adjust and . . . publish!
Click Preview at the top right to see what your site will look as you work. Good to go? Hit Publish to make your site visible to car insurance shoppers everywhere.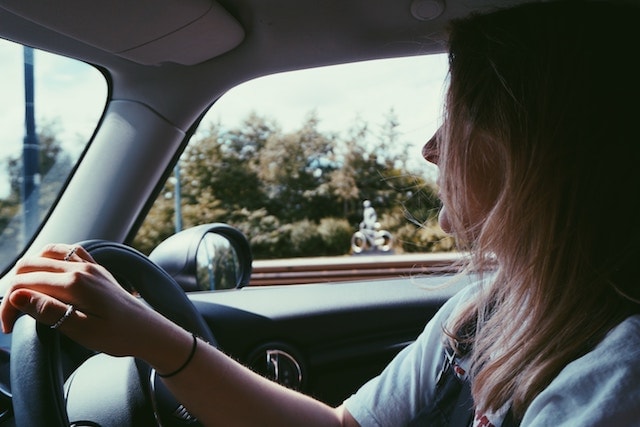 As a car insurance provider, the best places to market your services are at driving schools and the DMV, as these places have drivers who are most likely to be looking to use car insurance. You should also leverage your personal and professional connections to create leads.
7. Expect challenges
As you research how to start a car insurance company, be aware of the obstacles you might face. The major challenge for many is not having enough money to get the business started. Other challenges include how to stay relevant in a competitive market and how to find and keep clients. Read about my startup challenges here.
Additional tips and tricks
No guide on starting a car insurance business would be complete without a few tips and tricks. Here are some of the most important:
Develop good customer service skills
Bad customer service results in loss of customers. People will move on to where they're treated better.
Dress professionally
New prospects and even existing clients should always have the impression that they are dealing with a professional.
Put the client first
Always make sure you offer the product that's best for your client's needs, and educate your prospect about that product.
Hire good people
It doesn't matter how good you are, if the people who represent your business are unprofessional or incompetent, it reflects back on you and your business. Hire the kind of people you would want to deal with if you were the client.
Promote your business
There are many marketing tools available these days — make use of them. One of the best is a website, and you absolutely need to have one. Clients like to check out a business first before they make a commitment, so ensure they can easily learn more about you online.
The time is now
You can make a success of this venture if you truly put your mind to it. I know because I've done it. Be ready to offer as many policy options as possible to your clients, and ensure you develop strong relationships with other key partners in your industry. With the right attitude, products and support, your business will be a success in no time.
Ready for clients? Learn how to find local customers with our checklist.
The above content should not be construed as legal or tax advice. Always consult an attorney or tax professional regarding your specific legal or tax situation.
Image by: Mason Jones on Unsplash