How to start a political blog from your couch
This is the age of political activism, and it's never been easier to mobilize like-minded people behind a worthy cause. From Twitter to Facebook to Snapchat, people are taking stands and bringing their causes to the street — and those with political power are listening. Wondering what you can do to make a difference? Learn how to start a political blog.
Who should consider political blogging?
Basically, anyone who cares about their country can start a political blog. If you think your voice needs to be heard by a potentially global audience, and you have a unique take on a particular issue, you should be blogging. And it doesn't have to be Washington-centric to be important. Every topic can be political — as long as what you're writing is meaningful to you and your community.
Political bloggers often include:
Politicians (current and aspiring)
Journalists
Single or multi-issue activists
Any concerned citizen who's interested in political trends
Plus, you don't need any programming or coding skills to blog — no special software. Just a computer, internet access and the desire to change the world. So, here's everything you need to know on how to start a political blog.
Start your own political blog in 5 steps
As long as governments exist, there will always be differing opinions on what they should and shouldn't do. Spout off by blogging.
Name it.

Pick your platform.

Build your blog.

Write your inaugural post.

Bring readers in.
Ready to review these steps in detail? Keep reading to learn how to start a political blog and get your voice heard.
1. Name it
The first lesson in how to start a political blog has to do with names. Some of the best political blogs have inventive names — take Plunderbund and RedState, for example. Plunderbund is a colloquial term meaning "political corruption" that blog founder Eric Vessels stumbled across one day. And Red State? Well, who could mistake the drift of that blog?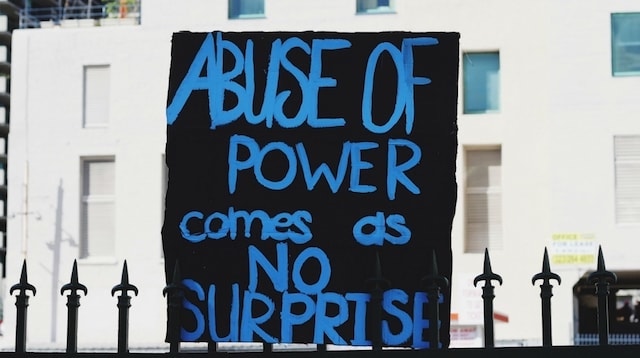 To launch a blog (or website for that matter), you must register a domain name like RedState.com or Plunderbund.com. This will become your blog's web address, so keep these three tips in mind:
Keep it short
Make it memorable and easy to type
Avoid numbers, hyphens and other special characters
To see if the name you want is available, head over to your favorite domain registrar to buy it. While you're there, be sure to check out the new domain extensions:
By choosing one of these, you let readers know what to expect before they even get to your political blog. Read this for tips on choosing a domain name readers won't forget.
Try it now.
2. Pick your platform
As any blogger will tell you, WordPress is one of the top choices for blog builders. If you go with the free version of WordPress, you'll need to buy hosting (this is which is what makes your blog visible on the web). Whatever hosting company you choose to go with should make it easy to connect your domain name to your blog. If not, keep looking (get the lowdown on what to look for here).
Prefer one-stop solutions? Take a look at GoDaddy's Managed WordPress. This all-in-one blog package comes with hosting built in. With Managed WordPress, you leave the technical details and regular maintenance tasks to GoDaddy, so you can focus on building a terrific blog.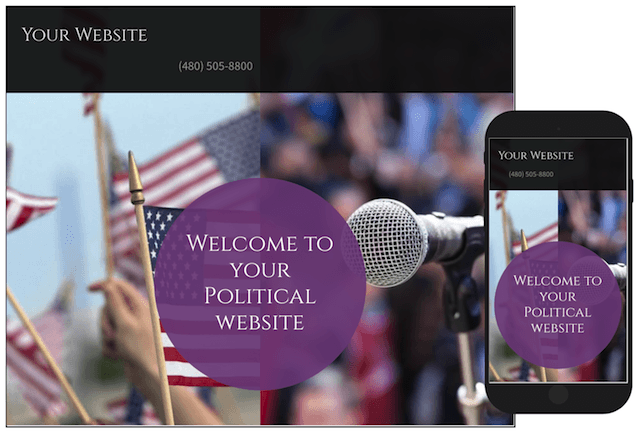 3. Build your blog
Now that you've picked a blog builder, it's time to get started. Thanks to the proliferation of WordPress themes and plugins, this part is fun.
Choose your WordPress theme
A theme is the look you give your site, the skin. There are hundreds to choose from. Rather than looking for one that has exactly what you want — photos, typefaces — look for a theme that will be perfect once you've swapped out the photos and text.
Add functionality with WordPress plugins
Plugins are kind of like upgrades or add-ons for your blog. You can add security, contact forms, social media links and so much more to make your blog do all you want it to do. Here's a guide to help you get set up with the right plugins.
4. Write your inaugural post
For the first thing you publish, just start with a simple announcement and follow these key tips:
Be yourself — write in the tone of voice that comes most naturally to you
Don't try not to offend — the best political blogs take sides
Be upfront — tell your readers why you're starting the blog and what you hope to accomplish
Set yourself apart — explain why the world needs your political blog
A good rule of thumb is to shoot for 800 to 1,000 words for each blog post. That might sound like a lot of words, but you'd be surprised how much you have to say about things that truly matter to you. Search engines love words, so don't hold back — speak.
Use keywords
Speaking of search engines, you want to befriend them, because they have the power to bring you readers (or not). It's not an overstatement to say that if Google doesn't find your posts, no fired-up agents of social change will find them, either.
Smart political bloggers know they need to court search engines by
embedding keywords
or phrases into their posts.
Ideally, these keywords should mirror the overall content of the post, and reflect a search term that lots of rabble rousers are typing into Google.
Here's how to get the most from keywords:
Choose a different keyword or key phrase for each post, adding it to the title, one subhead and throughout the post in a natural way
Use Google's keyword tool to identify prime keywords that relate to your topic and have a healthy amount of traffic (more than 1,000 monthly searches) but medium or low competition
Add meta tags for each post using a plugin like WordPress SEO by Yoast
Pro tip: Once you're downloaded Yoast, learn what else you can do to get found by the people who are looking for bloggers like you.
Think in terms of "topics"
Keywords aren't the only way to get good search rankings. Google wants topics, too.
Search engines can now understand syntax and language.
This means if the topic of your blog post is "Congress," you can write about senators and congressmen. Google will put two and two together.
Finish, proof and publish!
Once you have a first draft for that first political post, ask someone you trust to read it. Is your point easy to understand? Then add photos or (even better) videos, spell check, and publish. Once your first post goes live, you're officially a political blogger.
5. Bring readers in
Blogging isn't like standing on a street corner and shouting, where passersby have no choice but to hear you. To get people to read your posts, you need to let them know what you're up to.
SEO is one way to capture attention, but there are others. Make sure to spread the word about that first post and every one that follows by sharing a link to it on your favorite social media networks.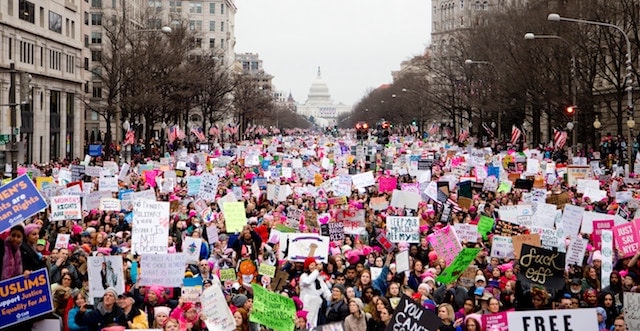 Start an email list by adding a signup form to your blog. You can inform email readers about breaking news, actions you'd like them to take, or your latest post. You might also look for  blogs that are similar to yours and offer to write a guest post for them — you may recruit some new readers from among theirs.
Tips on how to start a political blog
Writing a political blog means writing often, if not every day. You have to stay on top of the latest news and events. Try these things to keep your posts interesting:
Stay focused
Don't meander from one topic to the next. Create categories that make it easy for readers to find what they're looking for (e.g., Climate, Politics, World, Economy and Breaking News).
Grab the reader's attention
Make that headline and first sentence do the heavy lifting. If you don't, readers might lose interest or decide the article isn't relevant to their lives.
Keep it controversial
You're a political blogger and you've got to show your unique voice. If you're looking for unbiased coverage, stick to NPR. In the blogosphere, you need to get down and dirty to get those page clicks.
Invite reader comments
Reader interaction is one of the most important key performance indicators — things that show your blog is working. Invite readers to comment, but be on the lookout for information that is obviously slander.
Don't feed the trolls
Trolls are drawn by controversy, but there are ways to keep them from derailing your blog. Find out how to gain commenters without attracting spam and trolls.
Go to the source
Interview the central players in a story if you can. Reach out to experts and delve into their knowledge of a given topic. Don't be afraid to quote from political groups, press releases and other blog articles.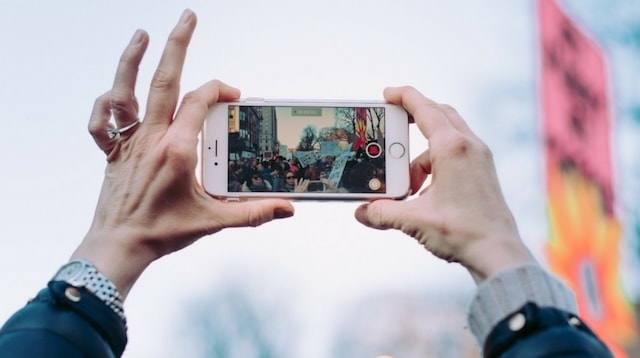 Include videos, charts, live broadcasts, etc.
Mix up your content to keep your fans interested. Use video clips and images to make your blog easy to read and visually entertaining. Don't forget to link your sources.
Share posts on social media
Twitter, Facebook, LinkedIn — you need to use these mediums to get your opinions out there. Sometimes, SEO isn't enough. You need to Tweet like your life depends on it.
Include awesome photos (that you don't have to pay for)
Try Unsplash, StockSnap.io, Pixabay and Freepik. Then, creatively style the images to reflect your blog.
Looking for more inspiration?
Now that you understand the basics of how to start a political blog, it's time to check out the competition. See what these popular political blogs (both conservative and progressive) get right, then adopt it on your own blog:
Bonus: Take a look at the 2017 Webby winners and runners-up for best Political Blog/Website. It's a treasure trove of good ideas.
Image by: Visualhunt