How to start an advice blog
If you've been wondering how to start an advice blog, it's not as difficult as you might think and the rewards can be tremendous, both financially and otherwise. My husband, Otto, and I started offering relationship advice in 1999 — creating our first website, capturing emails and sending out weekly online newsletters. We launched our first advice blog, Susie and Otto, in 2005.
At the time we started writing and sharing, blogging tools were complicated and primitive.
But if you're a newbie blogger today, you've got it made because the tools and technology you have available to you now make creating, publishing and promoting your advice blog so much easier!
A blog is a great way to funnel your creative juices into something that can help other people. It can also provide a place for you to share information that's important to you as well as to your readers.
6-step guide to advice blogging
Do friends, family and coworkers naturally turn to you for advice? Take your gift worldwide — start an advice blog. Here's how.
Choose a memorable name.

Buy a hosting plan.

Choose a blog platform.

Design your advice blog.

Customize it with plugins.

Start writing!
1. Choose a memorable name
The first thing I tell anyone who asks me how to start an advice blog is to pick a terrific name.
This can be either the topic you're covering or in our case, our brand. From the beginning, we wanted to be known as "Susie and Otto," so that's what we went with. We have several other sites with names that are topical like "NoMoreJealousy.com" so you can go either way.

Can't find the name you want with the .com extension? Try one of these new domain extensions:
These domain extensions haven't been out as long as .com, so there are still tons of great names available to you. Plus they're specific to the various topics addressed by advice bloggers.
Go ahead — try it now. 
2. Buy a hosting plan
This is where your blog lives on the web and no matter how enticing free hosting is to you and your budget, it's essential to get paid hosting from the start. Ashley Grant explains why in her post, "How to start a blog in 7 steps,"  including her early misadventures with a spam bot. Do yourself a favor and choose hosting from a reputable company.
Skip the technical maintenance of WordPress with GoDaddy's super-easy Managed WordPress. GoDaddy does all the upkeep for you.
Over the years, we've discovered the most important things to look for are reliability and 24/7 technical support. And before you make your choice, find out if you can actually get a live person on the phone.
3. Choose a blog platform
In 2017, the only real choice is WordPress because it's user-friendly for people who have no computer experience. There are also plenty of tutorials to tap into for creating what you want as you learn how to start an advice blog.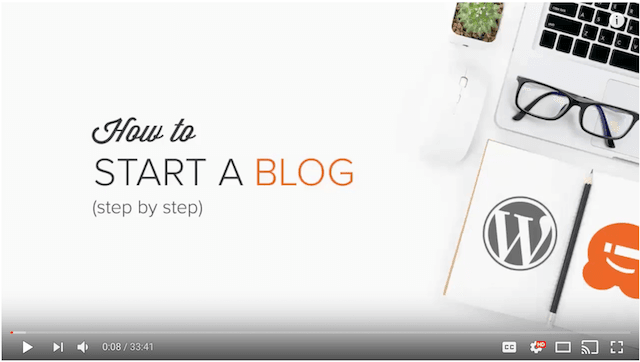 A really good video to get you started is called "How to Start a WordPress Blog The RIGHT WAY." It walks you through the process of setting up your WordPress blog. If you prefer written, step-by-step instructions, read this article.
4. Design your advice blog
Before we created SusieandOtto.com, we searched the internet and found blogs that we liked. We made note of the color combinations that reflected what we wanted to say with our brand and the designs that appealed to us. For our blog, we hired a WordPress expert to design it, but you can just as easily use the pre-made designs available in your WordPress application.
For instructions on creating your WordPress blog — from downloading and installation to settings, themes and adding content — check out this article by Stephani Worts. It's particularly good for anyone opting for the free version of WordPress.
5. Customize it with plugins
Plugins are small pieces of software that add particular functionality to a WordPress blog — say, to block spam or collect email addresses so you can keep in touch with regular readers.
There are many WordPress plugins that do a variety of things. You'll find a good list here.
Of those, you definitely need Yoast SEO — which guides you through making your article search engine-friendly — and WordFence, the top security plugin (constantly updated). For more how-tos on protecting your WordPress blogs against hackers, trolls and other shady types, read this post.
6. Start writing!
The last step in how to start an advice blog is writing. There are many informative articles that show you how to write a good blog post. In writing consistently for almost 19 years, I've found that what works best is to:
Write each post around a single keyword.
Have several points clearly defined, illustrating them with stories.
Close with a short conclusion.
These articles are around 500 to 700 words each. You'll have to discover the topics of value to your readers and develop a writing style that's authentic to you.
Above all, make sure it's original content and that you cite any references you use. Keep a folder of ideas or use software like Dragon Naturally Speaking to capture your ideas whenever they come to you.
Our blog ideas come from real-life situations, problems people tell us they have, and questions they ask.
One place to get blog ideas is by joining Facebook groups on your topic to see what people are talking about. Talk with people and listen to what they say. We make sure to get permission if we're directly quoting someone. If it's not a direct quote, we'll change details so that stories aren't recognizable.
How to start an advice blog: Best practices
In the nearly 20 years we've been blogging, I've learned a lot. Here are just a few of the things I wish I'd known years ago.
Clarify your target market
There are many successful bloggers who write about any topic but if you want to be known in the advice blogosphere, choose who you want to speak to. Divorcees? Anyone with a personal, relationship or social etiquette question? Dating couples?
Be consistent
Decide how often you want to post and then keep to that schedule. Don't be too ambitious at first. We post once a week to our blog and send out three emails a week to our newsletter list. It helps to map our your editorial calendar in advance — learn how here.
Use keywords so your posts can be found
Keywords are crucial to the success of your blog. Most of the traffic to our blog comes from organic search (people type a word or phrase in Google or another search engine they're searching on and the search engine matches their search term to our blog post). That only comes about when we write our articles around keywords people are actually searching on.
There are a lot of free and paid keyword tools that you can use, including the Google Keyword Planner (which is part of Google AdWords). You don't have to pay for an AdWords campaign to use it.
I like finding unique keywords for each post and using them in the post title as well as a subhead and sprinkled throughout the article where it makes sense. If you put in too many keywords, your writing will suffer … so write with your reader in mind. Use the Yoast SEO plugin we talked about previously to guide you.
Be yourself and tell stories to illustrate your points
As you start your blog, don't try to be an expert but find your own voice. I've found that readers love it when you as the writer are conversational, transparent and show your flaws.
Stories pull people in and are great ways to get your points across.
We get our story ideas from people we talk with, the media and our encounters with life. We've learned how to write engaging blog posts by reading good writing and we take lessons from other bloggers who are masters like Seth Godin. If you're unsure of your writing, read a book like Stephen King's "On Writing."
Proofread carefully
Your credibility will take a hit if your post is full of typos and grammar mistakes. It takes only a few minutes to proofread what you've written. Be sure to check your links to make sure they're working before you post.
Decide what you want your readers to do after they read your post
Do you want them to go to your website, leave a comment, click on the links or buy something?
On each post on SusieandOtto.com, we show ads for our paid programs on the right side. On the top and bottom of each post, we have text ads for our free ebook they get for signing up for our free Love and Possibilities newsletter.
This can constantly change but the point is for you to decide what you want your readers to do next — download, subscribe, submit a question — and make it clear.
Include links to useful resources and videos
Yoast SEO will encourage you to add links to your posts. Link different keywords than you're using in this article to high-authority websites and to your other posts (make sure they always show up in a new window).
Engagement
You can decide whether or not to turn on comments for your blog. Because we have other ways people can engage with us — mainly on Facebook and on our other sites — we have comments turned off on our blog.
Share your articles on social media
Every time we post an article on our blog, we share a link to it on our Facebook personal timeline, business pages and to our private Facebook group, Awakening Love & Possibilities. We also share it on Twitter.
Share your insight now
Hopefully, my experiences and this information on how to start an advice blog have been helpful. We encourage you to go for it and start your own advice blog, sharing what's in your heart for the benefit of all who come into contact with you.
Image by: Marcos Luiz Photograph on Unsplash