Local pet store keeps Portland puppies and guppies well-supplied
At the same downtown location since 1990, Pets on Broadway in Portland, Ore., is the go-to local pet store for everything from hamsters to hedgehog kibbles. The one-stop shop for local pet lovers has built a reputation for both its amazing selection of pet-centric merchandise and its "lifetime customer" service philosophy.
"Some of my absolute favorite stories are when parents come in with their children to get their first hamster, their first pet, and in talking with the parents we learn they got their first pet here, too," says Pets on Broadway General Manager Joe Morton. "Our customer relationships are generational. That's really powerful."
Employees at the 9,000-square-foot store on a busy Portland thoroughfare learn early on to treat every customer like a friend they'll have for life — an approach that's built Pets on Broadway's loyal, repeat customer base. "We put a lot of effort into building strong relationships with our customers," Joe says. "From day one we emphasize to our staff that we're all about the lifetime customer."
Location, location, location
Like a grocery store, Joe explains, a local pet store draws customers primarily from a three-mile radius. So it's vital to set up shop in the right location. "We're in a great neighborhood. It's fairly affluent but also has a lot of everyday people." And plenty of pet owners.
Drawn to Pets on Broadway by its proximity to their homes, stellar customer service, affordable prices and awesome variety of more than 7,000 core products (yes, you really can buy food specially formulated for hedgehogs), the store's repeat customers spread the word about their neighborhood gem.
Word-of-mouth marketing is the No. 1 source of new business, Joe says. But it's not enough to fuel serious business growth. Enter … the internet.
Pets on the web
For a local pet store like Pets on Broadway, a strong presence on the internet is critical for growing a customer base. "Three miles doesn't add up to that many customers," Joe says. "You're always sort of looking for how to expand, how to do the next thing."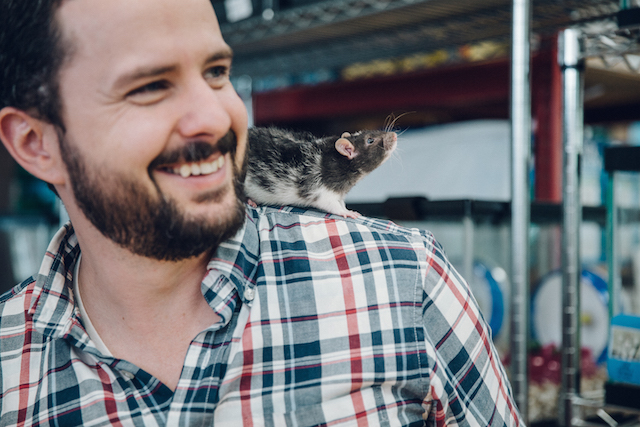 While Joe and Pets on Broadway owner Tom Perry would love to open a second location, the costs and logistics involved make expanding online a more viable option. They're in the midst of finalizing a comprehensive eCommerce store that will offer even more products, with local delivery and in-store pickup in additional to national delivery. "The eCommerce store is a way for us to expand our reach a little further," Joe says. "It's a really attractive option for us to grow."
eCommerce offers an affordable opportunity for business growth.
But it's not a simple process. "There's so much more to building a website than people think," Joe says. Each of the more than 7,000 products to be included in phase one of the eCommerce site requires multiple images and effective product descriptions. To convert browsers into buyers, the site must be easy to navigate with a clear purchase path. "I'm amazed at how difficult many websites are to navigate. It should be very intuitive to find, buy, or reorder the right products."
Joe and the site's design team are extremely focused on providing a top-notch user experience on the new Pets on Broadway eCommerce site.
"For most ecommerce, it's one-time purchase. For a pet store, we need people to buy the same things over and over so it has to be easy. It has to be foolproof and obvious."
The new eCommerce store is slated to launch this fall.
Local pet store marketing and more
In the meantime, Pets on Broadway uses a number of online tools to do business.
Website
The company maintains a basic website at www.petsonbroadway.com "primarily as a landing place for people when they search for us," Joe says. "We needed a better website than we had and we didn't want to spend a ton of money when we knew we were developing an eCommerce site."
Domain
Joe registered the business's domain name (as well as numerous personal domains) through GoDaddy. He's a big fan of the GoDaddy domains experience: "It's so easy. I love that it's very intuitive."
Contact form
The website showcases the offerings at the local pet store, and includes a contact form that generates two to three new inquiries per day and adds to the business's email subscriber list. "I think one of the biggest opportunities that most brick-and-mortar businesses miss is building an email list," Joe says. "The newsletter is how we plan and organize all our marketing efforts."
Email newsletter
After polling customers to find out how often they wanted to receive a newsletter, the Pets on Broadway team got into a routine of sending it out once a month with a few supplementary issues as needed.
Joe explains that the newsletter includes a combination of store-focused topics (like sales and events) and entertaining information for customers. Subscribers will find animal features, timely tips — such as how to travel with a pet — and a short survey to encourage feedback.
"It's key that people have a reason for signing up and continuing to open your newsletters. You can't just sell."
You can read all about the "Four Second Survey," responses from which inform future newsletter and blog content, here.
Social media
Social media also is an important marketing tool for the local pet store. While Pets on Broadway maintains an Instagram account, the business does the vast majority of its social media marketing via its Facebook page, Joe says. The organic Facebook marketing strategy pivots around a three-pronged content approach: one-third each informational posts (e.g. what not to feed your dog), fun posts (e.g. kitten pics) and product-related posts. "It works pretty well," Joe says. "We've got great engagement on a lot of things."
To truly benefit from Facebook's lead generating potential, Joe notes, you have to put money into Facebook advertising.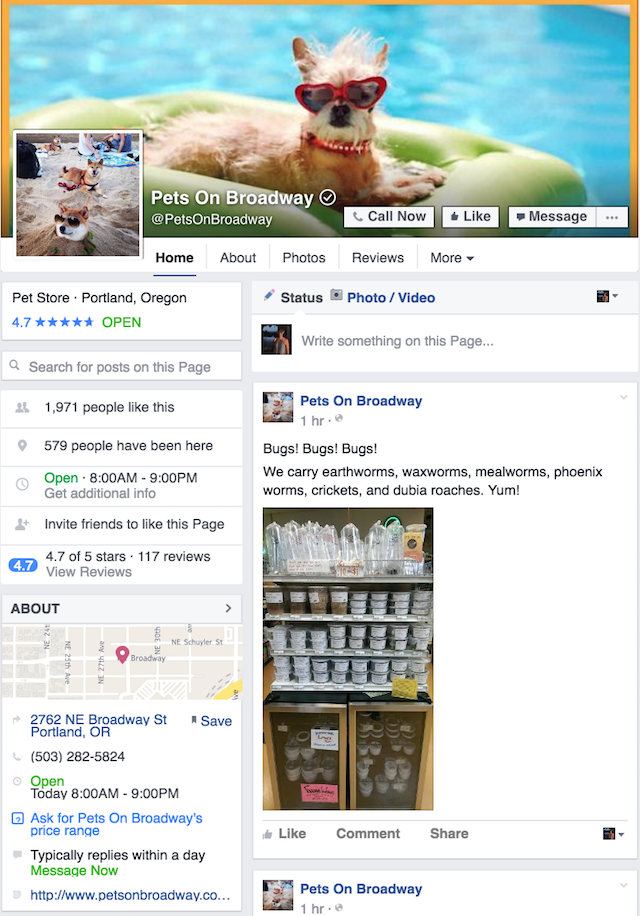 It's become standard practice for consumers to check out online reviews before visiting a local business for the first time, so Pets on Broadway pays close attention to managing its presence on sites like Yelp. "We monitor our reviews and make sure we respond to all of them," Joe says.
Pro tip: To manage all of your company's online business listings from one convenient dashboard, check out GoDaddy's Get Found tool.
It's all about the customer
Pets on Broadway bases every business decision on the needs of its customers — a practice that Joe encourages other brick-and-mortar business owners to adopt when deciding if, when and how to do business online.
"I think most of the time people just assume, 'I need to have a website,' because other people are doing it," he says. "But from a business side you really need to think about what's going to be the most effective solution for your customers. Do your customers want it? Are they asking for it? Are they going to use it? How's it going to benefit your customers?"
For customers of this local pet store, at least, sometimes it's just easier to order that hedgehog chow online and have it delivered.