Lorina's Kitchen: Launching a family business with love, chocolate, and plenty of grit
Mother-daughter team Lorina Duncan and Sharon Morgan never dreamed they'd go into business together. But after Sharon's husband died tragically in an airplane crash in 2013, Sharon realized that she wanted to fulfill her dream of being her own boss.
Meanwhile, her mom had been thinking of ways to build up her nest egg as her husband approached retirement. So when Sharon found herself between jobs in January 2017, the pair launched a business selling Lorina's gluten-free goodies and Sharon's already-famous fudge.
"Lorina's Kitchen was birthed out of generations of creativity."
For generations, the women in their family have had a gift for baking and cooking. It was almost as if Lorina's Kitchen was always meant to be.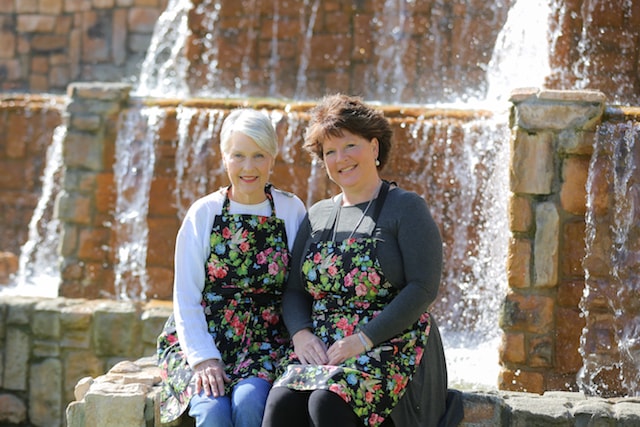 The making of a fudge recipe heiress
Sharon's great-grandmother was famous for her fudge. For years, Sharon had asked Grandma to teach her how to make it. And finally, the Christmas before she passed away, Grandma taught Sharon the secret recipe, with all her own tweaks, to make the perfect fudge.
Armed with her new skill, Sharon began making and giving the fudge as gifts to friends and family, always to rave reviews. As she got more and more familiar with Grandma's original method, she experimented and riffed on it with new twists. To date, she has mastered 14 unique flavors. And people often told her she could — and should — sell it. At last, she was ready to productize Grandma's Fudge and share it with the world.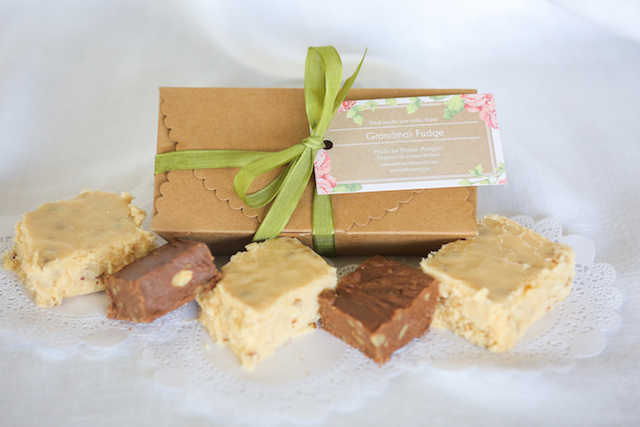 Grandma's gone gluten-free
Lorina stumbled onto gluten-free living when she discovered, after many medical tests, that she had a gluten intolerance. While her new diet made her feel remarkably better, there weren't many good gluten-free products available at the time. And she sorely missed the foods and flavors she once enjoyed.
A born problem-solver, Lorina got to work. She began experimenting with making gluten-free versions of favorite recipes. And they were good — really good. One day, she brought her doctor a sample snack, to prove that she'd truly embraced her new gluten-free lifestyle. The doctor's response: "Why aren't you selling this?"
This sparked the idea that there was a market for her creations.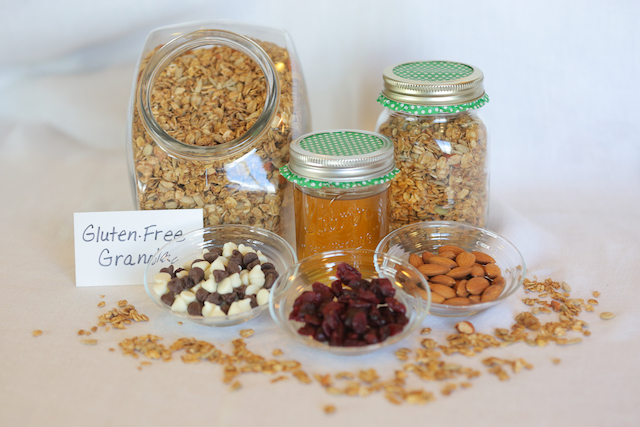 Lorina's Kitchen: Making it official
"We are always striving for just a cut above." ~ Sharon Morgan of Lorina's Kitchen
A wedding cake was the impetus for launching Lorina's Kitchen as a bonafide business. Lorina had been asked to make her granddaughter's wedding cake, but the venue only allowed cakes from permitted and approved kitchens. So Lorina and Sharon applied for a Cottage B Permit, chose a business name, had their kitchen inspected, and obtained a city business license. They opened a business bank account and a Square account so they could receive payments.
Like any startup business, Lorina's Kitchen met some hurdles. "One of the present obstacles we face is not being allowed to ship our food products," said Sharon. "The Cottage B Permit does not allow us to ship food."
For now, Lorina and Sharon are building their business locally in Southern California. "We are able to locally deliver," explained Sharon, "and go to market fairs. However, getting into the right one in our local area has been difficult. We have continued to give out samples, meet people, submit applications and get on waiting lists, so that we can grow our business, get our permit for a commercial kitchen and begin to ship our food products."
For Lorina's Kitchen, business success means adhering to excellence, integrity, and creativity. "We are always striving for just a cut above," Sharon said.
The tools to look professional
Lorina's Kitchen uses GoDaddy GoCentral for its new website. As Sharon explained:
"[GoCentral] has made it very easy for a non-computer person to set up a great site, make changes easily and allow others to watch as our business grows."
They are also planning to set up a Facebook Page, along with Pinterest and Instagram accounts, in the near future. With GoCentral, they'll be able to expand their online presence as their business grows, including adding eCommerce capabilities with a GoCentral Online Store.
[advertisement id="25753″]
Cutting their entrepreneurial teeth
As entrepreneurs, this mother-daughter duo has some distinct strengths. They take great pride in their excellent products, have strong organizational skills and offer friendly customer service. Perhaps most important, they are ready and willing to learn, especially when it comes to getting online and leveraging social media.
"We are teachable, we are creative, and we strive to communicate in all things," said Sharon.
Not all parent-child relationships are cut out for going into business together. But because Lorina and Sharon are strong communicators, Lorina's Kitchen works. Their best advice for other people considering starting a family-run business is to communicate clearly about each decision and really allow each other to be heard — to really get things out in the open.
Striking a balance
Launching a business can be all-consuming, but Lorina and Sharon know that balance is essential and success won't come overnight. Sharon still has a part-time job she intends to keep while the business is still getting off the ground.
While it would be easy to run a family business very informally, they've found that it's important to set a schedule. This prevents them from letting business demands compromise their personal lives. "If we don't take care of ourselves," they reason, "we won't be able to take care of the business."
Both Lorina and Sharon are very involved in their local church. And when it comes to kicking back, they have similar passions, including spending time with family, taking a drive with the convertible top down, reading a novel or watching a good Hallmark movie. And both find contentment in the simple things like watching a sunset.
Looking to the future
In five years, Lorina and Sharon hope to have a storefront with their own commercial kitchen. They envision a little place where people can come for tea, host a party, and purchase gifts. They also plan to start shipping food products nationwide.
Jumping ahead a bit further, they hope to bring other relatives into the business, as there's much more family creativity to be tapped. They'd like to expand into catering and build a business with a legacy of excellence they would like to pass down to future generations.
As Lorina and her husband Scott near retirement age, she longs not only to leave an inheritance, but also to live for the moment:
"There comes a time in life when all the hard work needs to pay off and be enjoyed at its fullest."
She and Scott hope that Lorina's Kitchen will help bring them more ease, flexibility and freedom in full retirement.
And Sharon? She is already enjoying the taste of freedom that comes from being her own boss. Her first few months as an entrepreneur have made her hungry for more.
With hard work, quality products, and a strong online presence, Lorina and Sharon hope to turn their fledgling family business into a full-fledged operation. If you're passing through Southern California and have a hankering for gluten-free granola or 14 flavors of fudge, don't hesitate to visit lorinaskitchen.com.
Inspired by this mother-daughter duo and their new website? Try GoDaddy GoCentral for free at gocentral.com. Build a simple site in under an hour and add features like email marketing and an online store when you're ready. Bonus: GoCentral is entirely mobile-friendly. You can build your new website anytime, anywhere on your phone or tablet and add or change photos as often as you like.