Make online payments easy for your freelance clients
During the seven years I was providing WordPress design, coaching and training, I spent a considerable chunk of time looking for ways to make it easy for my clients to pay me via my website. Over, time I learned what worked, what didn't, and the payoff in terms of getting those online payments to my pocket as quick as I could.
Let's look at some options that might help you, especially if you are just starting out as a freelancer.
Online payments are easiest with packaged prices.
From experience, I found that smaller packages under $1,000 are easier to get full payment up front. Anything beyond that, the 50-percent upfront deposit is an easier sell. Simply set up a cart or product on your site for your service package as you would for any other product.
The tools
You can easily set up a PayPal button, but using an eCommerce plugin or a platform similar to Cart66 will give your service a more professional look.
In the example below, I am using the WooCommerce plugin. You might think that such a plugin is overkill for your needs, but as you see here, it creates a clean, professional, and visually attractive page for purchase.
The WooCommerce plugin creates a professional and attractive purchase page for your WordPress website.
You can also do it with your contact form plugin if you have a robust one. For example, I have a developer's license for Gravity Forms, which allows me to set up payments through my forms via PayPal, Stripe and others. I can then create a page, adding the form at the end with the information I need, as well as the capability to purchase.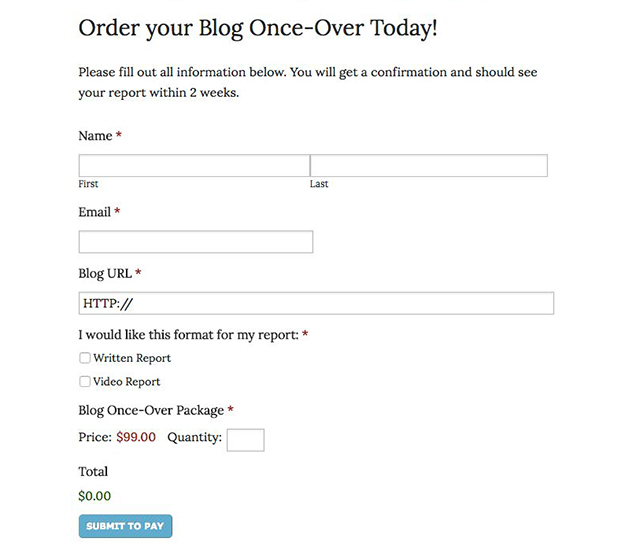 Retainers & hourly purchases
If you provide any kind of support or professional services, you might consider using retainers or purchasing by the hour. They are typically paid in full to start and you provide either a specific service or a set number of hours, depending on the terms.
The tools
Again, you could set something up with an eCommerce plugin like WooCommerce.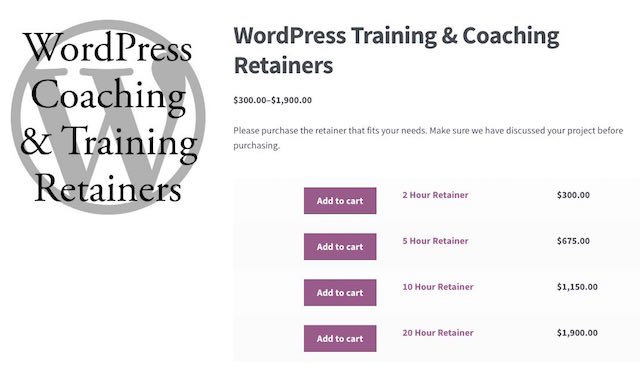 Or, as I showed you before, use your contact form if it has the options for payment.
The catch-all page
Depending on whether the cost of your services fit into a packaged price or a retainer, this is still a great option to have. When I was doing services, I found that this is where I really made the sales.
There are going to be times when you are talking with a potential client, and likely that will be online, either through email, a Skype call or maybe even a Twitter exchange. Let's say they needed some specific writing done, and they described to you exactly what they need. In your mind you know that you can do it for $600. So you mention that price and they say, "Great, let's do it." This is where you want to get them while they are hot.
Send them a link that has options for different prices then and there. While they are ready to hire you, they open it up, click a box, and off to the races they go. And you get paid.
It's all about taking advantage of the moment.
The tools
As I explained with retainers, you can use the same tools for this. Make it simple, and avoid distractions. Here is a page I had set up just for this using Gravity Forms and it worked very well.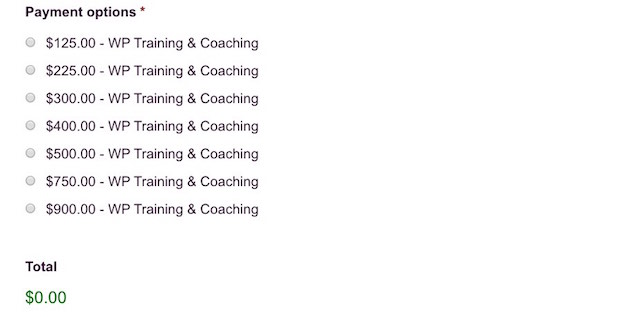 If you don't have set amounts you quote, you can use a plugin that will allow you to create an option where they can fill in the price you agreed to. Cart66 is an example of one that easily lets you add this.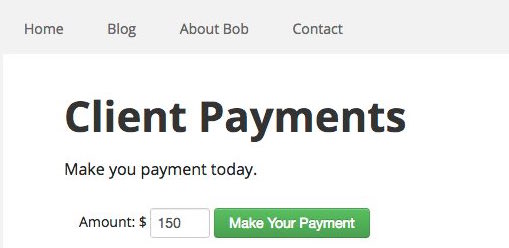 PayPal invoices
If you use PayPal, take advantage of their invoices. Although you can't control how quickly they pay once they receive it, when they ask for one you can get it to them in minutes rather than attaching one to an email or even worse, sending it via snail mail.
Now the fact is, some people will not want to pay via PayPal, so just ask. I found that most times people are happy to do it this way.
Payment gateways
Lastly, you will want to decide what payment gateways you are going to use. If you already have a merchant account, you are good to go. But as a freelancer, you might find the options of providers like PayPal and Stripe are the easiest ones for you.
One last tip on payment options: Consider having several payment offerings available for clients. There are people who will only use PayPal and others who refuse to. Offering something like Stripe as a secondary choice will help.
When I started my membership site, I made the move to Stripe; everyone was raving about how much better it was then PayPal, so I opted to use it as my sole payment gateway. Within a couple of hours, I received several emails asking me why people couldn't pay via PayPal. Lesson learned. I left both Stripe AND PayPal on and I now get a roughly 50/50 breakout use when it comes to anything I sell.
As a final encouragement, find the best way to get paid quickly and promptly. And don't be afraid to test things out to find that sweet spot.
Image by: akk_rus via Visual hunt / CC BY