Mamalode: Creating a sexy, authentic voice for moms everywhere
Editor's note: When stay-at-home mom of two Elke Govertsen was scraping together $400 and the courage to sell ads to a magazine that didn't yet exist, she probably didn't think her passion project would explode into an on- and offline publishing and events platform that's been hailed as "America's best parenting magazine." Then again, maybe she did. A big vision and the drive to make it happen — no matter what amount of bootstrapping required — are just two of the characteristics that define the founder and CEO of Mamalode Magazine. From her home base in Missoula, Mont., Elke identified a powerful niche in the marketplace — and set out to fill it in a way that'd never been done before. We wanted to know how this 39-year-old dynamo turned her small business dream into a big, beautiful, sexy reality, so we asked. Here's what she had to say.
Q: What inspired you to start Mamalode?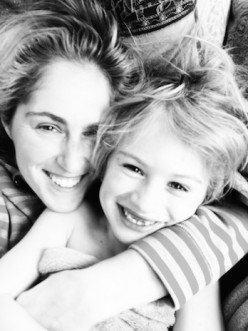 A: I had kids earlier than my friends. They were all trying to decide if they might get a dog and I had a baby. I was utterly overwhelmed. A whole host of unvoiced conflicting emotions — ranging from love to terror to something akin to buyer's remorse — threatened to topple me.
I found a group of women who had babies the same age as mine. After the ice was cracked and we started authentically sharing our experiences, I saw that my feelings weren't indicative of some sort of something-is-wrong-with-me-I'm-a-terrible-mother. Immediately my experience shifted.
Thus is the power of authentic sharing.
I threw a celebration for these women on the night before Mother's Day and dubbed it
"Mother's Day Eve®." The first year 45 people came; by year three it was 450 people. This spurred me to launch Mamalode as a vehicle for these stories and connections to happen every day.
Q: How did you identify your niche in the market?
A: There is a mountain of mom content — magazines, blogs, etc. Mamalode has continued to grow and cut through the noise by sticking to that original idea that it is the gutsy story that impacts. We don't do how-to.
We also don't have staff writers; all of our content is reader submitted, which has really allowed us to speak to so many unique women. We have over 500 writers — some of whom are New York Times bestselling authors, some are huge bloggers, and some are people who have never been published before and simply read Mamalode and are compelled to share their story.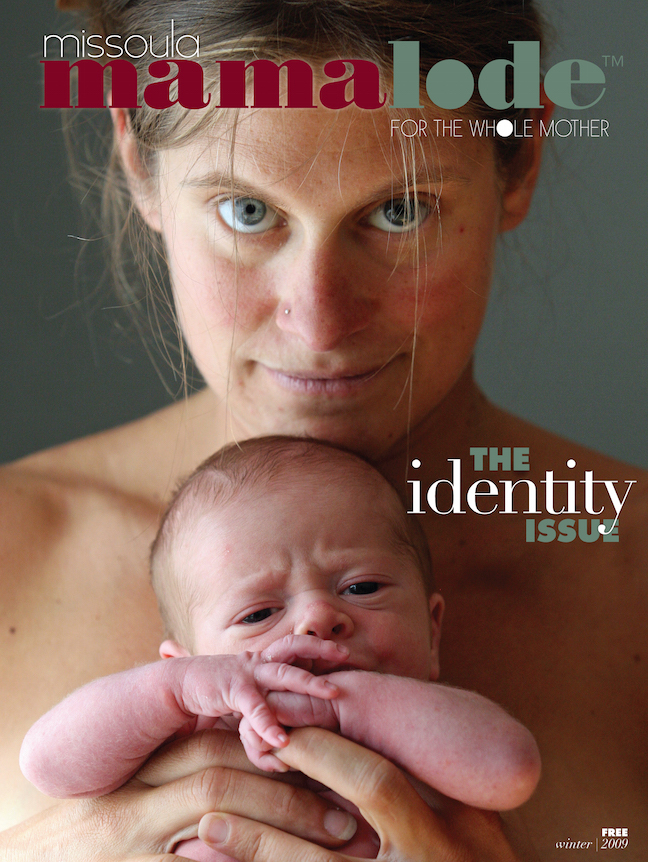 Q: What first steps did you take to launch the business?
A: I named it. Then I read EVERYTHING I could about businesses, magazines and communities. Then I took my big goals and broke it down into tiny, very do-able steps and just did the next thing, over and over. I still do this, but it is important for me to keep revisiting the goals and those change.
I don't want to work my ass off to create a life I didn't want.
Q: What's your guiding business philosophy?
A: What do I want? Work backwards from there.
Q: What obstacles did you face as a startup?
A: I was super broke so first I had to muster up some money. I pulled together $400 and got a rate card together. Then I sold ads in a magazine that didn't exist until I had enough money to print the first issue and build the first website. It took about six weeks of selling — the first week was spent in my car terrified of sales. I got over it.
The fear of selling was a matter of reframing it. I had thought sales was similar to conflict, or deceit. Then one night I was trying to get my kids to bed and it was the "Brush your teeth, brush your teeth, brush your teeth" and "Go to bed, go to bed, go to bed" when I realized I actually did sales all day as a mom — repeating the opportunity for them to take care of themselves until they realized it was good for them. That was a big breakthrough for me.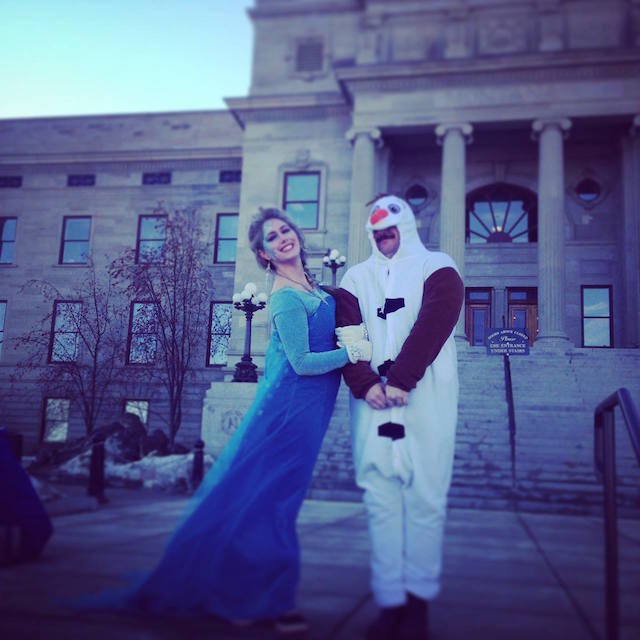 Q: Tell us about your business model.
A: Mamalode began as a free, local, print magazine in 2009, which is frankly the worst business model at the worst time — except that somehow it worked. Our local readers started mailing magazines to friends, old college roommates, their moms. We had a distribution point at the airport. Within one year we had paid subscribers in all 50 states and 10 other countries — paying for our FREE magazine. Because our writers are our readers we soon had stories from all over the world.
Mamalode had exploded. We have been scrambling to keep up ever since. Initially we were solely supported by local ads. Then subscriptions. Then our website started working with national advertisers.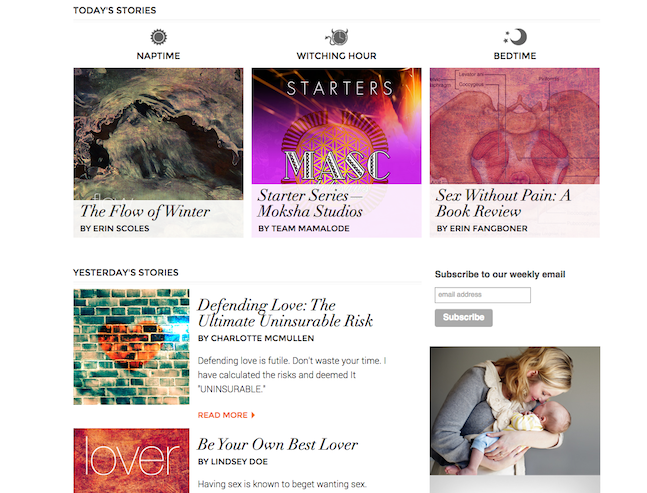 Then I made a big declaration that we were going to find a business model that was a meaningful as our product. I spend the next six months thinking, "Shit. I never should have said that," because I couldn't see ways of working with advertisers in a way that was simultaneously meaningful for our readers, Mamalode and advertisers. But the fog cleared; we started to build important, effective and yes, meaningful campaigns across our platforms. Much of this work has come down to us finding the right partnerships — working with brands that are seeking the meaningful, too.
Moms are a super important consumer group. They control 85 percent of household spending, yet 91 percent of them feel like advertisers don't understand them. Mamalode understands them. That is a huge opportunity for a brand to stand out.
The staff at Mamalode is a team of powerhouses. I have been fortunate to surround myself with some of the smartest folks in the world. I also have a rockstar business partner who came on when it was clear that Mamalode was going national. I couldn't do it without her.
Q: What do you hope to accomplish?
A: I want to make sure that parents do not feel alone. I want to build a national media company that truly represents the modern parent. I want to watch it grow even further than I could dream to take it.
Q: What strengths did you bring to the table as an entrepreneur?
A: I am an extreme bootstrapper and able to make a little money go a long, long way. I believe that obstacles are opportunities — to pivot, to explode, to sell. If nothing else they are there as a filter to keep out the folks who don't want it as much. I love naming things — businesses, products, events, bands, roller derby girls. I take advantage of the tools that are available to support an idea becoming a reality — website tools, systems tools, grants, mentors.
The biggest skill I brought to the table was that I really enjoy people. This has allowed me to build a network of support for Mamalode that is genuinely rooting for our success.
Q: What online tools do you use for your business?
A: Well, I am a bit of a GoDaddy junkie —  I have a thing about buying domains. Fortunately I have also sold enough to justify this habit! (Somehow I have an inordinate amount of Big Data-related domains and those get bought. It is all a big mystery that stems from my geekiness.) So I am a member of the Discount Domain Club.
Mamalode uses a wonderful tool called Submittable (www.submittable.com) for our submissions — it basically handles any type of file that you need submitted — essay, photo, video, sound. It has saved us. We also swear by Highrise for CMS. Social media everything. All the time. Facebook, Twitter, Pinterest, Instagram, YouTube, LinkedIn, Google+, Tumblr.
And we use the basics — Gmail, Google Docs, QuickBooks.
Q: What three words epitomize success in your book?
A: Eye on the WHY. That's four words, but they are really short.
Q: Was there a turning point in your life that led you to where you are today?
A: A double whammy of a life-threatening illness and a year later having a baby certainly set a new course for me in my twenties. Those events were both life changing — and they are the reason I can take business risks. I know the answer to "What is the worst that can happen?" and it really never has to do with work. I always say if Mamalode fails I will move to Alaska and live on a boat. If it succeeds beyond my wildest dreams I will move to Alaska and live on a bigger boat. Keeping my best and worst case scenarios really close to each other keeps my perspective.
Q: What's the most valuable lesson you've learned since starting Mamalode?
A: I have gotten much better at taking care of myself. I tend to focus on work or my staff or my family. There have been a few times where I was so far on the backburner I got burned. I got very sick — like hospital-level sick. Burnout is real. Take care of you, too.
Q: How do you unwind?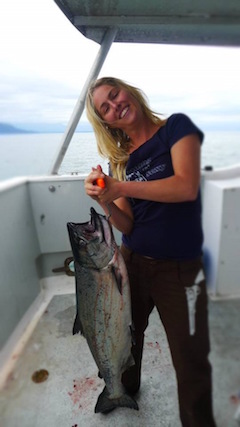 A: Honestly, I make up pretend businesses in my off time. Some of them surface. I am currently crafting a Hot Tub League in my spare time. I even have the domain. My sons are 10 and 12 so one thing we try to do at our house is "Screen Free Sundays," and it's surprisingly hard but pushes us to find other adventures.
Q: What's your best advice for entrepreneurs?
A: Don't look down. A really smart friend of mine told me to be the Road Runner. That speedy bird makes it across the chasms because he doesn't look down. The Coyote always looks down and goes SPLAT. Being an entrepreneur is a leap of faith. And a sprint. Every single day. Meep! Meep!
Q: Where do you see your business in 5 years? 10 years?
A: The founder of BlogHer, Lisa Stone, called us "America's BEST parenting magazine" and my hope is that in five years every parent in America will be looking to Mamalode as a resource and a friend. In 10 years? Nothing short of global domination, of course!
Image by: Holly Andres