Marcia Coleman & Marla Pruitte hope to franchise Pink Rubber Tires
We recently chatted with twin sisters Marcia Coleman and Marla Pruitte of Atlanta about their experience taking their business, Pink Rubber Tires, from idea to market. Read on for the Q&A below and check out the website and Facebook page to keep tabs on the growth of Pink Rubber Tires.
Q&A with Marcia Coleman & Marla Pruitte, founders, Pink Rubber Tires
Tell us about your business and what makes it stand apart from the competition.
Marla: We are a boutique-style used tire business based out of Atlanta. Our niche is women. We're for women, by women, and our goal is to change the landscape of the automotive industry by being the first woman and minority owned tire franchise in the country.
Marla: In Atlanta, used-tire shops are on every corner. It's a way of life.
Marcia: She's right. Of course you have your national retailers, but they specialize in new tires and big brands. And they cost a little more. But we also know there is a place for the used tire industry as well, and it is booming in Atlanta right now. We're trying to be a cost-effective alternative for the working woman, the single mother, the college student.
Marla: Here's the thing: People aren't educated on used tires. We will keep our prices low because we are able to take advantage of big brands' inventory changes, discontinued tires, upgrades, you know, things that don't affect the tire in the long run. You can get a used tire for anywhere from 30 to 50 or 80 bucks easily. And when it comes to cars with more wear and tear and lots of life to them, you don't want the tires to cost more than what the car is worth. We want people to be able to replace tires affordably.
We don't plan to raise our prices simply because we have a more modern, "prettier" used tire shop.
Marcia: When you're buying Michelin, you're buying the brand.
Marla: When it comes to used tires, we want to educate consumers. There is a misnomer about the industry that used tires are old, unsafe, and have no tread life. We want to assure our customers that our tires are not "bad" tires — these are good tires, with good tread life. We only sell what we would put on our own cars … and we do.
Editor's note: Marcia and Marla note that there are 80,000 more single women than men in Atlanta. They plan to open the first Pink Rubber Tires in Atlanta in 2017 (they have currently located the perfect location) and then franchise the business as a female-friendly alternative to traditional used tire shopping — providing "single and working women affordable solutions to keep them rolling."
Marla: It's such a scaleable, easy business, and our goal is to franchise the brand to other women entrepreneurs. Something we both do together is motivate people, specifically women, and we are all about empowering women to become entrepreneurs and "influencers." This is a once-in-a lifetime opportunity to be a part of a movement that is changing the landscape of the automotive industry.
Marcia: Our dream is to equip other women to become entrepreneurs; we want them to be in a position to leave an impact on their families and their communities. As you know, women are the fastest growing group of new entrepreneurs in the country — and we want to be a part of this growth.
What inspired you to start your own business?
Marla: In Atlanta we have one of the worst commutes and rush hour, and you can go through a lot of tires. You go to some of these automotive places, including tire shops, and sometimes they do take advantage of you as a woman. And let's be real about this industry, especially used tire shops, a lot of times they are dirty and just not welcoming.
We want women to have a place where they feel like they're part of the process, where they are equipped with knowledge on taking care of their own vehicle, and where they're not being taken advantage of.
Marla: The automotive industry is so male-dominated, so we're are creating a space for women in this space.
Marcia: My vision for our locations is to create not only alternatives for tires, but to create a visually appealing experience when you walk through our doors. Our locations will all have open spaces, clean lines, soft colors, you know, all things associated with being feminine. You'll have somewhere comfortable to sit and feel good when you have to go to the bathroom — you can guarantee it will be clean. And trust me, that is hard to find in some of these establishments. We listen to what women say.
Marla: Aesthetics are part of the buying experience, particularly for women.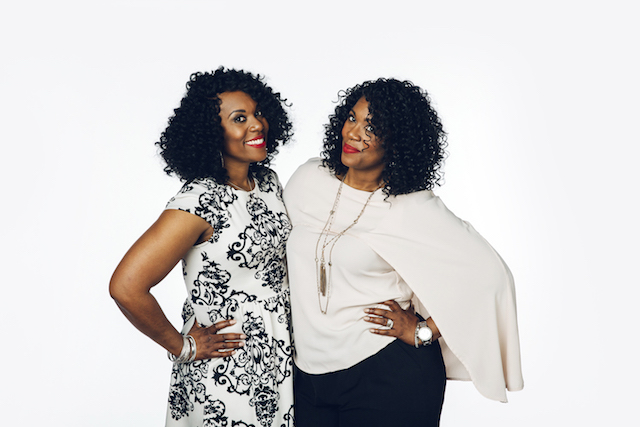 What obstacles did you face as a startup, and how did you overcome them?
Marla: Money. We've both owned our own businesses before. We both started with bare basics and our own money, and we learned that the next time we start a business, we'll never just use our money alone. It's OK to share. We are currently seeking investors. So now finding the perfect investor is key for us.
If we weren't so determined to be a specialized used tire shop, we probably could have picked any location and done the bare-bones. But because we're looking at this on a larger scale, we don't just want to be open — we want to be successful.
Marla: We aren't just opening a tire store, we are creating a brand — so we need the money to do it. This will be the model for our business, for our future franchises.
What strengths do you bring to the table as entrepreneurs?
Marla: We're savvy and we've been business owners before. Because of that experience, we know what to do better this time around. We're willing to share the business — to open it up to investors, to have a bigger vision than we had before. We're not trying to be mom-and-pop. We're trying to be a national brand. And this time, we're being much more thorough with our planning before launching the business.
Marcia: I am more of a behind-the-scenes person. Planning for execution, logistics, getting it done.
Marla: Marketing is something I've done professionally, but we are both very good with marketing our brands. When we do something for our website, I'm the person who writes the verbiage and all the content. I'm a content person, but she executes the content. We have our own brand outside of this business, The Pruitte Twins, so we're both good at getting in front of people and being people who create change.
So, let's talk a little bit more about marketing.
Marcia: We are using social media to get the word out — primarily Facebook.
Marla: We believe in our people. We are going to make it like a movement until our grand opening.
GoDaddy's GoCentral has built-in integration with Facebook and an email marketing tool to let your customers get updates on your products or services.
What's the most important lesson you've learned since starting the business?
Marcia: Patience …
Marla: … but acting fast. Pursue with a sense of urgency.
Also learning to work with family; learning to delegate responsibilities between the two of us, allowing each to lead where she is stronger, and use each other's strengths. We're not in competition with each other (even though it was my idea).
Marcia: Here we go.
Marla: We want to show people that family can work together and succeed, and create wealth as a family. And being twins, we realize two heads are always better than one.
Thanks for taking the time to tell us about your startup, Marcia and Marla, and best of luck as you bring Pink Rubber Tires to the masses!