Marlon Rhodeman makes it easy to get dapper with Tri Bow Tie
We recently chatted with Marlon Rhodeman of St. Louis about his experience taking his product, Tri Bow Tie, from idea to market. Read on for the Q&A below, check out the website, and follow the startup on Facebook, Twitter and YouTube to keep tabs on the growth of Tri Bow Tie.
Q&A with Marlon Rhodeman, founder, Tri Bow Tie
Tell us about your business and what makes it stand apart from the competition.
Tri Bow Tie is the world's first interchangeable, three-piece, pre-tied bow tie. There is no competition. … Bow ties are just hot right now. But the fact is that when you go to a store, you have to choose what they designed. Our bow ties allow the consumer to be the designer. With three bow ties, you can get up to 27 different combinations. Our starting line has more than 500 different designs. Tri Bow Ties are priced at $40 and up, depending on the type of material.
What inspired you to start your own business?
I was at a juvenile detention facility in New York, watching over the kids as a youth care worker. The kids would go to court in their sagging clothes. … One kid asked me if he could wear my bow tie to court. The judge complimented him on the bow tie, and he got to go home. The way he looked at me was like that bow tie set him free.
In 2008, I had the idea that I wanted bow ties that gave a sense of freedom.
We moved back to St. Louis, but had some family losses so we put the business on hold. We decided to bounce back in 2014 and came up with the idea for Tri Bow Tie. I told my grandmother [Mae Johnson] about my concept, and she came back the next day with a prototype. We spent two years perfecting the design and functionality. They started out looking like clown bow ties, but eventually we got it right. Now it's patent-pending, but we just recently filed for the full patent.
Editor's note: Marlon's grandmother is a professional seamstress who gave him his first job at age 4, picking up pins for 10 cents a piece. The head seamstress for an interior design firm that donated luxury fabric for Marlon to start his business, Mae currently sews each Tri Bow Tie. Marlon envisions her moving into a mentoring role as the business grows.
Tri Bow Tie would have never come to pass if it wasn't for the support of my family. My wife, Joy, is the one who named it Tri Bow Tie. She is the one who would tell me if my idea was good or if it sucked. She not only supports me, but pushed me to become successful. I am what I am because of her.
My mom, Ivy Rice, helped pay our rent and helped with groceries for our family so I could leave my job and work on our idea full time, which helped a lot.
We then moved in with my grandmother once our lease was up to help continue pursuing our dreams. It was hard and humbling moving into your grandma's basement with the wife and five kids (plus one more since then) — but the small sacrifice paid off.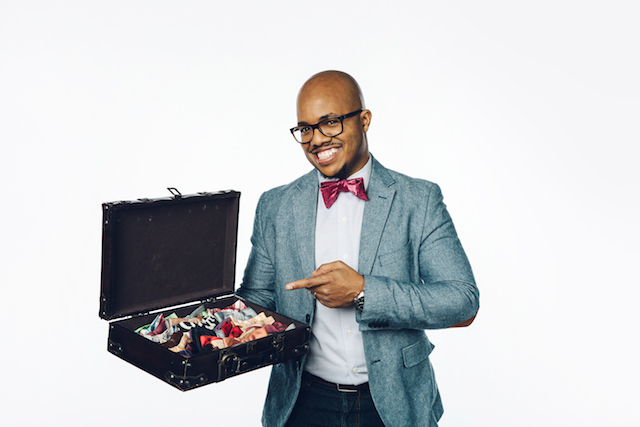 What obstacles did you face as a startup, and how did you overcome them?
In the beginning, motivation. When we lost a child and my grandfather within a two-week period, that was really tough. It would have been easy to just go back to work and give up.
Finances were a big thing. It cost about $30,000 to do everything. We got help from some family members and did a Kickstarter campaign, but it was unsuccessful because we were not sure how to market it.
After Kickstarter we started to get some traction because we'd made a
YouTube video
 and put it on
Facebook
.
It started generating orders. I had to tell people to wait because we're still producing them. I was on Fox 2 Now Bow Tie Tuesday also, and that drove a lot of people to us. I wish I would have done that before the Kickstarter!
What's worked, was creating funny videos showing how the bow ties worked, and sharing on social media. Describing it to them is kind of hard, but when they see it they get it. Sharing videos on social media actually raised a lot of awareness.
GoDaddy GoCentral lets you create a website in under an hour and link it to your Facebook page in just a few clicks.
What strengths do you bring to the table as an entrepreneur?
Resilience. I'm the type who thinks everything's possible. You just have to keep going and not give up. There's a saying by Dr. Myles Munroe that I like: The richest place in the world is the graveyard. A lot of people die with their ideas. They just gave up on them. If I have an idea, I don't care how old I am, I'm going to go through with it.
What's the most important lesson you've learned since starting the business?
Good stewardship — being wise over the little that you have and making it work.
You live and you learn. Going into this not being a business owner or anything, learning is important. Learning how to manage your finances, your time and family. Because family is a part of your existence.
Thanks for taking the time to tell us about your startup, Marlon, and best of luck as you bring Tri Bow Tie to the masses!