MaryJane's Flowers & Gifts makes a name for itself
MaryJane's Flowers & Gifts is a full-service local florist in Berlin, N.J. The business began as a special tribute to Sandra Hooper's mother, MaryJane. It's since blossomed into an award-winning shop, including a stint as a featured vendor with celebrity wedding planner David Tutera. Ready to be inspired? Read on.
Meet MaryJane's Flowers & Gifts
What inspired you to start your business?
Years ago, my mother, father and I talked about opening a flower and gift shop together in the building my father owned. It had housed my dad's insurance agency before my parents retired to the shore. He didn't want to sell the property; he wanted to keep it in the family.
Before I had children and became a stay-at-home mom, I'd trained as a florist. In 2003, with my children grown, my mother and I opened Plum Point Gifts (we did just gifts, no flowers).
Then the recession hit.
We were doing OK, but not the best. For some reason, my mother told me to close. We didn't know why; we thought maybe she wanted more time to get out (her health wasn't the best). So I closed Plum Point Gifts, donating what was left to an Alzheimer's group. Within a month, mom fell and broke her hip. Her health continued to deteriorate and she died in September 2009 at age 74.
When the life insurance check arrived, my father knew exactly what his wife of 47 years would want him to do. He called me and told me to open a flower shop in his old office. So, I did just that, and named it after my mother, MaryJane. The business logo is mom's initials.
I can't think of a better tribute to the greatest mother of all than to have her name in lights on our building.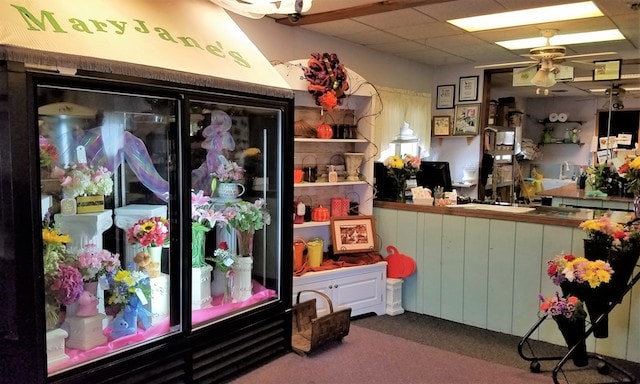 Since the Grand Opening on Jan. 29, 2010 (my mother's birthday), business has been great. I designed a personalized floral arrangement for the opening, featuring family photos tucked among the flowers. The design was featured in the Flower Shop Network's April 2010 newsletter. The arrangement was a way to honor my mother's memory, but the shop is even more so. My mom would be thrilled.
Did you face any obstacles as a startup?
Getting our name out there was one of the biggest. It is amazing — people drive by your business every day for years. Finally, they stop in and place an order and then ask, "How long have you been in this location?"
After several years, we still hear this from new customers. We've changed signs, we've added signage, we've put up flags, we painted the building — but we still hear this statement. It is getting a lot less, but I will say this one obstacle has taken the longest.
It's important to
gain trust
 within your community.
Not everyone can make a floral arrangement, but most will judge the product you put out there. We have gained their trust by providing the best quality product we can and standing behind it with a full guarantee.
Does MaryJane's have a particular claim to fame?
A wonderful attribute to have linked to your name is quality. The length of time a floral arrangement lasts is important, along with the appearance of the flowers. This has been one of our goals — we have had customers praise us on how long our flowers last. I have spent a lot of time researching different flowers and methods for keeping them hydrated and staying fresh longer.
What's your business philosophy?
Complete customer satisfaction is truly the only way to run a floral business. Just think: the prom flowers you do today, may be the wedding flowers in two years, then the anniversary flowers, and the baby flowers of tomorrow, and so on. Make the customer happy, because word of mouth can help you as well as hurt.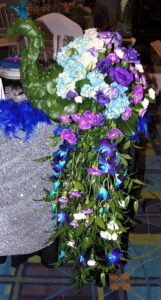 The shop's digital tools
What online tools do you use for your business?
We use GoDaddy for our domain name registration. I would have preferred MaryJanesFlowers.com, but it was taken, so we just went with MaryJanesFlorist.com. Our current web page is on BloomNation, an online floral marketplace where anyone can buy and sell flower arrangements. We're also active on Facebook, as well as Instagram and Twitter.
What difference have they made to your business?
Social media has helped in educating the public about flowers and the difference between florist-grade and grocery store flowers. I have had soldiers overseas contact me and ask if I can get flowers to their wives or girlfriends. Being a military wife for 20 years, I have been there and done that, so I go out of my way to help.
Honors and awards
Has MaryJane's Flowers & Gifts won any awards?
We won the 2010 Top Designer award from Flower Shop Network. It was a series of challenges over the summer — they would put up a picture on their Facebook page and ask us to interpret it with flowers. Then it was voted among Facebook fans, until it came down to the final challenge which was decided by Flower Shop Network. I had won a few of the individual weeks and then also won the final week!
Were there any turning points for MaryJane's?
The first big turning point was booking our first wedding.
For advertising, we'd placed a large vase of flowers in the local diner with our business card in them; the owner pushed us like there was no tomorrow. She sent me this couple. I had experience, but no actual wedding to show them, so I was a little leery. But these guys took a chance on me. They stopped in the night before the big day to see everything and were pleased. Neither of them wanted a boutonniere. Being who I am, I made them one anyway.
When we got to the venue to set up, my staff went about setting up and I went looking for the couple who were out having pictures taken. When I showed them what I had done, they both stepped down from the gazebo, gave me a big hug and asked if I would pin them on them.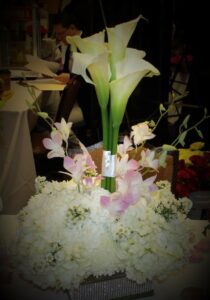 Tell us about how you came to work with David Tutera.
So we normally close at 2 p.m. on Saturdays, and I would head home to watch David Tutera's wedding show on the WE channel. I was usually glued to it, looking for innovative ideas and trends.
Then one day I received a postcard in the mail at the shop that he was doing a new type of wedding show and one was scheduled for in Philadelphia, so I applied. They checked out our website and not sure what all else, but it was several weeks before we received an answer back that we were approved to be a vendor at his show.
Working with David Tutera was a dream come true! We got to meet with him and have pictures taken with him — it was a great weekend! We're now listed as an "approved vendor" on his website. Being able to say we are a David Tutera-approved vendor has definitely helped our business.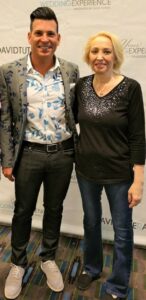 Advice for those just starting out
What's the most valuable lesson you've learned since starting MaryJane's Flowers & Gifts?
It is my business and I need to be the one on top of things! Don't assume others are doing what should be done.
If you had to do it over again, what's one thing you'd do differently?
My first thought would be to say to have not forgotten the flowers up front when we first opened. But really, nothing — my way of thinking is what you do in your life is what makes you who you are.
Do you have any other advice for other entrepreneurs?
If you have the opportunity and means, go for your dreams! Do your research, and follow your heart and your plans! Don't let others tell you what you want.
Thanks for chatting with us, Sandra, and best of luck! You definitely picked a life-giving profession. Connect with MaryJane's Flowers & Gifts on Facebook, Twitter and Instagram.