Meet the winners of the Small Business Stories Video Contest
As a company dedicated to helping entrepreneurs successfully launch and grow their independent ventures, it was a real pleasure to sponsor a video contest aimed at sharing some truly inspiring #smbstories. Filmmakers representing nearly 200 small businesses from around the world submitted entries — and it was no easy task to whittle those submissions down to 10 winners of the Small Business Stories Video Contest.
The videos show entrepreneurs from all walks of life rolling up their collective sleeves to do what needs to be done, day in and day out, to make dreams come true.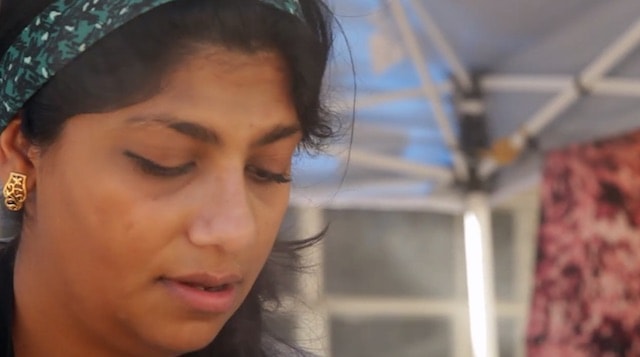 Mustapha's restaurant is so small that he pushes the pots aside to go to sleep at night. Deepa's vision is so big that she makes tough choices everyday to offer gourmet cuisine on a shoestring budget. These are but two stories of grit and determination, of passion and sacrifice, that we're proud to help illuminate.
Without further ado, here are the winners of the Small Business Stories Video Contest.
10 winning films of the Small Business Stories Video Contest
Anima e Cuore, 1st Place, $10,000

Anjore Austin, 2nd Place, $3,000

The Paint Mart, 3rd Place, $1,500

Behind the Bar, Honorable Mention, $1,000

Danceador, Honorable Mention, $1,000

Experimac Midtown Atlanta, Honorable Mention, $1,000

Cheapskates, Honorable Mention, $1,000

Auntie Jill's Cheesecakes, Honorable Mention, $1,000

Rapid Print, Honorable Mention, $1,000

The ManeStream, Honorable Mention, $1,000
1st Place: Heart and Soul
You might say fate brought Mustapha Mouflih to the future location of Anima e Cuore ("Heart and Soul") in London. He wrecked his motorbike in front of the tiny storefront in Kentish Town — and saw that it was available for lease.
"I said, 'I take over this place.' No walls, no toilets, no nothing. We put two tables, two chairs, fork, knife, and the main thing's to focus on the food."
The strategy has paid off. By lovingly crafting each dish from scratch and focusing on providing the best possible service for the 25 diners his establishment can hold, Mustapha and his team have earned rave reviews.
Filmmaker Ben Garfield started out as a satisfied local customer — and soon saw Anima e Cuore's story potential: "I had my first meal there about eight months after it had opened, having read a number of rave reviews. I can still remember the freshly made Tagliatelle with veal ragu! It lived up to the hype. I got to know Mustapha well after that, often dropping by for a coffee and some of his award-winning gelato. He shared his cooking philosophy and the story of the restaurant with me, and I knew it would make a great subject for a film."
Ben says he explored several approaches to telling Mustapha's story on film before realizing that "the editing worked best when it synchronised with the rhythm of his speech, showing short flashes of the area, the restaurant and the dishes, to try to mimic the bursts of creative inspiration which drive his process."
We think you'll agree that it was a perfectly paired approach. "It's such a privilege to win this contest, especially considering there were so many great entries, with moving and inspiring stories," Ben says. "I'm thrilled."
2nd Place: Anjore Austin
Filmmaker: Patrick Higgins, Neches Films
With Anjore Austin's low-country Indian fare with a Texas twist, chef-owner Deepa Shridhar casts aside caste-based culinary rules. "In Indian food and in Indian culture … We are separated by castes, and different cultures and different languages," she says. "There's a way to prepare things, and there's a way not to prepare things — we kind of just throw that out the door."
Deepa strives to infuse every meal at her pop-up restaurant with a sense of adventure.
"My business model is being able to do a fine dining experience while you only have enough money for a tent and a grill. I want to do anything and everything, and the hard truth about having a business is you do have to hone your ideas — which can be heartbreaking."
Filmmaker Patrick Higgins worked with his partner at Neches Films, Kurt Hanley, and his wife, Tamara Buran, to put the Anjore Austin story on film. He says they took a "fly on the wall" approach to telling Deepa's story, capturing her both her intense energy and her candor about the rigors of running a small business. "Deepa's been trained at some of the best restaurants in Texas (and the country), and she works with an intense speed," Patrick says. "It can feel like she's in three places at once, and in some ways she has to be in order to keep up with all of her business commitments."
Patrick and team shot at a number of different locations to offer viewers a meaningful glimpse into the hustle it takes to run Anjore Austin. "Deepa has any number of events each week — some planned for months, some planned in a matter of hours. She has to hustle to get things done," the filmmaker says. "We wanted to try and cover the scope of what she does, and because she does so much, we shot a lot. There's no way we could've gotten what we needed to tell this story in a couple of hours. Deepa inspired us to get in close with the action, and she challenged us to try and match her pace and the amount of ground covered … which was not easy."
3rd Place: The Paint Mart
"The business certainly was always a challenge, very difficult, but you know I always felt like it was a tremendous opportunity to be able to own my own business." ~ Greg Schweigert, owner, The Paint Mart
Lynn and Greg Schweigert have owned and operated The Paint Mart in Pensacola, Fla., since 1986. "When we first kicked it off, I was pregnant with our third child, and it was a very hard road," Lynn recalls. Her husband worked up to 12 hours a day as their family grew to seven children. But it was their family that motivated the couple to fight for every customer. As Greg says in the film:
"I believed that in time you know, if I grew the business that I would be able to create something of value. Hopefully be able to pay all the debt and be able to hand something over to my children, and leave a legacy for them. It is now a business that I could pass on to my children, and that they can carry on into the future, and live out their dreams."
That's a story that the Schweigerts' son-in-law, Ryan Spencer, was itching to share with viewers of the Small Business Stories Video Contest. "The Paint Mart to me is an amazing, humble example that with hard work and integrity anything is possible."
Honorable Mention: Behind the Bar
"Our motto at Brownstone is, 'You come in as a stranger, you leave as a friend.'" ~ Derrick Hamilton, co-owner, Brownstone Bar & Restaurant
Derrick Hamilton spent 21 years in prison for a crime he didn't commit. Today, the only bar he stands behind is the one he owns in Brooklyn. Derrick partnered with his friend, Shabaka Shakur — who also was exonerated after spending 27 years in jail — to open Brownstone Bar & Restaurant. "Shabaka and I shared a common experience, and now we're together in the restaurant business," Derrick says. "It's amazing for us, man. Everyday we just thank God that we're out and that we're working together."
Honorable Mention: Danceador
"Dance is one of those things that transcends borders." ~ Johanna Ciampa, founder, Danceador
Johanna Ciampa's love of dance led her to a career in … firefighting? Well, in a roundabout way. "I always wanted to be a performer, but I didn't think that I could do it because the world has always made it sounds so complicated to be an artist, " says the Missoula, Mont., resident. "So I ended up becoming a firefighter. I used that money to begin my travels." Inspired by the various forms of dance she experienced while traveling, Johanna eventually launched Danceador. This "virtual dance ambassador" serves as a platform to showcase different forms of movement from every corner of the globe.
Honorable Mention: Experimac Midtown Atlanta
"When I think about what stopped me from becoming an entrepreneur earlier in my life, I think it was just the fear of 'can I do it on my own?'" ~ Ernest Duncan, owner, Experimac Midtown Atlanta
Ernest Duncan always knew he wanted to be an entrepreneur — and with the encouragement of his husband, Lentheus Chaney, he finally did it. Ernest is the owner of Experimac Midtown Atlanta, a franchise that buys, sells, trades and repairs Apple devices.
Honorable Mention: Cheapskates
"The mom-and-pop skateboard shops are getting harder and harder to find." ~ Ron Hale, owner, Cheapskates
Ron Hale picked the right time to open Cheapskates skateboard shop in Memphis. "It was the 1980's, and an influx of skaters from California were dropping into Tennessee. When I opened this place in '85 I didn't think I'd be here for 31 years. I thought this would be fun, a fun little experiment," Ron says. Through boom times and harder times, he's remained focusing on providing the best service possible to people who share his love of skateboarding. "Maybe I could have shut down and done something else," he says, "but I don't think I'd be nearly as happy doing it."
Honorable Mention: Auntie Jill's
"What drives me to do this business everyday is my three girls. I want to leave them a legacy." ~ Jill Enerson, founder, Auntie Jill's Custom Cheesecake
Divorced mom Jill Enerson sold her kitchen table for $600 to start Middleton, Wis.-based Auntie Jill's Custom Cheesecakes. She balances building her cheesecake business from 8 to 4 with all the other responsibilities of a busy mom — a tough juggling act with a ambitious end goal: to "build a family name" that will help her daughters prosper in the years to come.

Honorable Mention: Rapid Print
Filmmaker: Stephen Fisher, Fisher Media
"We know firsthand what starting a business, and chasing a dream, is like." ~ Doug Gaudieri, president, Rapid Print & Marketing
Print is not dead. Just ask Doug Gaudieri, president of Rapid Print & Marketing in Rochester, N.Y. "If print is dead, then I must be dead because print has been my livelihood for about 30 years now." Doug's dad started the printing business after losing his job — a gamble that, with hard work and the whole family behind him, paid off. "I watched and I learned and eventually I made this company my life, too," Doug says. "And I'm so proud to know that what we stand for today are the same things that first helped Rapid Print grow."
Honorable Mention: The ManeStream
"What inspired me to do this was ever since a little kid, I've always loved designing, especially in fashion, and I've always wanted to be an entrepreneur." ~ Martin San Juan, founder, The ManeStream
Martin San Juan doesn't yet have a high school diploma and he's already the CEO of his own clothing company. The California high school student started The ManeStream about two months ago. He wears many hats in his fashion startup — head designer, chief marketer, manufacturing liaison — in a bid to build a brand that's already gained a celeb following on Instagram. "I felt like starting this would be a great like learning experience for me, for the future," Martin says.
A well-deserved congratulations to all the the winners of the Small Business Stories Video Contest, and each small business and the filmmaker who submitted their story. Want to learn more? Check out this post on the Audience Awards website.
[advertisement id= "25749"]