Microsoft Office 2016: Mac users, rejoice!
I'll never forget my first. Fast and intuitive, she seemed immune to viruses and made for design. She was tangerine. And, oh, those curves. I've worked on a lot of Macs since that trusty G3 in the late '90s — and I've been happy with every aspect of the experience … except one.
Like countless other professionals in the civilized world, I use Microsoft Office. Always have. The problem is that my two favorite technologies — my Mac and my Office — didn't always play well together.
"Office 2011, the release that most Mac owners are running today, is based on a five-year-old design. Its mishmash of toolbars and menus and ribbons is a usability nightmare. I know dozens of professionals who use Office 2011 on the Mac, and I rarely hear anything good about it.

Over the years, I have tried to switch to a Mac, and every time, the experiment has ended poorly, usually in a matter of days, with me giving up on Office 2011 and moving back to the familiar (and far superior) Office 2013 on Windows.

But that's all changed."
With the recent release of Office 2016 for Mac (the full release of Office 2016 is slated for September 22), it looks like the days of wonky Word docs, syncing woes with Outlook, and hair-pulling Lync issues might be over.
Office 2016: A gift for cross-platform users
Microsoft says about 75 percent of its Office customer base is comprised of cross-platform users — primarily people who use a PC at the office and a Mac at home. (I live with one, although I'm a purist myself).
Office 2016 is the first version of Office built from the ground up with cross-platform users in mind.
As Bott notes in his excellent review of Office 2016 for Mac: "I haven't run screaming from this version of Office — far from it. Instead, the entire experience feels familiar and … productive."
Check out a few cool new features of Office 2016 for Mac :
Integration of popular Mac features like Full Screen view
Higher-quality layouts, colors and fonts in Word's new Design tab
Familiar keyboard shortcuts for Excel
Improved Presenter View and new Animation Pane in PowerPoint
Push mail support and better inbox organization in Outlook
Plus, the new Office for Mac Now includes the OneNote desktop application to capture ideas and access them on any device. Nice, huh? You can check out all the bells and whistles of Office 2016 for Mac here.
Geeky perks
While many of us are simply overjoyed at the prospect of running Lync without issue on our Macs, our more IT-savvy friends (especially IT admins) will appreciate these new features of Office 2016:
Enhanced security. This is the most secure version of Office ever. It offers data loss prevention, multi-factor authentication (so you can securely access content even off the corporate network), and information rights management so you can encrypt your data online and off.
Flexible click-to-run options. Like flexibility? Office 2016 features options like deferred updates, simplified activation management, and Background Intelligence Transfer Service (BITS) for better network traffic management.
Improved Outlook performance. You'll get email on steroids with Office 2016's enhanced Exchange/Outlook connectivity, quicker message download time and better storage management on devices. Plus, no more foreground network calls — making Outlook more responsive on unreliable networks.
Office 2016 for GoDaddy customers
Starting September 22, you'll get the Office 2016 suite if you purchase an Office 365 Business or Business Premium plan from GoDaddy. That means you'll be able to download and install the sweet new version of Microsoft Word, Excel, Outlook, PowerPoint and OneNote on up to five devices per user AND five iPads or Windows tablets.
Already have a Business of Business Premium subscription to Office 365 from GoDaddy? Great! You can download the Office 2016 update, too. It's super-easy, but our stellar support team is available 24/7 to help you out if you run into any snags.
Please take note: You'll need Mac OS X 10.10 or Windows 7 or later to take advantage of Office 2016.
Sound good? If you're a Mac fan like me, I'd put money on it.
What do you think about Office 2016? I'd love to hear about it in the comments below!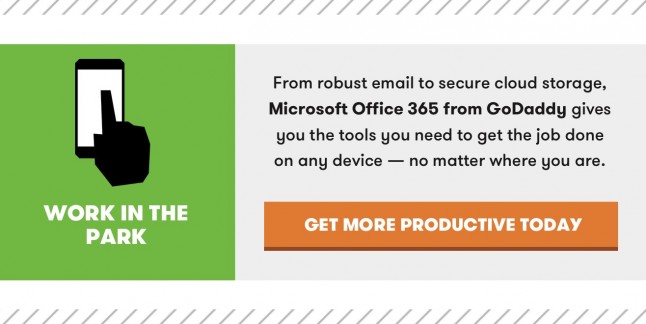 Image by: Ryan McGuire