Music that matters markets itself
The road to success for any new business is rarely smooth. This is especially true for independent musicians. Most see dozens of doors slam in their face before the right one opens up. Staying focused and positive and recognizing silver linings are key to weathering the early storm of entrepneurialship.
Even with local or regional success, or even a record deal, making your work sustainable is challenging. Essence Goldman is an award-winning singer-songwriter from San Francisco who knows this first hand. She was signed to a major label and has worked with boutique labels. She won the grand prize at the National Lilith Fair Talent search. She toured nationally, received critical acclaim for several albums, and licensed her music to film and TV. After all these successes, how is it that Essence not yet a household name? Well, she may be soon.
With music being created and consumed at a higher rate than ever before, times should be great for independent musicians. Earlier this year, AdAge declared that the music business is back.
"After a 20-year decline, we are seeing growth—in fact, double-digit growth. Music is being created and consumed at a higher rate than ever before." —Jesse Kirshbaum
The share of money spent on music that goes to independent labels and artists is on the rise too, but that doesn't make earning money as an indie artist easy.
Stand up to stand out
In today's crowded music market, standing out is harder than ever. Awards and accolades alone don't guarantee a revenue stream. Producing great music or even nailing social media don't either.

Staying top-of-mind is hard for any brand, especially when the competition is literally one click away.
One way to rise above the noise is to show that you stand for something that others care about. This can help bond brands to their tribes, generate publicity, and inspire organic word-of-mouth marketing.
Essence did not set out to gain publicity from doing good. She answered a call that now seems almost divinely guided.
Earning a living as a musician often involves managing several sometimes disparate income streams. One of those for Essence was teaching voice lessons, and a project that introduced her to a recently divorced, middle-age surfer following a life-long dream of making an album, Bernie Dalton.
Not far into their work together, Bernie's voice began to falter, but Essence and Bernie tried to power through it. When eating and drinking became difficult and Bernie's weight began to drop, he saw a doctor. The diagnosis was a death sentence: an aggressive form of ALS or Lou Gehrig's Disease thast would soon render Bernie's body immobile; he was projected to live three more years at most.
But Bernie found his own silver lining in the facing his own premature death. Faced with this news he decided that he had to use whatever months that remained to pursue his dream. Boxed in by a condition that froze his body, but left his mind in-tact, he asked Essence to help.
They'd bonded over the months of working together, each having recently divorced and raising kids. He wanted to leave the legacy of his music to his teenage daughter, and see his dream fulfilled, so he asked Essence to be his voice.
But she was in the middle of producing her own music, rising up after her own tragic divorce. Despite initial concerns about putting off her own dreams, she felt called upon to make Bernie's come true.
Given his condition, it was now or never.
How Essence helped Bernie's dream come true
At first she planned a fundraiser and a couple of songs. But Bernie and his music inspired her and melodies started coming through her guitar. They collaborated on songs, put together a band and started rehearsing.
They registered BernieAndTheBelievers.com, created a website, and started crowdfunding the project. Crowdfunding helped to engage fans in spreading the word about the project, and interest started building organically.
Submitting to National Public Radio (NPR)'s Tiny Desk Contest was an important step in their success too. Finalists at this popular contest have gone on to national fame, including the SF Bay Area's own Fantastic Negrito who won a GRAMMY Award.
Despite not winning the contest, they were featured on NPR's All Songs Considered in April. The band was invited to perform at their studio in DC this month, breathing new life into the project of Bernie's songs. They are now raising funds to help make Bernie and the Believers' dream come true.
Doing good is good for business
Keys to Success:
Be positive
Look for silver linings
Never give up!
Essence and Bernie have proven that when you stand for something larger than your art, fans will do your marketing for you. People are eager to share content when it benefits a cause they care about. The media are usually eager to give you coverage that further expands your reach.
Any small business can benefit from this strategy. There are many ways a brand can give back to your local community. The key is to develop a strategy that reinforces your authentic ability to make an impact, and make it easy for fans to find, fund, and support you.
Bernie Dalton Participates in Live Music Concerts by Video Meeting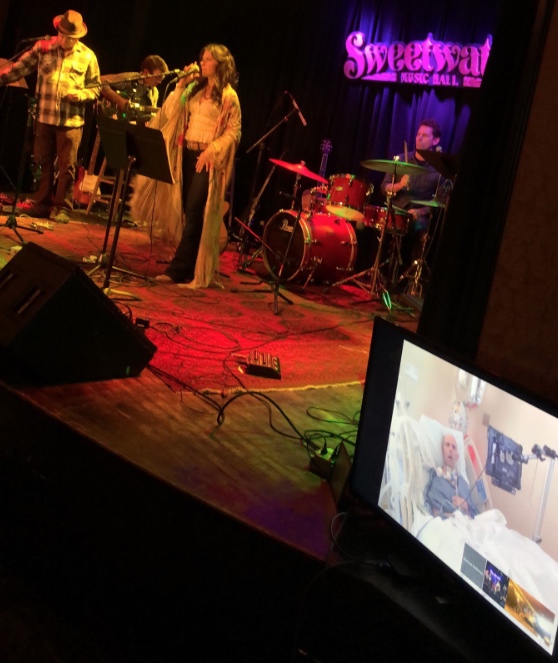 Bernie can't speak or sing, but his mind is sound and he can see and hear. His music is getting out there, and his story inspires everyone who hears it.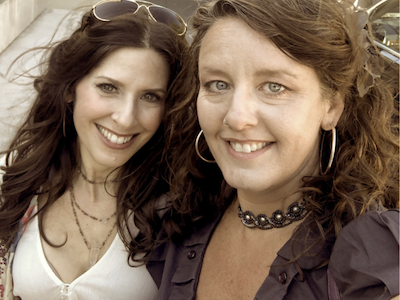 One way to rise above the noise as an independent musician is to stand for something that others care about. Thank you, Essence and Bernie! Your story is truly inspiring. If you want to learn more about Essence, be sure to visit her website. You can also follow her on Facebook, Instagram, Twitter and YouTube and Spotify.
Here is Bernie's website. You can find his music on Spotify.
Image by: Featured image by this post's author