New WordPress changes that will affect your small business website
Things may be rosy right now with regards to your website, especially if you have a dedicated developer on hand. However, given some new WordPress changes in the pipeline, you might have some adaptive work to do. These changes will affect the platform itself — such as a wholesale change to the content editor — and also concern the General Data Protection Regulation (GDPR).
As such, the work you do now to adapt means a smoother 2019 and beyond.
In this post, we'll look at these new WordPress developments. We'll also discuss what your next steps should be to keep things running smoothly.
Why does WordPress need to evolve?
As any good business owner knows, size definition is a dynamic value. In other words, a business's size is directly related to its level of success. The same goes for the tools you use — including WordPress. In fact, the platform has seen a fair amount of growth and changes in the past 12 months, let alone during the 15 years since its inception.
While much has changed with the platform during this time, there's a lot left to come. For example, take the current editor within the WordPress dashboard: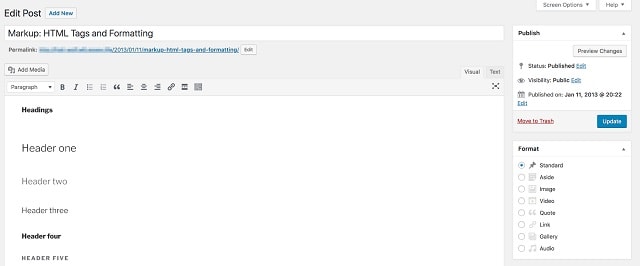 We'll talk more about this in the next section, but WordPress is changing to improve the way we create content to match its competitors.
There are also under-the-hood changes required, including alterations to the core codebase. Without getting too technical, WordPress is built upon a coding language that includes some drawbacks, which can be eradicated with more modern languages. This is something the platform intends to address in the near future.
Finally, WordPress will also face external elements, such as changes to the law, that the platform has to abide. We'll talk a little more about this later, although you'll probably have an idea of some of these already.
A new WordPress: Big changes in 2018 and beyond
Let's get what's arguably the small business talking point of 2018 out of the way first. The GDPR has been a much-needed regulation for end users and a bane of many businesses' existence in equal measure.
For the uninitiated, the GDPR is an EU directive that helps protect the privacy of end users, and controls how businesses collect and use data. Opinions about it are varied, and the debate is often heated. In any case, WordPress now includes a number of great additions to help you comply with the GDPR, such as a built-in privacy policy generator, and a way to completely delete user data: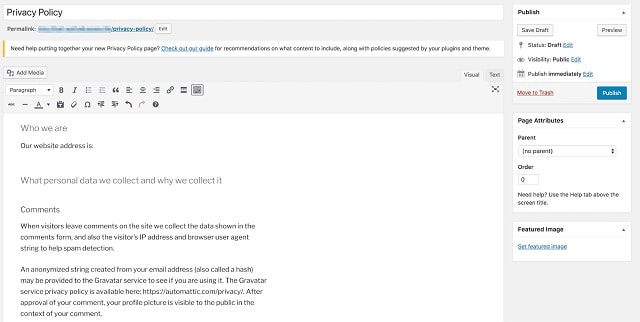 A more directly significant change for the average user is how content creation will shift. This comes in the form of Gutenberg, which is going to become the new WordPress editor very soon: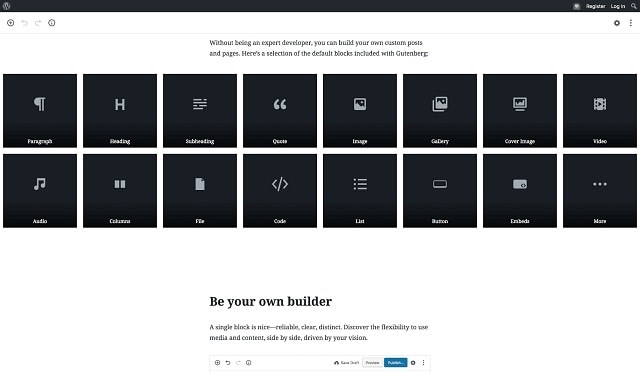 You'd be forgiven for not understanding what this is, or why it's necessary, as promotion hasn't been too forthcoming. In short, WordPress's competitors have highlighted how dated the current editor is for creating content. Newer users arguably don't find it as easy to use as more visual layout creators from the likes of Medium.
What's more, WordPress's own development community has created a number of page builder plugins that show up the current editor even more.
In short, the editor needs an overhaul, which has become a top priority.
Finally, there are a couple of rumblings you may have come across that need further explanation — the move to JavaScript and the evolution of websites into a web-wide Digital Experience Platform (DXP).
The former is essentially a developer's concern, although you can delve deeper into the subject if you like. As for DXPs, these were mentioned at a recent WordCamp as a new concept for site creation, and are something that should be on your radar.
Related: Gutenberg + WordPress from a marketer's point of view
How will these new WordPress changes affect your small business website?
As with any complex issue, the answer is: it depends. This is especially true when you consider that we're effectively lumping a bunch of moving parts and concepts into a handy soundbite such as "Gutenberg and the GDPR."
Ultimately, you have two aspects to consider:
How do WordPress's changes to the editor impact the rest of your site? If you have a heavy content marketing strategy involving regular blog posting, and your current theme and plugins aren't Gutenberg ready, you have work to do.
Related: What WordPress 5.0 means for businesses
How does the GDPR impact your business as a whole? For example, does the additional data collection considerations change the way your sales funnel works? This is obviously such a wide-ranging situation that it's a good idea to sit with your team and hash this out. However, be prepared to refine the plan you create multiple times to get it right.
Related: Save 4 percent of your turnover by taking steps to comply with the GDPR
If you're fortunate enough to have a developer you can turn to, asking them questions about how these changes will affect you in the short-, mid- and long-term should help to alleviate any concerns you have.
Conclusion
As you may realize, growth and evolution is vital to the sustained success of not only a small business, but the tools you use to run it. WordPress is no exception, and 2018 has introduced (or will be introducing) major changes to the way it works. By extension, this will impact your daily workflow.
The two major aspects to consider are Gutenberg — the new WordPress default editor — and the GDPR. You might have already looked into the latter. However, the former is going to catch many small businesses by surprise, so familiarizing yourself with it now will save you potential headaches down the line.