November 2019: What's New in Websites + Marketing
Giving thanks is always in season, and especially in October and November. We're most thankful for you, but we're also thankful for all the things our Websites + Marketing and Online Store teams have worked on all month to release.
Facebook Pixel enabled in Online Store
Customers who use the Facebook Pixel rely on it to understand conversion from Facebook ads, optimize their ads, build targeted audiences for future ads, and re-market to people who have already taken some kind of action in an online store.
Want to add your Facebook Pixel?
Make sure you've already created your Facebook Pixel, and copy your Pixel ID.
Go to your Websites + Marketing site, and select your website then Edit Site to open the website builder.
When your website builder opens, select Settings from the right panel.
Scroll down until you find the Facebook Pixel option. Follow the prompts to paste in your Pixel ID then publish your site.
If you want more instruction, visit our Help article Add Facebook Pixel to my website.
Media library improvements
We have two new things you can do in your media library: search your uploaded photos, and import images from Facebook and Instagram.
Search the media library
Anytime you're in your media library, now you can search the file name and alt text for your uploaded images.

Import Instagram images
While you're in your media library, select the Social Media tab. Now you can see your Instagram accounts on the left in addition to your FB accounts, and be able to re-use any of your images from your other accounts.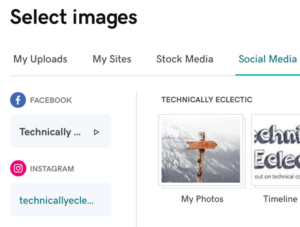 Connections has new email list management options
Whether you have many contacts or just a few, these new options will make it easier for you to manage your list.
Create new lists
Edit (or delete) existing lists
Add contacts to or remove contacts from one or more lists
Create new lists and add a contact to the list at the same time.
Create new lists when you import contacts.
Assign contacts to one or more lists when you import your list.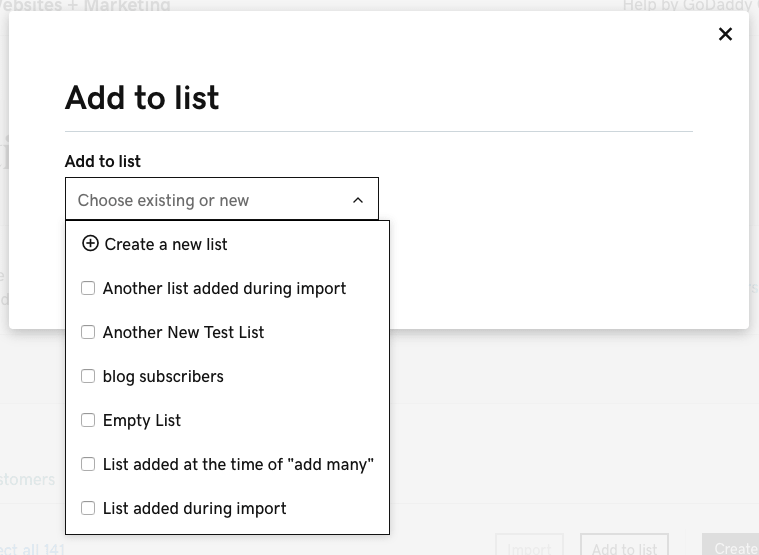 Your turn to try:
When you go into your Websites + Marketing site, go to Connections. If you don't have any email subscribers yet, add some (although you can manage Customers and Members with lists as well).
Select some members and start sorting them. Your lists will help you keep organized.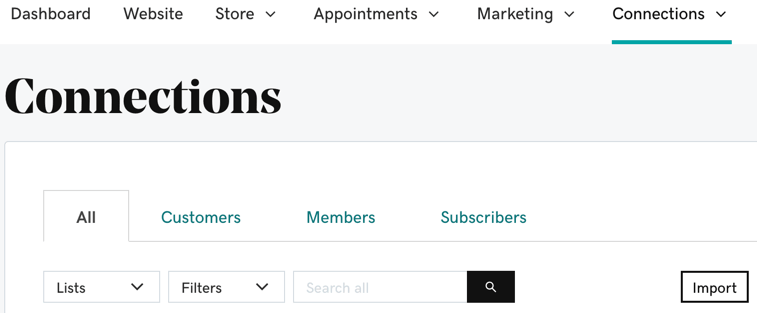 Updated themes and layouts
We never stop improving. Here are some new things you'll see in your website builder:
New Contact layouts: We released three additional Contact layouts, including a form-only contact card, and some new choices when listing your open hours.
Script theme updates: The Script theme has more color options.
Kai theme updates: Not only is the primary color now more distinct, we added an option to add a background color to the navigation bar to help with readability if you have an exciting background image. For logos taller than 104 pixels, the logo will overhang the navigation bar.
If you want to try out a new theme, open your website builder. From any page, click the house icon to take you Home.
You'll see Themes on the right, and the ability to browse and experiment with new looks.
New countries and languages for Online Appointments
Online Appointments is now available in Spanish in Colombia, Peru, and Chile.
And now Canadians can choose between French or English.
Websites + Marketing Help resources
If you have questions, check out these Website Builder resources. And remember — we offer 24/7 phone support. Call us!
Note: If you don't already have a Websites + Marketing account, you can start a free trial today.
Need help with social media? The GoDaddy Social team can help with that.
Image by: Cameron Linville The Freckled Foodie by Anthony Georgis; Icons of our Tribe in New York City, New York