No online store? You can still sell on the Web
The GoDaddy product information in this article is outdated and currently under review for accuracy. For the latest up-to-date product information please visit godaddy.com
Word on the street is your products are awesome. So awesome that everyone you know is telling you to get online and start selling them! You know deep down that people would pay BIG MONEY for your stuff, but where do you even get started? Lucky for you, selling products online without (or with) a website has never been easier.
The e-commerce landscape is lush.
You've heard of online marketplace sites like eBay®, Etsy®, Amazon® and Google Merchant Center™ — you know, those sites where people go to buy random stuff ranging from books and phone cases to used ladders and hand-woven baskets. They're like the one-stop-shops of the Internet. And they're where businesses (both large and small) go to sell their stuff, often even establishing a presence on these third-party sites if they've got their own online store.
You can never showcase your products in too many places, right?
So which of the four most popular marketplace sites is best for you? You'll be the judge of that. But to help you out, here's some info that might help you decide where your products will sell the best:
eBay
eBay is perhaps the most used and recognized marketplace online. It's like a mix between a virtual garage sale and a mall, where you can sell nearly anything, new or used. This e-commerce site gives you the option to list your products at a set price or sell them via auction to the highest bidder.
Like any e-commerce site, great product images can make the difference between a bidder clicking "Buy Now" or moving on to the next listing in their search results — so take the time to present your products in the best light. Or at least from various angles.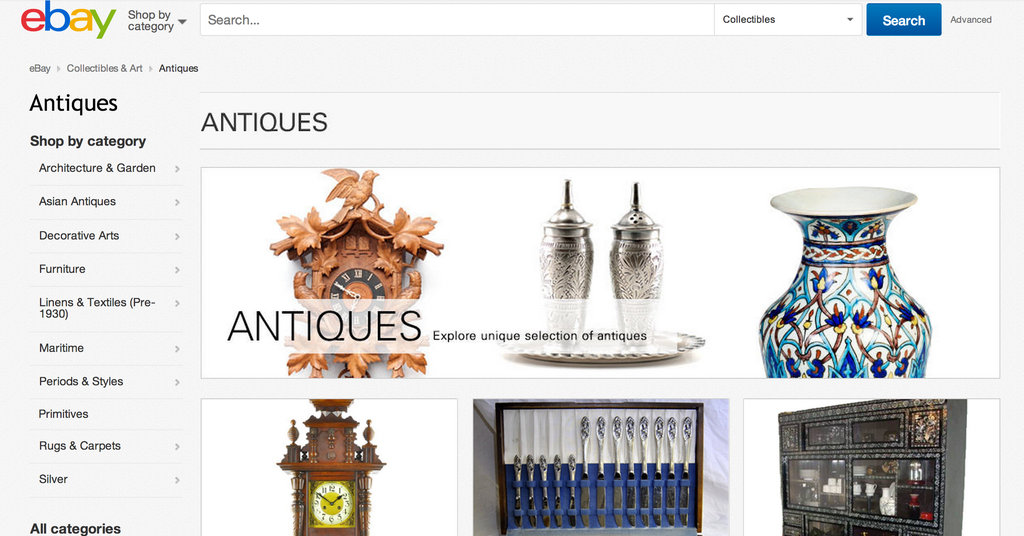 Associated fees: Listing, transaction (sale), upgrade and shipping fees might apply.
Etsy
As DIY projects, vintage collections and repurposed creations have become increasingly popular over the past few years, so has Etsy — a marketplace for handmade, vintage (items older than 20 years) and craft items! If you make or collect unique products, this is the perfect marketplace to reach your target audience.
Shopping on Etsy sort of feels like browsing a series of boutiques — a bit more personal than bigger online marketplaces. Customers easily can tweet, pin and like their favorite items, giving sellers a golden opportunity to engage with pre-qualified consumers via social media. That's big.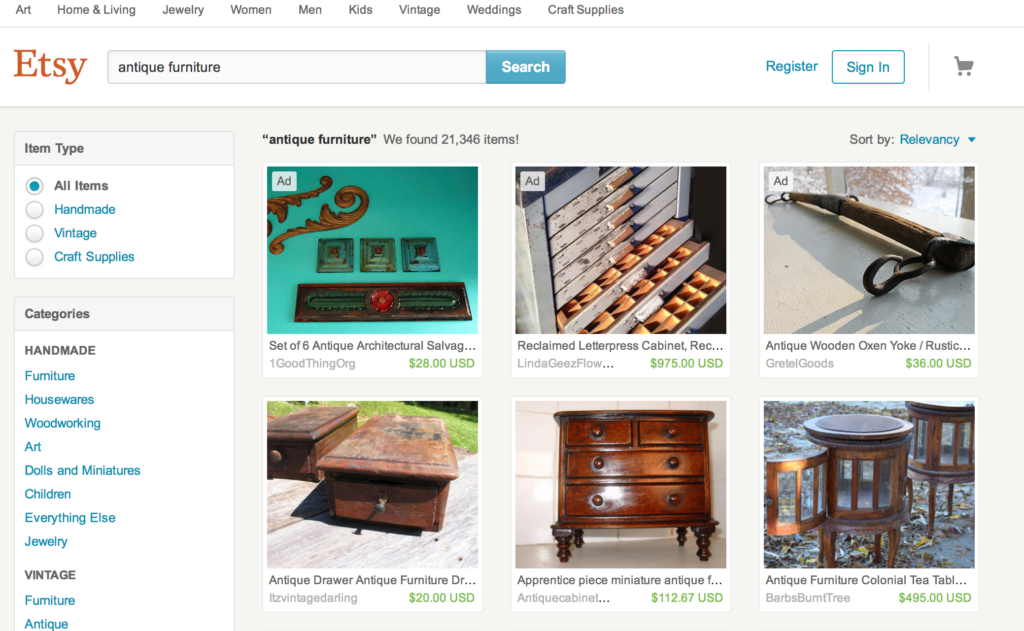 Associated fees: Etsy charges a fee of 20 cents per item listed and 3.5 percent per item sold.
Amazon
I've got quite a few relatives (mostly male) who haven't set foot in a real-world retail store during the holiday season since they discovered Amazon. They prefer to skip the decked out malls in favor of their own four walls (and laptops). You could probably tell a similar story.
Amazon makes buying easy — and this e-commerce behemoth makes selling downright convenient. Whether you choose to sell as an individual (less than 40 items sold monthly) or as a professional (40 or more items sold monthly), you'll have access to awesome features — one-click ordering, Amazon shipping and return policies — that eliminate a lot of time and hassle.
But, because Amazon is such a huge online marketplace — more like the biggest shopping malls in the world, combined and multiplied — it's critical to stand out with a stellar feedback rating. You need those stars. Accurate descriptions, clean packaging, timely shipping and top-notch responsiveness are musts.
Associated fees: Standard rates are 2.9 percent plus 30 cents per transaction, but can change based on membership and monthly transaction value.
Google Merchant Center
Google Merchant Center is the newest online marketplace on the block, but it's picking up speed quickly. It's a tool that lets you sell your products on Google Shopping™, the Internet giant's price comparison service. If you've searched for any product on Google, you've likely seen products listed right at the top of the search results. That can be very good for your business.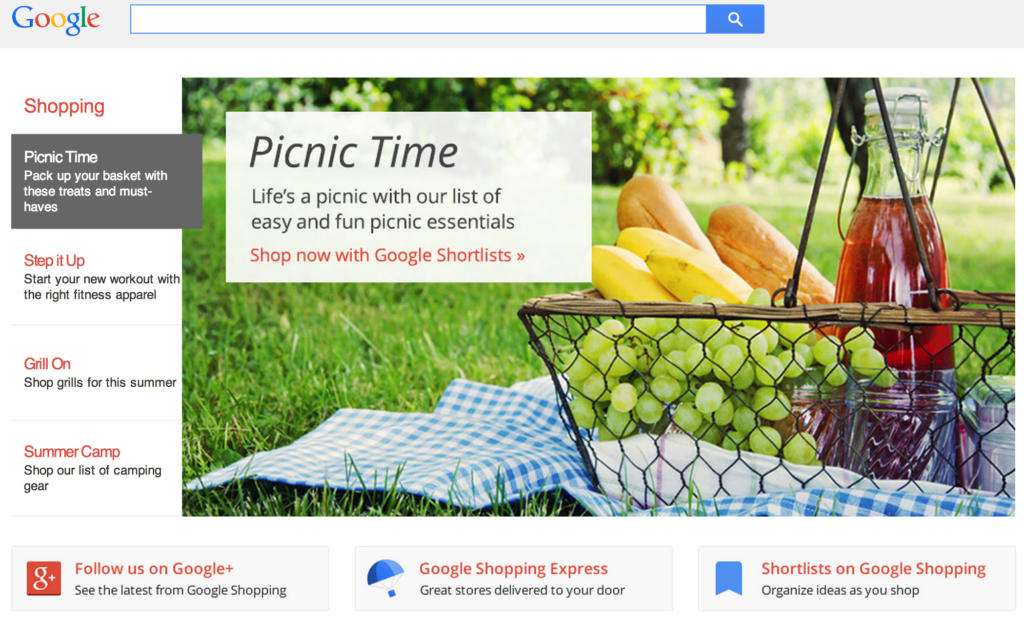 Associated fees: There aren't listing fees (unless you purchase AdWords™ to promote your product) and the standard transaction fee is 2.9 percent plus 30 cents per transaction.
The pros and cons
Third-party e-commerce marketplace sites all come with the awesome benefits of increased exposure, customer acquisition and boosted sales, but they have their limitations, too. You're essentially one vendor in a sea of merchants competing for those valuable click-throughs. Your ability to shine through site design is limited to the basic templates provided for you. There's really no place to highlight who you are and what you stand for — like you can with well-crafted copy, photos and videos on your own website.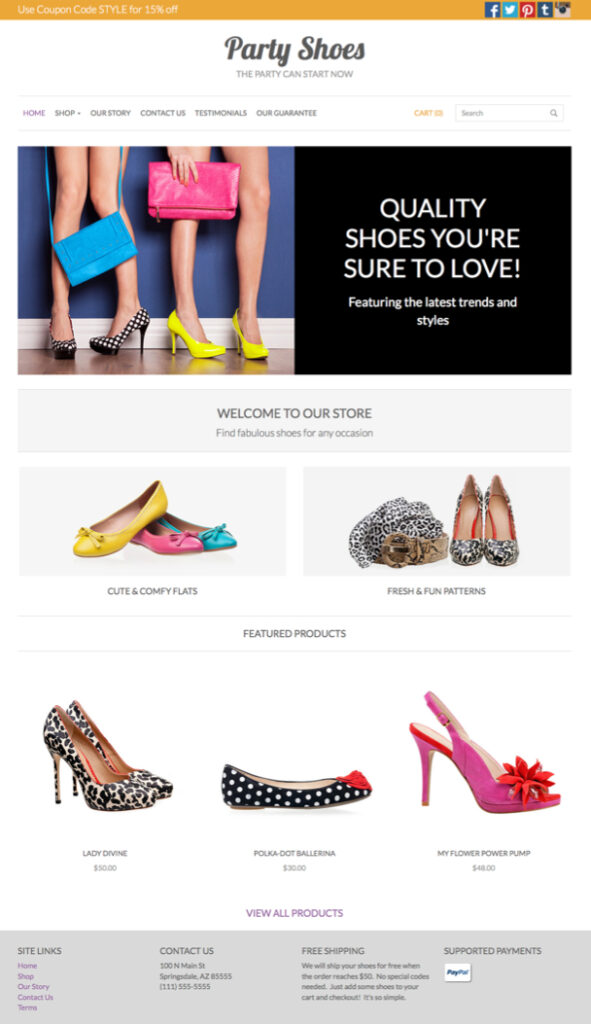 Creating and managing your very own site is the next (big) step in establishing your brand online. Why stop with online marketplaces when you can get out and sell your products directly to your customers, your way? If you want to learn more about how to quickly launch your online store, give us a call at 480.505.8877. We're here to help.