Orient yourself with these 8 tips from the best travel blogs around
Whether you've been a travel agent for years or just a few months, you probably know that in this day and age, you have to have a compelling blog to bring visitors to your website. You probably know about SEO, and you likely know that you need lots of content. But, what might be tripping you up is the nuts and bolts of what it takes to actually run a successful travel blog. After touring some of the best travel blogs online, I found some commonalities that might help you in creating a blog for your travel agency.
8 rules to follow when writing a travel blog
Your photo game has to be on point.

First-person accounts for the win.

Being helpful makes you popular.

The best travel blogs keep it real.

Venture beyond the "tourist hot spots."

Avoid being pushy.

Steer clear of fluff pieces.

Get their info before they leave.
1. Your photo game has to be on point.
The first takeaway from the best travel blogs is that nothing captures a reader's attention quite like a great photo. Using stunning blog images on your social media can compel a reader to click through to your blog to learn more.
A great travel photo will make someone want to be in that photo.
Photos tell a story and excites a person about the location. If you want to see some truly amazing travel photos, I highly recommend you check out Business Insider's list of travel bloggers to follow on Instagram. So inspirational!
2. First-person accounts for the win
People want to hear the real stories, authentic stories — they want to hear your stories. Exploring Kiwis has a fabulous example of this with their account of a four-day itinerary in Jordan. It was written from their own perspective, and it gives the reader ideas for things they can do in Jordan.
Every single place you've traveled should get a post on your blog.
If you have staff members, have them write about where they've been as well. You can even go so far as to have your clients write up pieces about the trips they took working with your agency. In fact, client-generated content does two things for you — gives you authentic content and a glowing testimonial. Score!
3. Being helpful makes you popular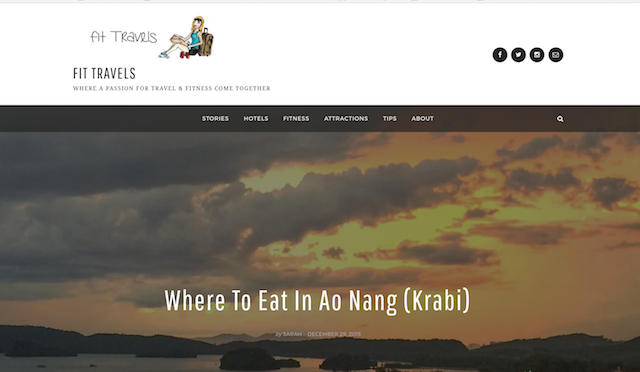 When blogging about destinations, consider things travelers really need to know. FitTravels wrote a simple post called "Where To Eat In Ao Nang (Krabi)." These are the exact types of things your readers want and need to know. If you know a place in Playa del Carmen that has the best margaritas, but is off the beaten path — share it!
Insider information is exciting. So if you have it, share it.
Think about the things you'd want to know when considering a destination. If Tuesdays are the worst days to visit the town's market, or if the best beach spot is only available by trekking on foot, tell your readers about it.
4. The best travel blogs keep it real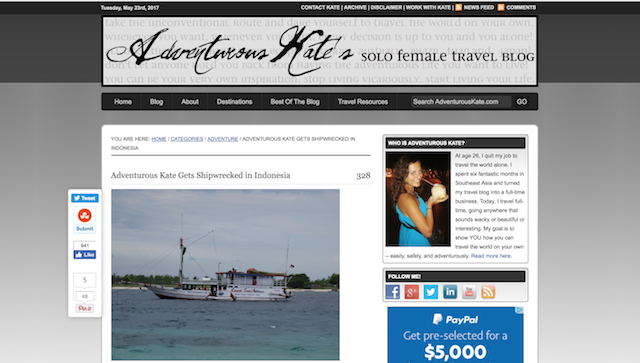 Some of the best travel blogs share it all — they know authenticity is the best way to go. With that in mind, your readers want and need to hear the scary stuff, too. Adventurous Kate has some fabulous travel fail stories. In fact, one of her most popular posts is about getting shipwrecked in Indonesia.
Insane stories, controversial truths and horrible experiences can get you noticed too.
There was a PR pro I used to know who loved to say, "I heart controversy" because controversy gets attention. These are the stories that are likely to be shared on social media and have the potential to go viral. America's Funniest Home Videos understands the gold mine of epic fails — heck, they've been on air for nearly three decades sharing them. If this doesn't prove that people would LOVE to see your travel disasters, I don't know what will!
5. Venture beyond the "tourist hot spots"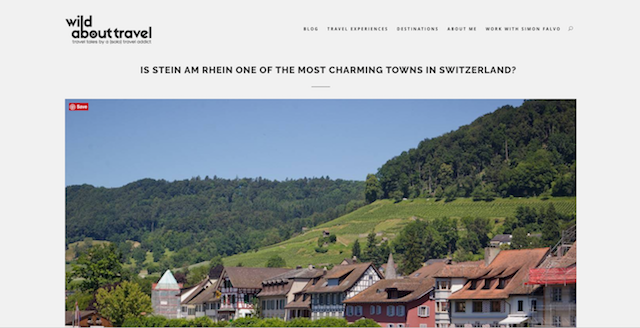 One thing many travelers can appreciate is feeling like they're doing something not everyone does. A common complaint about destinations is that they're "too touristy." Maybe that means instead of gushing about Paris, you talk about Nice. Instead of yet another article about how Rome is a synonym for romance, you share about the fine hill town of Bergamo, Lombardy.
Wild About Travel's post on Stein am Rhein is a great example of a piece on a destination that isn't a tourist hot spot. Couple that with the firsthand account of the experience there, and suddenly I want to visit this small village. Take it from the best travel blogs — off the beaten track is where it's at.
6. Avoid being pushy
I get it. You want to make money. That's the whole reason you even want to start a travel blog. So yes, by all means, state that you are selling each of these destinations.
Go easy with the sales pitch.
You're going to turn your readers way off if every third sentence encourages them to "book right now," or, "call in today only for a special deal." People see right through it, and it takes away from the great piece of content you've written. When they do "sell," the best travel blogs do it softly.
7. Steer clear of fluff pieces
Equally annoying as a spammy post, any article that's full of fluff and lacking in real stuff can really drag down your blog. If it's clear you just ripped from Wikipedia, you'll lose your readers. Content isn't king — quality content is king. So, write quality content people actually want to read.
8. Get their info before they leave
Nearly all of the best travel blogs have a newsletter signup form somewhere on their site. Yours should, too. I've even seen several travel agencies give away free resort stays in order to capture visitor emails.
Collect readers' email addresses to stay connected and keep your agency top of mind.
Your offer could be a free travel guide, travel tips and tricks you only share in email, an eBook or something else.
Safe travels
I hope the tips I gathered from the best travel blogs have given you some ideas for your travel blog. Your travel agency is awesome, and maintaining a quality blog is a great way to show that to potential customers. If you remember nothing from this post, remember this — when writing your travel agency's blog, be authentic, be of value and don't forget to get readers' emails.
[advertisement id="17440″]