Promote your plumbing services with a website
Everyone likes to joke about plumbers until they need one. Many people don't know that it takes years to become a master plumber, working thousands of hours as a plumbing services apprentice just to have the opportunity to take a rigorous exam that could make a mathematician sweat. There's a reason that plumbers make good money, after all.
You've made your boss a lot of money over the years, but now it's your turn. You're finally ready to start your own plumbing services company.
Opening your own plumbing company isn't easy. But if you have what it takes to become a master plumber, you probably have what it takes to become a business owner. It costs money to start your own company: licensing, insurance and materials aren't cheap. Covering the most basic startup costs doesn't leave much left over for advertising. Luckily, the most effective way for service-based businesses to get customers doesn't cost a fortune. All you need is a website.
Make your new plumbing services company stand out
You absolutely need a website for your new plumbing services business, but you don't want just any website. You want one that works as hard as you do.
No one looks in the yellow pages for plumbing services. Most people don't even have a phone book anymore. That's why getting online is essential to your new company's success.
Most websites simply provide basic information about a company — phone number, location and hours. If you go above and beyond that, you can stand out from your competition — all while building a reputation as a trustworthy and competent plumber in your area.
People don't just look online for cute cat videos — 46 percent of all Google searches are done in an effort to find a local business. You need to make finding your new business online as easy as possible.
Build a website in under an hour
While opening your own plumbing services company isn't easy, building your new website can be with GoDaddy's GoCentral Website Builder.
First impressions count just as much online as they do in person, and a great-looking website helps make a good impression. You only have a few seconds to give potential customers enough information to convey trust and competence.
GoCentral does most of the work for you. It begins building your new website by asking two simple questions:
What is the name of your new website?
What's your site about?
Within seconds of answering those questions, you are taken to an easy site builder that has already been pre-loaded with everything your plumbing website needs.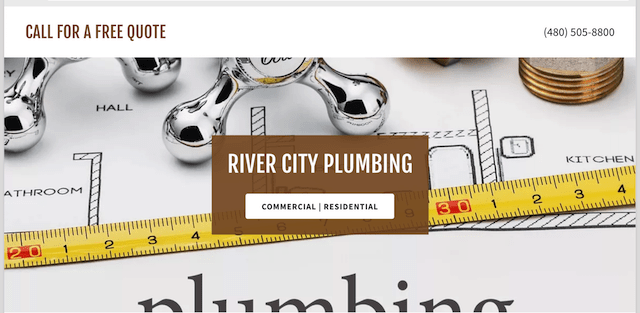 GoCentral Website Builder breaks the website into small sections and each section has numerous design choices — just click to choose. You can't make a bad design decision with GoCentral. All you have to do is choose your style and provide the information and images. Once that's done, you can move on to the next step.
Now take it up a notch
There's more to a website than adding nice photos and placing your contact information on every page. You need a hard-working website that helps plumbing customers find you. So after you personalize your site and create the design you want, you will want to start adding helpful articles to your website. This is also known as blogging.
Most plumbers start and stop at creating a website, but that's where they go wrong.
Blogging is an important aspect of search engine optimization (SEO). SEO is the art and science of getting a website listed on the top of Google's search results for relevant or area-specific terms — so, in your case, "plumbers near me" or "[your town] plumbers."
As an expert in plumbing services, you know things the average homeowner doesn't, and sharing that information through your blog can get Google's attention. Google scans  millions of sites every day and rewards the most helpful by placing them high on relevant search results. So helping customers by writing articles can actually connect you with more of them.
Blogging is a highly effective and budget-friendly way for plumbers to promote themselves. If done right, a blog can help put your website in front of thousands of potential customers by ranking it higher than your competitors in search results. Many companies spend thousands of dollars every month to be on the top of the list. You could get there for free by blogging.
The right way to blog
Creating a blog section on your new GoCentral website is simple. All you do is click on the plus sign (+) under Pages, give the new page a title (like Blog), and link to an existing blog feed. As you write articles, make sure you're creating high-quality and original content (get a details here). By content, I mean:
Articles that explain how to solve simple plumbing problems
Videos you shoot with your phone on a job site showing a common issue
A step-by-step guide (with lots of photos) on a popular subject
A list of your most commonly asked questions with answers
All of these can get you noticed by Google as the best company for plumbing services in your area. This is information you already have — blogging just allows you to share it with customers in your area. And by sharing it, you can win their business.
While creating articles, checklists and videos for your blog, you'll want to follow a simple formula. SEO experts have determined that the most successful websites have a few things in common.
Focus on a single keyword or phrase
First, each piece of content should be easy to read or watch and should focus on a single keyword or keyword combination. You will use these keywords in your title and throughout the article.
Google needs to know what the content is about, so make sure you are clear on the topic.
If you write an article about replacing a water heater, you could use the keywords "hot water heater problems" since this is what a homeowner might type into Google when looking for help on this topic.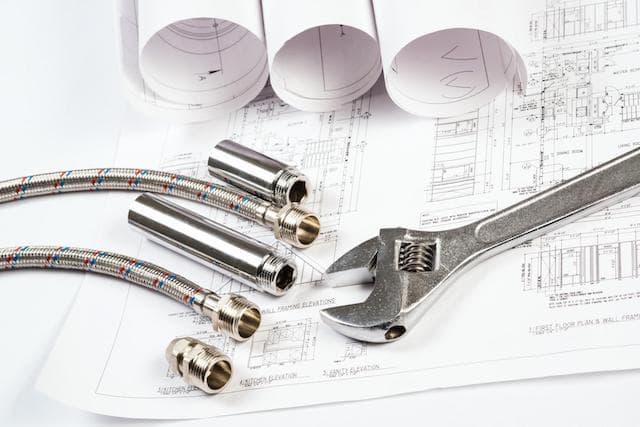 For plumbing services, you will want to focus on location-specific keywords. For example, if you're located in the Washington, D.C. area and you write an article about replacing a water heater, your keyword combination could be "hot water heater problems in D.C." It's a good idea to always include your service area, since people looking for local plumbers often include the name of their town in their search.
Make your domain name work for you
Another aspect of SEO is your domain name. A domain is your online address. For example, a company named Joe's Plumbing Service in the D.C. area might use JoesPlumbingServices.com or JoesPlumbingCompanyDC.com for its web address.
Having both your service (plumbing) and your location in your domain name can help more customers find you online.
See if the web address you want is available now:
All it takes is time
Creating a website is simple with GoCentral Website Builder. You can have a website online and visible in an hour just using your smartphone — you don't even need a computer. Plumbing will always be needed. And the articles and videos you share on your website today can create potential customer leads for years to come.
No, your website won't rank on page one of search results for "plumbers near me" in the first month. But for less than the cost of a single newspaper ad, you could be found by thousands of people who are looking for plumbing services. That's a pretty good return on your investment.
For a more on making your website work hard for your business, read this terrific post.
Want more customers? Check out "5 ways to get more local customers (many free)":
Image by: Edouard TAMBA on Unsplash