Real estate signage best practices
Real estate agents have many tools to promote a new listing, and real estate signage is one of the most tried and true. Today's house hunters use many methods to find homes for sale, leading with online search. But while the web has changed home buying in many ways, the well-known "for sale" sign is still an important means to share the news that a home is available. Not just any sign works though, and poor planning could lead to lost opportunities. Follow these tips to get the best results possible from your signage.
What to include on signs
For a real estate sign to be effective, it must be clear, easy-to-read in a moment, and encourage passersby to stop for a better look. Your signs only have a few seconds to make an impression or the opportunity is lost.
The sign is about the house, not the agent selling the house.
To ensure a sign is effective, it should contain the minimum necessary information to help sell the property. This means that the sign isn't necessarily about the agent. It is about the house, condo or other property the agent is responsible for selling.
Typically, a sign should include the basic information on finding out more. This generally means including:
Agent or agency logo
Web address where buyers can learn more about the home
The listing agent's phone number
Anything that distracts from connecting prospective buyers to the property doesn't belong on the sign. Odds are buyers don't care about the selling agent's picture, MBA or other glitz and glam.

Design elements to think about
A sign is much more than just the written words. Effective signs need to be eye-catching and professional. Since agents spend money on signs, making them impactful is key to success.
Agents at international brokerage firms might have real estate signage templates ready to go on demand. Independent agents and smaller agencies have more flexibility on how to design their signs.
Agents who already have a logo should reproduce it exactly on their signs to maximize the impact of branding. Matching colors and a single font are smart ideas as well. To see how other agents design their real estate signs, take a look at some of these examples on Pinterest.
Some of the most noteworthy signs that stick out from the pack bring in modern design elements and bright, fun colors. Light and bold blues, oranges and greens draw the eye quickly, while dark and drab signs might go unnoticed.
Cheaper signs can run less than a dollar each depending on the size of your order.
Multiple colors and sturdier signs cost more than simpler, less solid signs. Signs with sturdy metal or wooden posts and frames cost quite a bit more. Depending on the manufacturing method, each new color requires an additional pass through the printer, which can drive up costs significantly.
A Google search shows you can get real estate signs starting at less than a dollar and all the way up to well over $20 per sign.
Don't forget the call-to-action
When someone does happen upon a real estate sign, the sign should inspire action. A successful real estate sign prompts the viewer to:
Come inside for an open house
Open the real estate agent's website to look for details
Call the agent to learn more
If a couple is out looking at open houses, the ideal situation would be to draw in drive-by "looky-loos" for an in-person visit. Meeting someone interested in buying the home is the fastest route to a successful sale. An in-person meeting also opens the door to a long-term relationship. Even if the property doesn't work for the open house visitor, they could become a great prospect for another property.
The next best result from a sign is a phone call, though calls are becoming less popular with the rise of real estate websites and online listings. However, if an agent can get a potential client on the phone, the agent has a better chance of building a relationship and locking in a sale.
In the 2010s and beyond, the internet is a major aspect of any home search. While many buyers will pull out their phones and head to a site or app like Zillow, Trulia, or Redfin, getting them to the your website (via the easy-to-read web address on your signs) is a small victory. Doing so shows the potential buyer is serious about the property. Building a website to convert browsers to buyers is an important step as well.
[advertisement id="25749″]
Real estate signage placement
Once an agent has the right real estate signage, it's time to put those signs to good use! As mentioned, the goal of signage is to draw drive-by visitors into an open house or prompt them to seek out more information. Accomplishing this requires some strategic thinking.
Signs should be placed in a highly visible location and ideally visible from nearby intersections or thoroughfares. Hiding a sign behind bushes, trees or shrubs completely removes the value of the sign.
To ensure maximum reach, open house or for sale signs can be placed at all neighborhood entrances to the property. Be sure to comply with local city regulations and homeowner's association rules, if applicable.
Getting creative with location placement to capture as many eyeballs as possible is the best strategy for success.
While it might be tempting to go crazy and put a half dozen signs in a yard, doing so can take away from the appeal of a home. Even worse, it can make agents look as bad as internet spammers.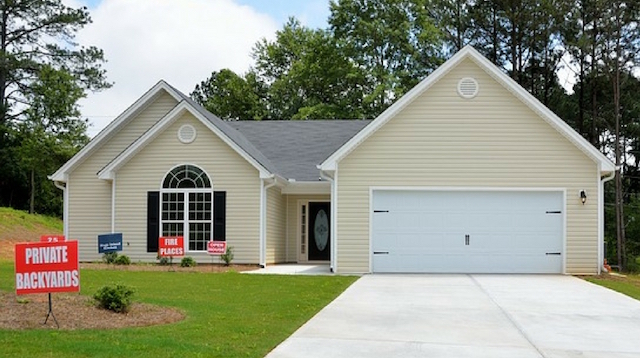 Signage can make or break a sale
It's impossible to say how many sales are lost due to poor real estate signage, but successful signs speak for themselves. When the number of open house visitors, calls and website visits rises, agents know they have winning signs and placement.
If you're an agent, follow industry best practices and use your intuition to maximize the value of signs with good placement. When great signs are placed in great locations around a great property, a sale is much easier. Good signs are only one piece of the sale, but an important piece that should never be overlooked.
Get tips on another type of signage that's equally important — business cards for real estate agents.
Image by: Soft-Graphix Flickr via Compfight cc