5 ways restaurants can connect with millennials on social media
If your restaurant can connect with millennials on social media, it can drive real business results. Millennials (18-34 year olds) are the largest and most influential group of consumers. There are over 70 million millennials in the U.S. spending about 27 hours per week on social media and about $500 every month on "non-essential" purchases, including dining out. Use social media to connect with millennial customers, bring them in your restaurant and impact your bottom line.
How restaurants can connect with millennials on social media
Your restaurant can connect with millennials on social media by posting creative content that's engaging, authentic and millennial-friendly and by being responsive and available to their needs and feedback. Make millennials want to visit your restaurant. Show off what you're all about to bring millennials in your doors.
Tell your story
Be authentic
Post user-generated content
Support a cause and showcase your values
Engage with your customers online
Tell your story
The first way your restaurant can connect with millennials on social media is to tell your story across Facebook, Instagram and Twitter. Tell millennials in your audience who you are, what you care about, why you started the business and why you're proud to serve your community. Millennials get bought in to restaurants when they know the who, what, when, where, why and how.
Who: Who are you as the owner? Why did you start the business? What is your personality and how is that reflected in the business? What do you care about?

What: What is the vibe of your restaurant? Is it family-friendly? What food is being served? What ingredients are being used and where do they come from?
In this tweet from Millie's in Washington, D.C. you can see that they're showing off the who, what, when, where, why and how. In this one post, it's clear they have a happy hour, an outdoor patio, a young customer base and they serve frozen rosé. All of these elements are attractive to millennials and can help them connect with millennials on social media.
Baby's first frosé season! 💙 https://t.co/C9oArTBsPu pic.twitter.com/m1TG7aBp8s

— milliesdc (@milliesdc) May 31, 2019
When: When did you get started? Why was that the time you decided to build your business?

Where: Where is your business located and why do you love your city and/or neighborhood?

Why: Why are you proud to serve the community you're in? Why do you work hard every day for this business? 
How: How do you do what you do every day? How do you benefit the community? Do you give back to charitable or community organizations?
Here's Last Resort Grill in Athens, GA using an Instagram post to tell their story. You can tell through this caption what this restaurant loves to serve. The vibe you get from this one post is that it's a down-home, Southern, welcoming place. This real explanation of who they are helps millennials connect with their story.
This is Brennan's in New Orleans showing off their team. Through this post of their pastry chef, they're telling their story through the wonderful staff that keeps them going every day and makes them special. The casual, authentic tone of the caption, ("Ain't she sweet?"), helps them connect with a millennial audience.
Be authentic
Authenticity is extremely important to millennials. Your restaurant can connect with millennials on social media by being uniquely you. This means that your voice can be more conversational and genuine. Some content can be even be less polished and professional, more real and true-to-life.
90% of millennials say authenticity is important to them when deciding which brands they support.
Using Instagram Stories is a great way to be authentic and genuine online.
The popular burger chain, Five Guys, used Instagram Stories to break down how they make their BLTs. By adding interesting text, stickers and gifs, their Story can connect with millennials because it makes their brand seem light-hearted, fun and real. They're showing that they're willing to let their customers in on what's happening at their business.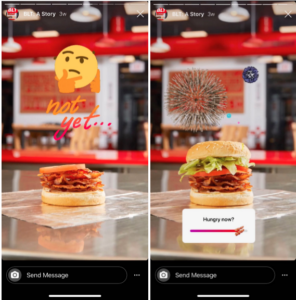 Post user-generated content
Taking a look at what other users are posting about your restaurant on Instagram is a great way to share engaging posts on your feed. Plus, millennials love it. Seeing their peers post photos of a business makes them more likely to give it a try, after all, they are a generation that trusts online reviews and testimonials.
51% of millennials said that user-generated content from strangers is more likely to influence their purchase decisions than recommendations from their friends and family. 
User-generated content is a fast and easy way to show off customer testimonials. They're sharing their experience at your restaurant, and you're sharing that experience with your followers.
Related>: 4 steps to better content on your restaurant's Instagram
This is Chi'lantro in Austin showing off some user-generated content from a customer that ordered their signature kimchi fries. They made sure to tag that customer to give them credit for the original image and post.
Here's Austin's Better Half Coffee and Cocktails sharing a photo from one of their fans. This serves as a mini testimonial of one of their new cocktail offerings.
Support a cause and showcase your values 
Millennials want to align themselves with organizations that are making a positive impact on their local communities, on the country and on the world. Giving back is important to them. It's a big part of how they choose where they work and how they live their lives.
75 percent of millennials think that it's important that a company gives back to society instead of just making a profit.
Your restaurant can connect with millennials on social media by supporting a cause. A good place to start is with an organization trying to make a difference in your local community.
Here's Cochon in New Orleans posting a photo of their team getting ready for a crawfish dinner that supports youth in New Orleans. This is the kind of content millennials want to see — that your restaurant gives back and that you care about the town you live in and want to make it better.
Engage with your customers online
You can connect with millennials on social media by being responsive to all of your customer comments, questions and posts. Since they value brands that are responsive to feedback, it's a great way to build relationships with your younger fanbase.
Over 60% of millennials say they'll become loyal to a business if the brand engages with them online. 
Here, Jenkins Quality BBQ in Jacksonville, FL, responds to a customer comment on Facebook to make them feel heard and appreciated:
A user named Kris says how much they miss that restaurant now that they've moved away. Jenkins says, "Kris, do come back and see us! We miss you too."
It can be that simple — just acknowledging their comment can influence whether or not they might want to come back, and it can show any new millennial visitors to your page how much you love your customers.
Use these strategic tips to connect with millennials on social media and turn them into loyal fans of your restaurant, today!
Engage your customers like never before with GoDaddy Social. We help businesses elevate their online presence on the platforms that matter most. Get started with us here.
Image by: Elevate on Unsplash