Sleeping Should Be Easy — Supporting other parents and monetizing a blog
Nina Garcia is the blogger and founder of Sleeping Should Be Easy, a site dedicated to the trials, tribulations and joys of parenthood. After starting her blog as a hobby, Nina decided to up the stakes and start monetizing her content in April 2015.
The beginning of Sleeping Should Be Easy
What inspired you to start your business?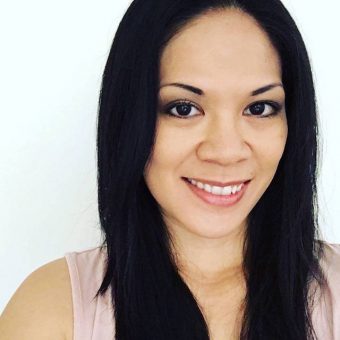 I've been blogging since 2010, all while working full time. But for the first five years, Sleeping Should Be Easy was a hobby.
Around April 2015, I decided to monetize the blog and turn it into a business. I already knew bloggers who were combining their passion for blogging with their income. Folks who were able to quit their jobs and do exactly what I was doing, but getting paid for it. I got hopeful, wondering if I could also monetize the blog while still sticking to my mission of helping other moms.
At that point, the blog was earning about $10 a month from Amazon affiliates and the Google AdSense banners combined. I might not be able to make a full-time income from it, I thought, but maybe the blog can earn a little bit more than $10.
I set my goals high and aimed for $100–$200 a month. I just wanted to be able to eat at a restaurant or take the kids to a museum. To have some cushion so I wouldn't have to deliberate over every expense. With only an average of $10 a month, I imagined a long journey to get to that $100 mark.
Within a month, Sleeping Should Be Easy earned $197.52. I knew it had potential — perhaps something I hadn't seen in all those years. So, I poured myself into the site and worked hard. I put my design and marketing skills to use. I dedicated every spare moment I had to listening to readers and making the site as helpful as possible.
A year later, that $197.52 grew and I was able to leave my day job to blog full time. I never set out to replace my job — I just wanted an extra $100 a month. Now, I'm able to do exactly what I want to do, a job that I enjoy so much I'd do it for free (and I did for five years).
That's incredible! Talk about a big jump in profits. What did you do to propel your blog forward?
I focused on five things: content, self-hosting, education, site redesign and saving money.
Content. Every blog relies on amazing content that stands out. Even though I sometimes cringe at my earlier writing, content is what kept the blog going — even when I wasn't treating it as a business.
Self-hosting. Even with great content, bloggers need to invest in their blog. I started my blog on a free WordPress.com platform when I was using it as a journal. When I decided to use the blog as a platform to share useful tips and insightful topics, I knew I had to get my own hosting. I wanted my own domain name and space on the internet. I also wanted the ability to customize my blog in ways I just couldn't on the free platform. It was then that I signed up with GoDaddy for a domain name and hosting services.
Education. I signed up for an online blogging course called Elite Blog Academy. Even though I'd been blogging for five years, I hadn't been promoting or treating it like a business. It was during those few months when I ramped up my blog traffic.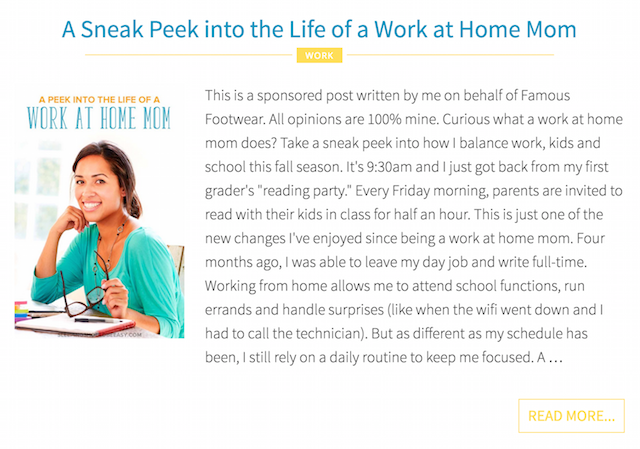 Site redesign. I tinkered with my free theme as much as I could before investing in a site redesign. I reached out to Pixel Me Designs to create a custom design, which I then used to brand my entire blog.
Saving money. When I started earning money from Sleeping Should Be Easy, I funneled most of it into savings or back into the blog. I can't imagine diving into any business without sizeable savings to cushion the transition. Even though I'd hate to dip into savings, at least I know they're there should I face lean times.
Sound advice. Too often we see entrepreneurs start businesses without accounting for potential hurdles. Speaking of which, what obstacles did you face?
Lack of time. When I was trying to launch my blog toward a full-time venture, I was still working a day job. I also came home to three kids who weren't in bed until 8 p.m.
Fortunately, I didn't see my limited time as a downside.
Instead, I used it to narrow my focus so I was only doing the most important tasks in the most efficient ways. It's amazing how only having a few hours a day can push you to be productive!
That's great. Seems like you have a lot of parenting advice on your hands. Is that how you identified your niche?
Writing about parenting is one of those things I could do all day and never run out of topics. I never sought to carve a niche when I started the blog, but it happened as I discussed parenting. Readers and colleagues have said that I have an ability to take complex — and perhaps intimidating — parenting concepts and break them down into an easy-to-understand, relatable, no-guilt fashion.
I think all parents can appreciate that. What's your business model for your blog?
I'm a one-woman show right now. Occasionally, I'll outsource services such as graphic design, editing and coding.
I earn money in four predominant ways:
Products (I sell eBooks, paperback books and online courses)
Banner advertising
Sponsored posts
Affiliates (mainly through Amazon)
Goals and philosophy
What's your guiding business philosophy?
Help others.
Always give your best.
Learn from your mistakes.
Be there for your family and friends.
Persevere.
Simple, but amazing. What kind of strengths do you bring to the table as an entrepreneur?
I'm fortunate to come from a graphic design and marketing background. I've been able to use those skills to build my visual brand as well as understand the needs of my audience. I also take calculated risks and assess which ones will yield the best results and which I should avoid.
I bet that comes in handy! Where do you see your business going in the next five years? 10?
I'd love to grow Sleeping Should Be Easy into a top parenting blog and reach a wide audience of parents. I want to continue to offer paid products while increasing the free content found on the blog.
Products and tools

What online tools do you use for your business and how do you use them?
Managed WordPress. For hosting, I use GoDaddy's Managed WordPress. Self-hosting is a MUST for any serious blogger. Managed WordPress integrates well with my blog, and it caters to bloggers who use sites for blog purposes.
Should anything happen to my site, it's reassuring that I can restore the latest backup. GoDaddy backs up my files every day for the last 30 days should anything happen to my site. Since my blog is such an integral part of my business, I try to take every measure to make sure no one else can access it or break it down.
Self-hosting was the first step I needed to take to monetize my blog.
If I didn't have a self-hosted blog, there'd be no way to redesign it to look the way it does. I wouldn't be able to install important plugins like those I use for SEO. I'd look unprofessional. I wouldn't be able to earn income through banner ads, and I'd have no control over my own files.
ConvertKit. I decided to sign up with ConvertKit when I got serious about my eBook sales. I needed a sales funnel and email sequence that ran automatically. ConvertKit also allows me to create landing pages and forms to collect email addresses.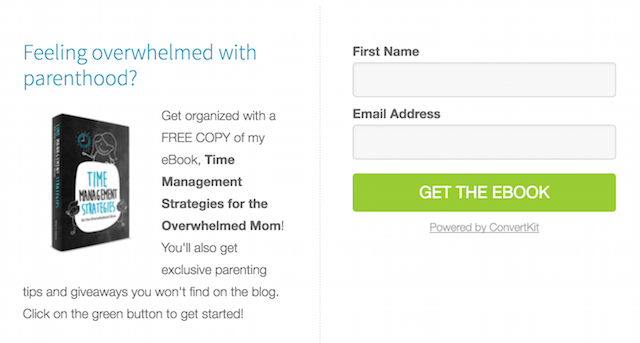 Adobe Creative Cloud. My biggest traffic driver is Pinterest, which is a visual-heavy platform. I use Photoshop, Illustrator and InDesign. I also use these programs to create my products, such as printables and eBooks, and marketing materials like banner ads and landing pages.
Canva. In the early days, I'd take terrible photos on my phone and use that as my blog image. Now, I get stock photos from Canva. Even with the best layout, a terrible photo won't fly.
Google Sheets and Calendar. I organize everything through Google Sheets and Calendar. This includes when I plan to publish posts and what items I still need to check off for each post.
Advice and personal life
What's the most valuable lesson you've learned since starting your business?
Think big.
Even though I'd been blogging a while and fancied making money from it, I spent many of those years in "wishful thinking." Maybe because I didn't want to put myself out there. Or maybe I feared failure, but I left it to chance to see if anything would come of it.
Only when I set seemingly unrealistic goals do I reach them.
For instance, in June 2015, I set a goal of reaching 100,000 page views and earning $1,000 a month on the blog by December of that year. This seemed outrageous to me at that time, but I put it out there and worked as if I could actually reach it. Turns out I did — and well before December.
That's incredible! With that in mind, what's your biggest piece of advice for other aspiring entrepreneurs?
Focus.
Entrepreneurs are notorious for racking up idea after idea. We also have a fear of missing out, so when we read advice to do this and that, we immediately add it to our list of things to do.
I've found that having intense focus has been critical in my blog growth.
Break down your focus areas either by month, quarter or even by year. Tell yourself that this month, you're going to focus on increasing traffic (for example). That way, if you see a free online course about Pinterest, you know better than to add that to your list. Instead, tuck it away until you can pick a month to devote to Pinterest.
And most importantly, understand why you're focusing on something. Don't learn everything about email subscribers if redesigning your blog is the first step you need to take. Do what you need to do first that will yield the best results and will make everything else much easier to do.
Wonderful advice. Last question — how do you balance the needs of your business with your personal life?
I try to set hard lines in my day devoted to work and family life. Once in awhile, I'll check my phone when the kids are around, but usually I need to have complete focus to work and write. So when I pick them up from school, the afternoon and early evening becomes all about them. I leave the computer and phone off. Besides, nothing's worse than checking your email and seeing something you could be doing but can't at the moment.
A big thank you to Nina for taking the time to answer our questions and share her story. You can find Sleeping Should Be Easy on Facebook, Twitter, Pinterest and Instagram.