In 2016, there were more than three billion internet users in the world. That's 46.1 percent of the population, and a hell of a lot of potential to be seen by customers everywhere. And if you're a small business owner or entrepreneur who's shied away from establishing yourself online, you're missing out. Because the truth is, the internet wants you.
The internet isn't something to be scared of. Sure, it's vast in its knowledge with a wealth of information for myriad topics. But perhaps, for the sake of championing your business, it's time to think of the internet a bit differently.
Introducing, The Internet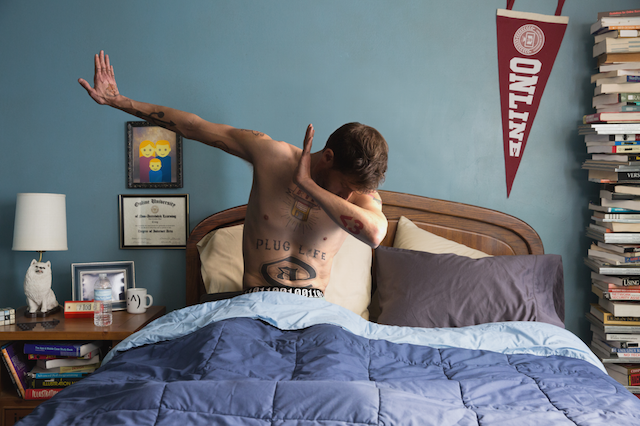 He's a constant. An advocate for all things online. A go-to resource chock full of value and entertainment. And he's here to help your business succeed online with the help of GoDaddy's new GoCentral Website Builder.
Ask not what you can do for The Internet, ask what The Internet can do for you.
GoCentral isn't just another do-it-yourself, site-building tool. It's a comprehensive solution that works hand-in-hand with The Internet to showcase your business's value to the world. By integrating email marketing, search engine optimization, mobile-first design, social media profiles and more, GoCentral is your one-stop shop for getting online.
Build your site in less than an hour
Yes, you read that right — one hour is all you need. With a plethora of designs customized and tailored to your business industry, you can have a high-performing, professional-looking site in no time. We'll recommend relevant content and images, and you select what works for your business. It's as simple as that.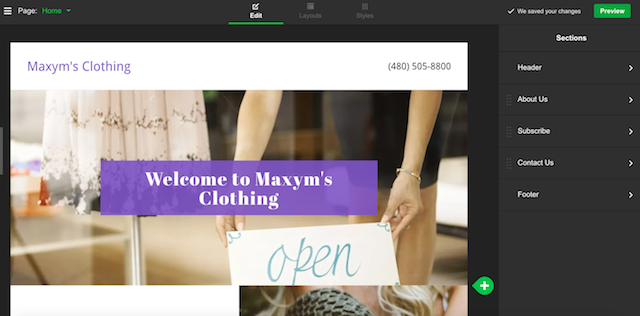 With an intuitive swipe function for designing, gone are the days of drag-and-drop. Upload your own images or browse through our library and add features to your site to make it yours. Font, colors, content sections — it's all at the swipe of your fingers.
And when you're ready to go, you can quickly publish your site and let The Internet do his part. Just don't forget to use a memorable domain name that speaks to your business.
Connect with your followers
A website in an under an hour is great, but you know what's better? A method for communicating and engaging with your tribe.
Search engines
By now, you know the importance of getting online. But simply putting up a website doesn't guarantee visitors — you'll need to show up in search engines to pull in potential customers. With GoCentral, you can ensure that your business information is readily available on a variety of directories.
Google, Yahoo!, Bing, Yellow Pages — these are just a few ways to get found. And with a GoCentral website, you don't have to worry about managing your business information from multiple sites. Just update it through GoDaddy, and we'll send the details to the directories. No sweat.
Social media
Easily connect your business website to Facebook, and watch as your online presence grows. The goal for any small business is to grow — and social media marketing is the way to do it. By engaging with potential customers and creating a relatable brand, you're making yourself (and your products and services) more accessible.
Email marketing
Email marketing is one of the most cost-effective marketing methods around. The ROI is a no-brainer, and well-built campaigns can boost customer retention and lead to lifelong customers.
GoCentral uses the design of your website to create professional email campaigns that match the look and feel of your site.
Your customers will appreciate the professionalism and consistency, and you'll appreciate the ability to track how well your emails perform.
Your website, on the go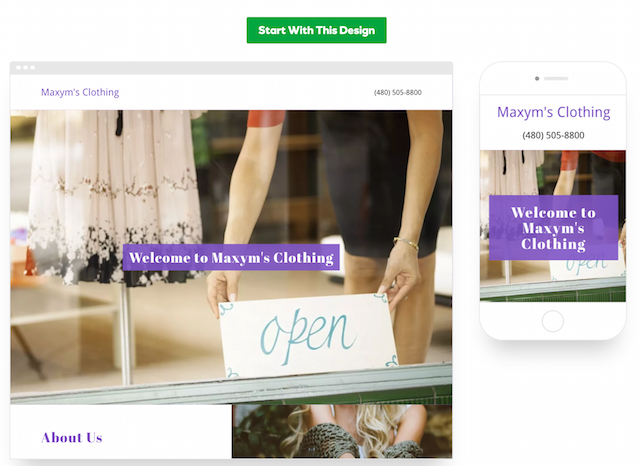 Did you know that 97 percent of millennials rely on their mobile devices, while 20 percent avoid desktops altogether? Even if you don't reach for your smartphone first thing in the morning, it's clear that's where your customers are heading. And just like your viewers, you need to be able to access your site on the go.
GoCentral's mobile editor means you can make changes anytime, anywhere — all without yet another mobile app.
And you can count on your site to be mobile-friendly. From the moment you publish your design, it will be automatically converted for mobile devices. If you want to check out how it will look before sending it to The Internet, you can do a side-by-side preview of your site for both mobile and desktop formats.
Sell online without the hassle
Brick-and-mortar stores are great, but having products at your fingertips? Nothing is better than that. With GoCentral, you can manage inventory, set up product images, handle payment options, select shipping methods and more. Better yet? Retain more customers with the built-in, shopping cart reminder. When customers abandon their carts, they'll receive an email encouraging them to complete their purchases.
The Internet wants you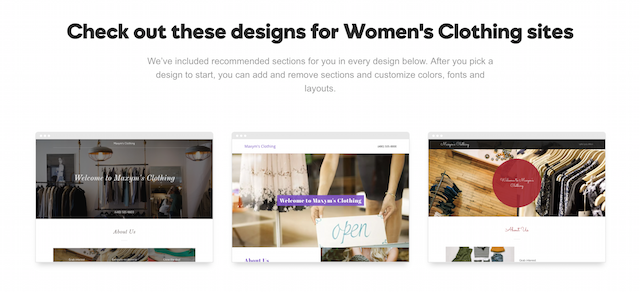 The Internet is ready — are you? Establish your online business today with GoCentral. You'll be online in no time with a unique site tailored to your industry and optimized for search engines like Google, Yahoo! and Bing.
And if you ever run into an issue, you can expect 24/7 friendly, award-winning customer service at the ready. Designing a comprehensive web solution has never been easier.
---
Also published on Medium.