Snapshots from the best photography blogs
If you're in the photography business, there are so many benefits to starting a blog. We live in a world that's more visual than ever, and a blog can provide you with your own little corner of the internet to show off your work and tell the story behind it. After studying some of the best photography blogs, we've got some tips to share to make sure your blog truly captures your intent.
Now, I know what you may be thinking … as a busy photography professional, how on earth can you find time to blog? Isn't that a full-time job within itself? In some cases, yes. But look at it this way: you already have an amazing portfolio, so taking it one step further and starting a blog might not be as hard as you think.
Whether you're a photography student, run a photography school, are an equipment retailer or have an established photography business, there are many benefits to blogging.
Before we look at examples from the best photography blogs around, let's touch on why blogging is so important for your business.
Why photographers should blog
If you're a photographer, we're probably not the first ones to tell you that you should start a blog. Maintaining a blog has a number of benefits:
It can act as a landing page for your business, as it includes your portfolio and contact information.
It gives you a public place to share your latest and greatest work.
Most people will look for you by searching online — and search engines love blogs.
A blog can get you more exposure, which can lead to new clients.
Blogging is a great way to share your passion, grow your brand, and build connections with others in your industry
For pennies a month, you can bring more clients to your business.
As you can see, great benefits come to those who blog! When you put yourself out there online, you open the door to new opportunities, such as exciting collaborations or possibly being recognized by industry leaders for your inspiring work. Speaking of this, let's talk about some of the best photography blogs out there and what they're doing right.
Let the best photography blogs lead the way
If you're unsure as to what it looks like to have a successful photography blog, look no further. Here are some photography blogs that are taking the world by storm.
Chase Jarvis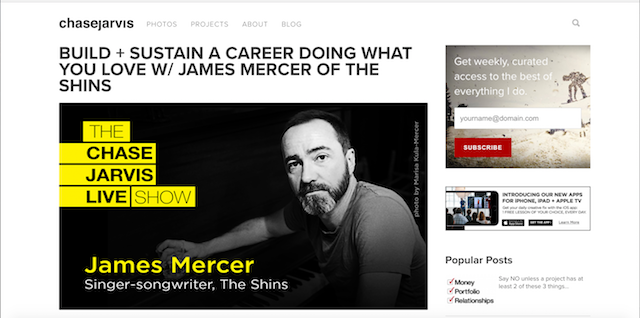 There's a good reason why our first example makes the list of best photography blogs. Meet Chase Jarvis, a professional storyteller with an undeniable passion for photography and film. His blog showcases his amazing photography, as well as projects like the Chase Jarvis Live podcast. His podcast dives into what makes some of the world's top creative entrepreneurs, artists and authors tick. Chase is a good example of someone who turned a hobby into a business.
Karl Taylor Photography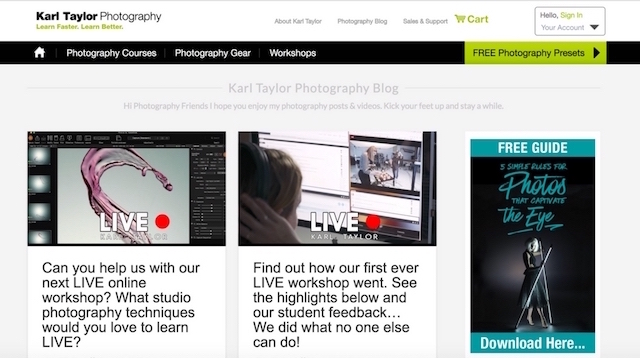 Professional photographer Karl Taylor has been in the industry for more than 20 years, and he's traveled the globe on assignments for some of the world's most successful companies. Karl's turned his business into an empire, and his blog serves as a place where he shares his vlogs, giving viewers a behind-the-scenes look at what it's like to be a photographer. Karl even offers photography courses and workshops where he enlightens others with his vast knowledge of the biz. No wonder this one's on the list of best photography blogs!
iPhone Photography School
Alright now here's a blog that's doing something a little different in the industry. The iPhone Photography School was created to teach people the principles of great photography using the only camera they have with them at all times — their iPhone. Here, you can learn everything from hidden iPhone camera features that all photographers should use to how to remove unwanted objects from your iPhone photos. Pretty neat!
SIGMA Blog
The Sigma Corporation is a family-owned manufacturer of lenses, cameras and photo accessories. On their blog — also on the list of best photography blogs — you can see beautiful photos taken by Sigma products. This company is strategic in the way they use their blog, because it's a way for them to show off what their products can do.
Junebug Weddings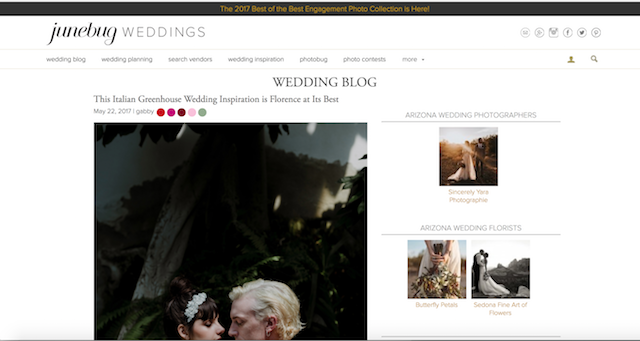 This blogger knows how to appeal to a specific industry — weddings. Junebug's blog posts showcase stunning shots from uniquely styled, real weddings and engagement sessions, plus ideas and inspirations. They even have their own wedding inspiration board and a trusted recommendation list of the world's best wedding professionals.
What do the best photography blogs have in common?
There's a reason these photography professionals have enjoyed success with their blogs, including the honor of being named among the web's best photography blogs. So what do they all have in common?
They're resourceful.
Great photography bloggers know that their blog is so much more than just a place to showcase their work. It can be a place to inspire and educate their audience, too. For example, we can see this in the way the iPhone Photography School offers tips and tricks in their blog posts and how Karl Taylor offers photography courses and workshops.
The creators are passionate about their subject.
Another thing all of the best photography blogs have in common is that the blogger's passion for the subject is evident in their work. For example, there's no denying that Chase Jarvis has a passion for photography and film. It's practically contagious!
They practice what they preach.
In order to gain credibility as a blogger in the photography business, or any business for that matter, it's important to practice what you preach. A great example of a blog that's doing this is Sigma, as all of the shots on their site are taken with Sigma gear.
They're relatable.
People love blogs they can relate to. Karl Taylor takes his audience behind the scenes through his vlogs. It's so important to be relatable as a blogger (even if you're a business), as this will keep your audience coming back.
They know their audience.
Lastly, great photography bloggers know who their audience is. For example, Junebug Weddings creates content that is specific to the wedding industry, which is what sets them apart and makes them unique in the photography blogosphere.
Keep in mind that the photography blogs we discussed most likely did not find their success overnight. They put in hard work and had patience, and they eventually reached the level of success they have today.
Get started now
The first step to starting your own photography blog is to decide why you're starting a blog — to establish your reputation as an expert, to get more clients, etc. — since this will define the topics you choose to blog about. You'll also need a domain name, a blogging platform and an editorial calendar.
At the end of the day, starting a photography blog should be fun. So, keep these tips in mind and create a blog that works for you and your brand. Remember, building an online presence takes time and dedication, so be patient. Put in the work, and you'll be amazed at what a blog can do for your brand or business!
[advertisement id="17440″]