The 11 biggest social media changes for business owners in 2017
If you feel like your business's social media marketing strategy is a bit outdated, or perhaps even non-existent, it's important to keep up with social media changes. The pace of change in social media, and the entire digital space in general, continues to accelerate year after year. Don't believe me? Take a look at the spectrum of options you have as a marketer.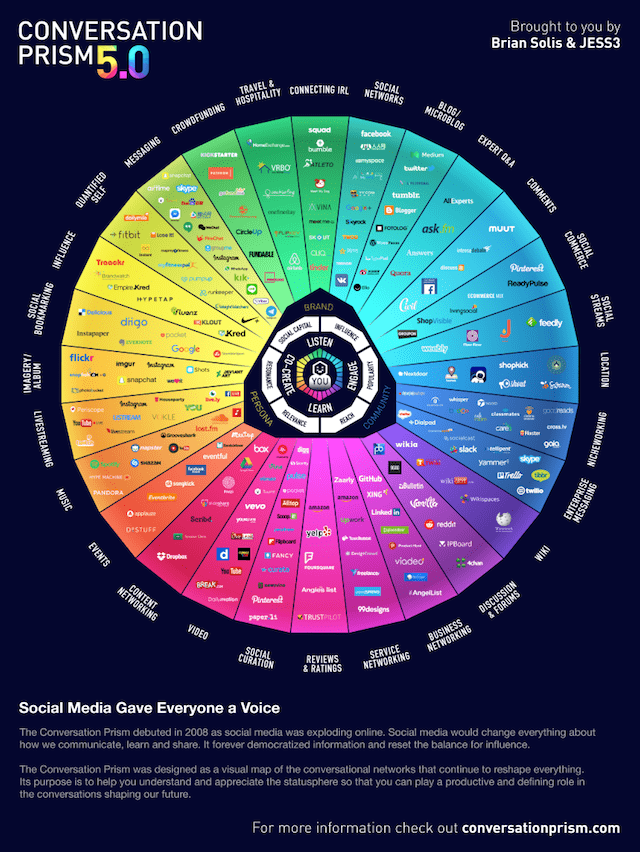 11 social media changes to expect in 2018
If you aren't paying attention to social media changes, you might start feeling like you've got a marketing strategy from the Dark Ages. With 2018 fast approaching, you might be preparing a new budget for your digital and social media marketing teams. With that in mind, here are 10 big changes that happened in social media.
Advancements with chatbots.

Facebook and Instagram live allow guests.

Facebook Stories on the horizon for Business Pages.

Tweets just got longer.

Quora launches self-serve ad platform.

Facebook launches their own original content platform.

musical.ly surpasses 200 million users.

LinkedIn launches retargeting.

Pinterest launches search-based advertising.

Snapchat brings Bitmoji to augmented reality.

Linkedin launches native video.
Ready to see "where the puck is going" for the coming year? Keep reading for more information about each of these changes.
1. Advancements with chatbots
I told you to start paying attention to chatbots back in July. While technically Facebook opened their chatbot API in 2016, it hasn't been until 2017 that we've seen brands really start to take advantage of the opportunity.
The most recent advancement, and the one that really excites me, has to be that many chatbots now support the ability to message people that comment below a Facebook post. DigitalMarketer explains this cutting-edge feature and how it can reduce cost per lead and cost per acquisition for all Facebook marketers.
Your takeaway: If you have a highly engaged Facebook audience right now, you should be doing comment-below campaigns. And if you don't have a highly engaged Facebook audience, it might be time to build one.
Here are three examples of brands using a chatbot for an improved customer experience that no doubt has an impact on bottom line:
1. TechCrunch's chatbot allows you to get news updates at your pace: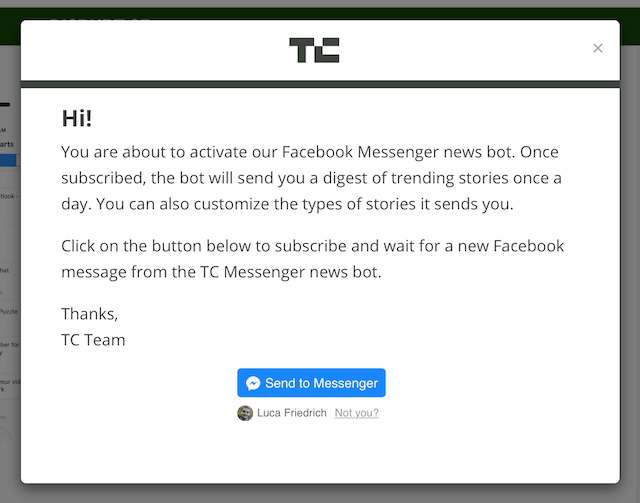 Once you subscribe, you can simply modify your settings for Daily, Breaking news, or weekly updates: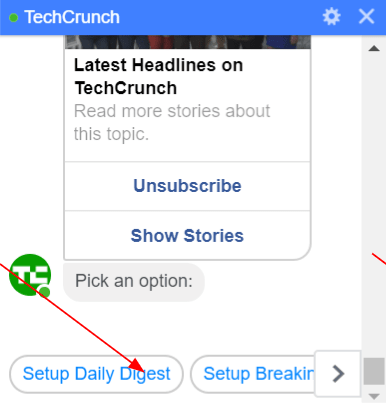 And then, you can select the time of day that is best for you to receive updates: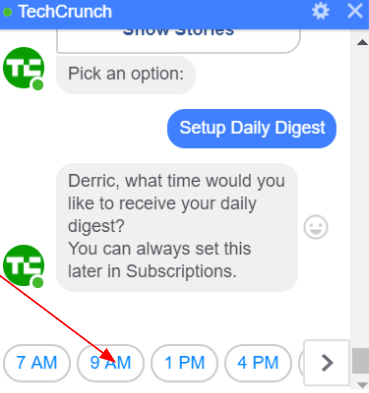 And they make it super easy to change your subscription settings any time: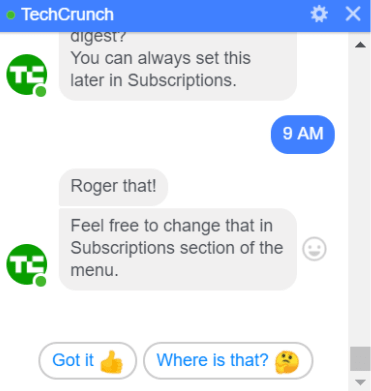 What do you think this is doing to TechCrunch's daily pageviews and viewership loyalty?
Your takeaway: If you're a media company, you should be using a chatbot to help drive viewership loyalty and increased page views.
2. Crime London, an Italian-based sneaker company, uses a chatbot for driving Black Friday sales: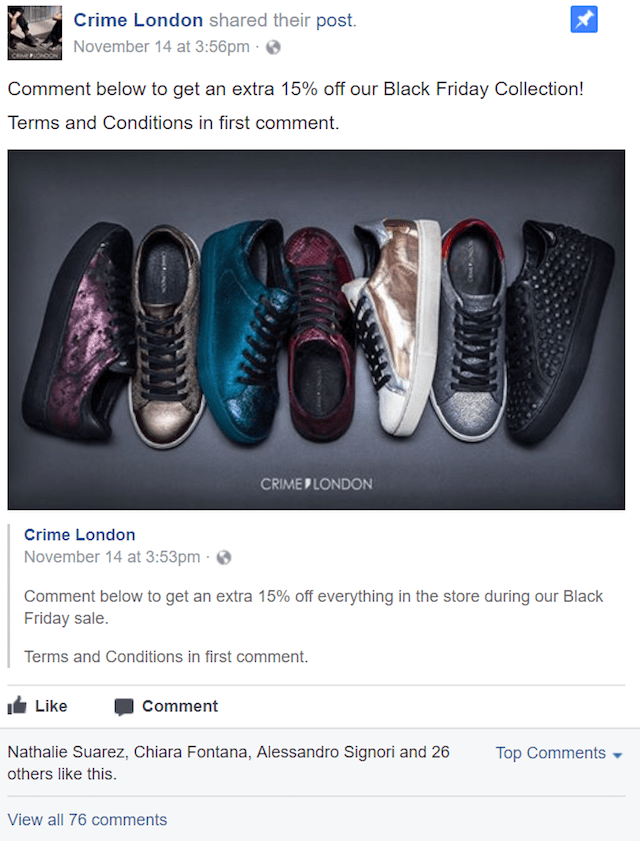 The tough thing about Black Friday is that every company on the planet is having a sale. And typically, the majority of your advertising for it takes place during the sale itself.
In order to pre-empt that, Crime London launched a chatbot designed to get users to opt in to the sales messenger, and email notifications in order to better own the relationship with the customer and prepare them for buying on Black Friday.
Your takeaway: Messenger bots lower the barrier for collecting user information and can be used to pre-promote an upcoming event or sale. This process allows you to continue marketing to your audience even after this one promotion has ended.
3. Ecovacs uses a chatbot to automate customer service requests: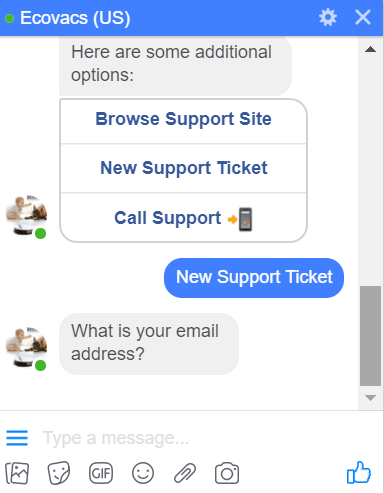 Seamless customer support is mandatory for any business, especially in the consumer electronics space. Handling tickets cost effectively while keeping customers happy is a delicate balance. This simple workflow from Ecovacs increases productivity for the customer service team and the social media team, while helping the customer get what they need faster.
Your takeaway: If you're getting dozens of customer support issues a month, you should strongly consider a chatbot integration and workflow to help streamline the process and keep up with social media changes.
2. Facebook and Instagram Live allow guests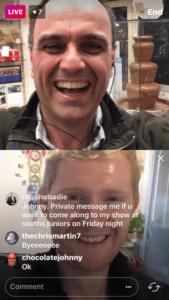 I've been telling you for months that Facebook Live is huge for businesses. Have you created a FB Live strategy yet? If so, you might want to adjust the strategy to take advantage of this new feature and stay abreast of social media changes. Here's how to do add someone once you're live:
Swipe left until you see Live Viewers
Select the viewer you want to go live with and tap their icon
Tap Invite to Go Live
Pro tip: Make sure the guest is dressed appropriately and has good internet access before bringing them in.
Why is this big news? For the same reason rappers always have other rappers featured in their songs: Bringing in influencers (and everyone's an influencer) allows you to grow your audience off their audiences — and now at an accelerated pace.
Alternatively, if you've got a complicated product, like say, a robotic vacuum cleaner, you can go Live to have your customers ask questions about their units, maybe even doing some real-time customer service right their in your news feed.
Can you say, "Brand advocacy?" That's not an experience your customers are likely to forget!
Your takeaway: Start scheduling Facebook Lives with influencers in your industry and invite them on for a quick talk. Don't be shy about asking your audience if they have any questions or if any of them would like to jump into the Live with you.
3. Facebook Stories on the horizon for Business Pages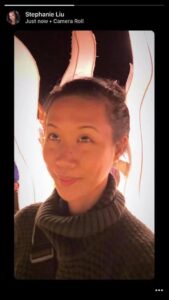 While the original Facebook Stories launch is probably not going to affect your business all too much, it's still a big deal that soon all Facebook business pages will have stories as a new marketing option. And, just like Facebook Live, I expect stories to have strong reach and a level of personalization that lends itself to creating a strong brand connection.
The catch? Much like Snapchat marketing, creating compelling content with stories requires a creative personal brand behind the helm.
Who on your team can fill this role? If you don't have someone right now, you might want to start looking pronto. With this specifically, I expect there to be a huge benefit for keeping up with social media changes.
While Instagram stories might feel optional to many brands, the Facebook platform has been structured around business pages for quite some time. And with Facebook's reduced reach, this could be a big way to get back in the game from an organic marketing perspective in the world's largest and strongest social network.
Your takeaway: If you're a medium to large brand, you should have a line item in your 2018 budget for Facebook stories.
4. Tweets just got longer
Tired of spending 20 minutes figuring out how to shorten your Tweet so that it fits into the limiting 140 character count? Not anymore!
Twitter has announced they will double the character limit of all Tweets, which makes messaging on Twitter a bit easier — and also a bit more important. The change comes after an analysis of the limitations of English and other character-intensive languages: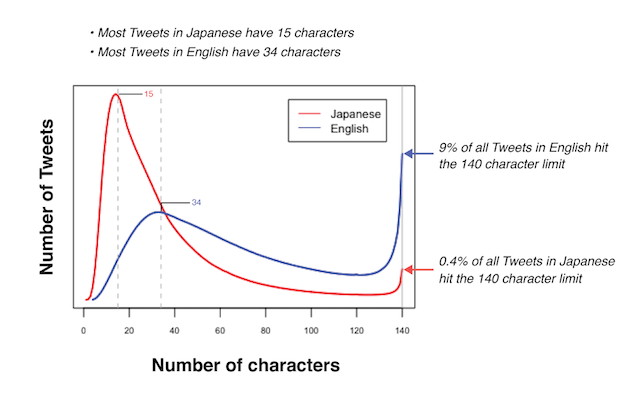 Your takeaway: While there is some nostalgia, this doesn't change all that much for marketers. You will just be able to say a little bit more with each Tweet, which could mean you save more time, or you spend more time. The important thing is to know with this social media change that you can use more space and occasionally take advantage of the new limit.
5. Quora launches self-serve ad platform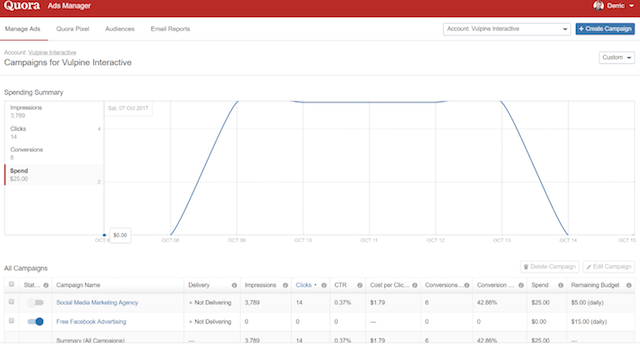 Have you heard of Quora? It is now the largest question-and-answer site on the web. Why should you care?
Because your prospective customers likely have questions about your product or industry, and these well-ranked answers are your gateway to getting in front of your audience at the right time.
Aside from answering questions organically, you can now serve ads to users based on the topic they are viewing. While each advertising platform is a bit different, this is pretty straightforward for anyone who's advertised with Google, Facebook or Twitter. And I'd say it's most synonymous with YouTube advertising.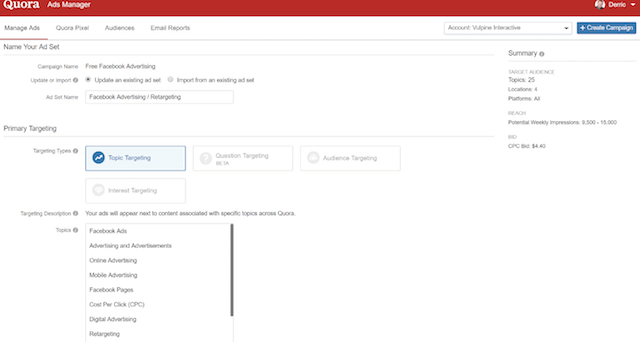 You can target users based on topic, interest or retarget users that have been to your website. And they've recently added targeting users by individual question for extreme granularity. Right now, I don't see a lot of hype around this channel. That likely means demand — and therefore ad costs — is low, and opportunity could be high.
Your takeaway: Go to Quora and search questions you think your prospective customers would ask. Look at the view count and follower count of the biggest questions in your industry.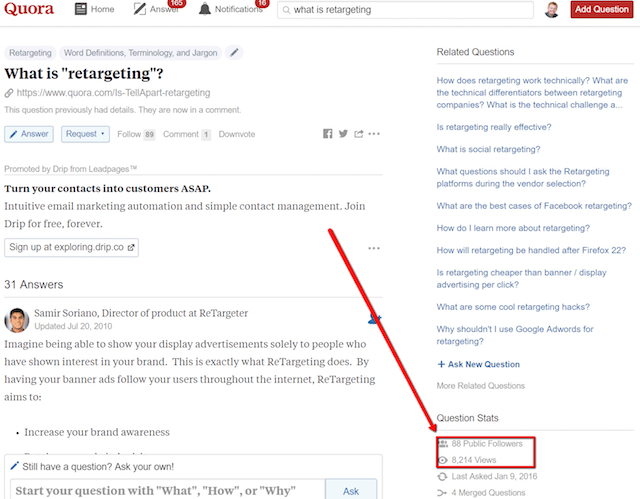 Then create an ad campaign sending users from those questions, straight to your website, blog post, squeeze page, or sign up form. Get started at quora.com/business.
6. Facebook launches their own original content platform
One of the most Netflix-esque, OS, social media changes, Facebook started paying content creators 55 percent of ad revenue generated to host their shows on their "watch" platform. An excerpt from a Facebook rep in this article notes, "We want any publisher/creator who is interested to be able to create a show in the future…"
Why should you care? Two reasons:
Maybe it's time for your brand to launch an entire show centered on your industry or educating your market. How can your brand do something original that ultimately drives people back to your business and not competitors? I would be willing to bet that your competitors aren't using Facebook Watch as a channel right now, which makes this an opportunity for you. You can apply here.
Most likely, you will be able to target users in Facebook ads based on the shows they watch. Thus, it is important as an advertiser to pay attention to shows that could aggregate an audience of prospective customers. Then, it also becomes possible to reach out to the shows themselves to see if you can get a feature on the show, or if you can get the host or influencer to be in the sponsored ad that you will run to their viewership, etc. Individual shows might become "sub-channels" for enhanced marketing experiences by crafty and cutting-edge advertisers.
Your takeaway: Whether you can feasibly launch your own show in 2018 or not, you need to be aware of Watch in order to understand how this brand-new series of TV shows will cause a massive marketing opportunity across all industries.
7. musical.ly surpasses 200 million users
I will be honest: I'm not cool enough to use musical.ly. But any time there are aggregated eyeballs, there is an opportunity to market a business. Here are some stats on their growth:
More than 40 million daily active users
75 percent female, 64 percent under 24 years old
43 percent engagement rate
Users spend 11 minutes on musical.ly each day.
Valued at at least $800 million
While their advertising platform hasn't quite matured to hit the mass market just yet, this company is on pace to become a unicorn and isn't likely to disappear any time soon.
Your takeaway: Got a product that hits the young female demographic? You need to be on this channel to keep up with social media changes.
8. LinkedIn launches retargeting
And it is seriously about time. When marketing in B2B, you typically only need to serve ads to a very small number of people. And those people tend to have visited your website at one point or another. By adding LinkedIn to the retargeting mix, you are able to "be everywhere" for those few visitors that do make it to the website. This is crucial for building trust and nurturing leads through the marketing and sales process, which is obviously a bit longer than selling consumer products.
Here's how you set it up. First, install your LinkedIn pixel on every page of your site (ask your developers to help if needed):
Second, create a new text ad campaign driving users back to your site, offer, squeeze page, or simply serve them a lead-generation ad right their on LinkedIn profile: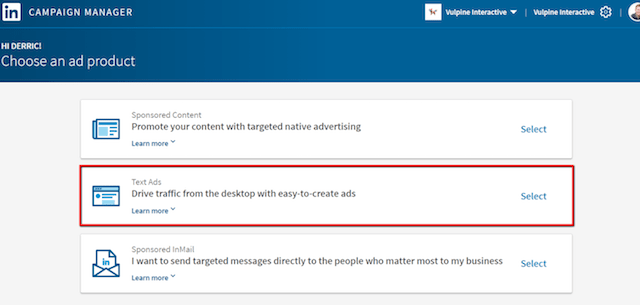 Third, create your custom audience targeting: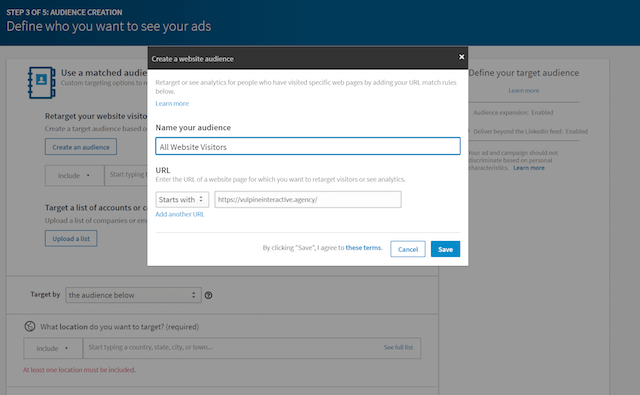 Complete the rest of the setup process, and you are now running retargeting ads to website visitors on LinkedIn.
Your takeaway: With the addition of retargeting to their advertising platform, everyone in the B2B space should be running at least one campaign on LinkedIn.
9. Pinterest launches search-based advertising
Gary Vaynerchuk, the world-famous marketer and co-founder of Vayner Media, once said that he got his start buying AdWords ads for "Wine" at $.05 per click. He hopped on the AdWords train early, and it worked out extremely well for him.
While not as large of an opportunity as AdWords, with two billion monthly searches, Pinterest is sure to be an undervalued market for at least the next few months while marketers hustle to get in early. Right now, demand for keywords like "wine" and "shoes" are not nearly as competitive as they are on the now-mature market of AdWords.
Your takeaway: If you have proven success with search ads and any sort of a visual or consumer-facing product, you should highly consider testing Pinterest search ads.
10. Snapchat brings Bitmoji to augmented reality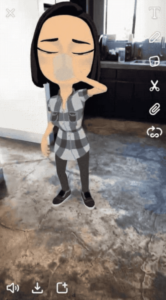 Snapchat's Bitmoji integration — and later acquisition — has really been paying off for their brand and stands out among social media changes. One of the ways they are innovating Bitmoji is by bringing it into the real world.
With a new augmented reality twist, users are sure to be spending more time in-app. And creators can find ways to be even more creative.
Your takeaway: As a brand or personal brand, you should be thinking about this as an opportunity to be one of the first in your industry to get ahead of social media changes and do marketing in augmented reality.
Over the next 5 years we are going to go from, "AR… what is that?" to, "AR… we're doing that." Start now, and you might be able to steal market share from your competitors with a fun, engaging, and unique marketing strategy. But beware: this type of marketing requires a true creative behind the helm. If that isn't you or someone on your team, hold off on this until you can hire the right person. Or better yet, partner with an existing Snapchat influencer to drive your brand forward.
11. Linkedin launches native video
I can't believe it's 2017 and LinkedIn is just now launching video. Welcome to 2007, LinkedIn! (Facebook launched video on June 22, 2007.) On August 22, LinkedIn finally allowed video posts in their feed. Sadly, their own launch video doesn't have a ton of likes just yet:
In any event, LinkedIn video is now a huge opportunity for marketers, service providers and those serving businesses.
You need to be cross-posting all of your videos to LinkedIn natively.
See this video for a great walkthrough on LinkedIn's native video. And here are some spec requirements:
Video must be at least three seconds and no longer than 10 minutes.
Video must not be larger than 5 GB.
You have 700 characters to describe the video.
You can still add links, tag people, and use hashtags.
And soon, you will also be able to post video to your company page.
Final thoughts on social media changes and preparing your 2018 marketing budget
Digital marketing is still an expanding medium. And with new channels emerging — and new features of existing channels coming to fruition — you are sure to have new markets and marketing opportunities. With that, you should expect to find many challenges and many, many shiny objects.
The number one rule of all marketing (in my opinion) is double down on what is working, and cut what isn't.
Until you've maxed out existing channels, you might not need to pay attention to the evolution of the industry. But odds are, one day you will need a new channel, or see a new opportunity, and that's why you need to be ready to strike.
If I could give you one word of advice, it would be: Dynamic.
You have to keep your marketing investments malleable, and consider doing the ultimate evil when it comes to being a CMO or business owner: Not allocating a line item for all of your budget prior to the start of the year.
Instead of the usual bureaucratic process required to fight for every dollar for your department, get buy-in from the big boss to keep 20 percent of your budget open to new opportunities and social media changes that are sure to arise throughout the year.
That way, you can adjust strategy with a moving market and go to "where the puck is." Need help understanding the changing landscape of social media? Feel free to reach out to me on any of my channels.