Starting a catering business? Here's step No. 1.
If you're just starting a catering business or working on enhancing your current brand in the catering industry, your domain name is a simple, yet important place to start. Domain names are like street addresses or phone numbers for the web. Because it serves as your web address, your domain is likely to be seen by more people than your phone number even. They can also contain memorable and helpful info.
Beyond the basics of why you need a domain, there are three key benefits. After all, your domain name reflects your brand, is tied to your business reputation, and ultimately has some influence over whether or not your customers and prospects engage with you online.
You might already be using a domain
I often get asked by businesses if they need a domain name and how to select a good one. I'm always happy to help in this process as there are several considerations that go into the selection process. In basic terms, you first have to decide that you need a domain name.
The fact is that if you have email and a website, you already have a domain — even if you haven't purchased one that's tailored to your business.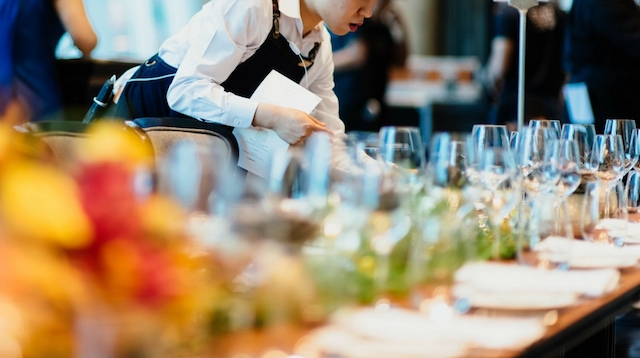 If you're using one of the major email services, you have an email address with that service's name in it — rallygrrl695@gmail.com for example. In this case, the domain name is Gmail.com. The same applies if you're using a hosted website service that doesn't include a custom domain name by default.
3 reasons you need your own catering domain
If you're using email or have a website, you already have domains — possibly another company's. I strongly encourage anyone starting a catering business to buy a custom domain name of your own for three reasons:
Reinforce your brand.

Own your reputation.

Cozy up to search engines.
Now let's look at each of these benefits in-depth.
1. Reinforce your brand
At its best, a business brand is easily recognizable no matter where it's seen — online or in real life. One key to a strong brand is consistency. Using the same name, phrasing and messaging throughout online and offline touchpoints helps your audience remember you and what you offer. So the next time they need a caterer, they naturally think of you.
Your domain name should be an exact match to your business name.
Often the first thing that your prospects and customers will notice is your domain name — after all, it's what pops up in Google search. You want to have a domain name that is consistent with the wording you use in your marketing, your brand messaging and the name of your company. There's a disconnect in the mind of the customer if they are looking for "Corey's Catering" and see a domain name that is painfully long like "CoreysCateringAndEvents.hostedwebsiteplatform.com" or one that doesn't have a brand connection at all like "c8r4u.hostedwebsiteplatform.com."
Additionally, you want to project professionalism with your domain name. The examples noted above just don't look like professional companies to someone who plans on handing over their credit card and spending hundreds or thousands of dollars on catering.
The prominence of your company and the image you project is another aspect of branding to consider with your domain. You want to project an image of a professional company of the right size and capabilities to handle your audience's business. Just one email address for the business — like "CoreysCatering@emailprovider.com" — doesn't necessarily give the impression that you have the scope and scale to handle larger contracts.
With your own domain and paid email, you can have multiple email addresses — all branded with your business name.
2. Own your reputation
You don't want to miss out on hard-earned positive reviews of your business. If your domain name isn't tied to your business and easy for your customers to remember or find, you risk losing the review and worse, having it attributed to a competitor. On the flip-side, you also risk getting bad reviews for experiences you didn't provide. Customers of another company could inadvertently find yours and leave a bad review out of confusion.
Some people try to create confusion by buying up (and using) domains related to a competitor's brand. There are also squatters who buy them in the hopes of selling them to the rightful owner for a large sum.
Another area of your reputation that you want to control is keeping your brand in your hands and not the hands of a competitor or domain squatter. If you don't own the domain name(s) that match your business name, someone else can buy them. This is why it's best to secure your domain names now and protect yourself.
See if your business domain is available now:
3. Cozy up to search engines
Search engines are a great source of web traffic (and therefore, customers). In fact, a large part of my career has been focused on working with clients to drive qualified traffic to their businesses through Google.
Your domain name is one of the first things a person sees when they search for caterers.
While Google reportedly does not give special weight to the words in the domain name as it did prior to the 2012 Exact Match Domains (EMD) algorithm update, we still can't ignore them. Remember your domain is visible in the search results and a large share of potential customers and businesses use Google to find catering services. In fact, your domain name is one of the first things a searcher sees.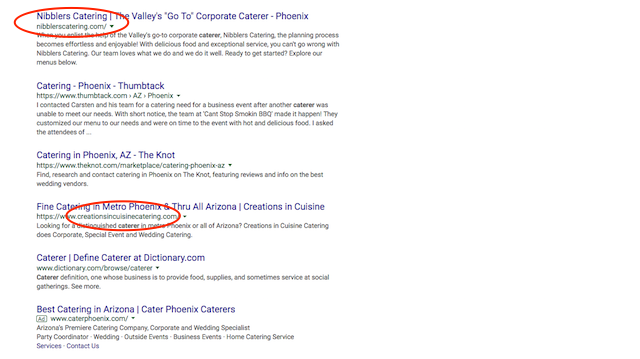 Keeping in mind how little space your business gets in the search engine results page (above), having an on-brand domain name helps with click-through rate. You want to help yourself any way you can, so you must carefully craft the descriptions your audience sees when searching for services like yours. A domain that matches your business name helps with this.
Choosing your domain — some tips
Now that you understand how your brand and search engines can be coordinated to grow your reputation, it's time to actually choose (or re-choose) your domain. I recommend checking out this advice on how to pick a domain name that fits your business.
Note that are many options beyond .com that offer creative ways to tie into your brand. They include .catering, .menu, .events and .delivery.
With any luck, you'll be using this domain name for years of catering to come, so I encourage you to spend the time finding just the right one.
You'll be pleased to know that in most cases this is a very affordable expense for your business (read more about what domains cost here). If you're late to the internet game and already have an established brand, you might need to engage a domain broker to help you buy your domain from a competitor or squatter who owns the one you want.
Already using a domain that doesn't match your business name for your website? No worries. Register a new, branded domain name and keep the old one, forwarding it to the new branded domain. Web searchers will be none the wiser.
Starting a catering business right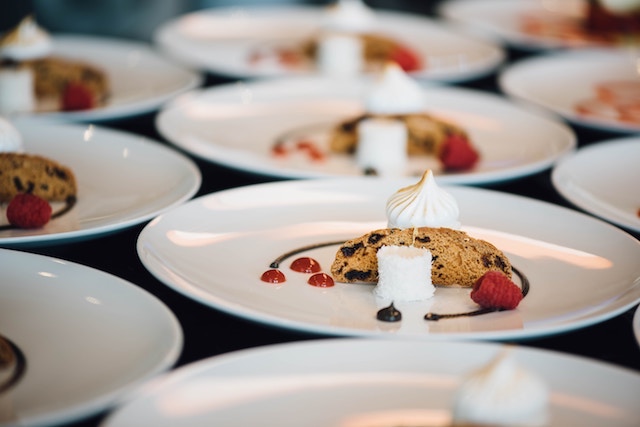 Hopefully you understand the benefits of having a great domain and have some ideas in mind for one that fits your catering business. By branding your domain name and tweaking your description to increase clicks from search engines, you have taken one (two) of the most important steps in attracting new customers online.
Image by: Jade Wulfraat on Unsplash