Starting a landscaping business? Here's why you need a website
Every new business needs a website. It doesn't matter if you're opening a brick-and-mortar clothing store or if you're starting a landscaping business. You should build a website first, before you open your doors. Why? Simple: So people can find you.
If you are starting a service business like landscaping, carpentry or carpet cleaning, this post will explain the benefits and reasons behind needing a website. I'll also cover what features your website needs for you to succeed in an online-focused world.
Why you need a website for your landscaping business
Most consumers, no matter what product or service they're looking for, begin their search online.
Now, your business can — and should — use local listings and social networks like Facebook to connect with future customers. But to really do it right, you'll need a website as well. It doesn't have to be a big deal, either. A simple, one-page website with the right things is really all you need.
If you're not online, you're invisible to your customers.
When someone is looking for a service like landscaping, they turn to the internet for a solution. For example, a local couple might go to their desktop computer in the evening to look for a landscaper who can handle a large backyard redesign. Another person might remember they need the lawn mowed while standing in line at the coffee shop. On the spot, they'll pull out their mobile phone to search for someone to do it. Your chances of showing up when they search improves if you have a complete online presence — including a website.
Over the past 10 years, website builders have become much, much easier to use. Now, just about anyone can build a website. With a site builder like GoDaddy GoCentral you can build one in under an hour — even if you have zero tech skills.
What every landscaping website should have
Just like a successful landscaping project, an effective landscape website needs to be planned out. In landscaper's lingo, you should try to use all the available real estate on your new website.
Here are six elements to include on your landscaping website, as suggested by Landscape Leadership.
1. Gorgeous photos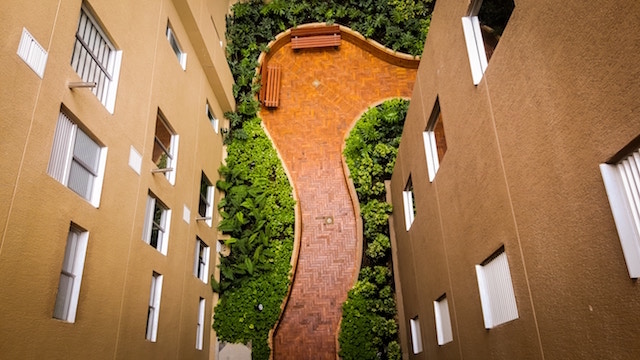 We all connect much better with visuals than with text, as our brain processes pictures much faster. The photos you use on your website should portray your business and showcase your capabilities as a landscaper. You can hire a professional photographer to shoot some of your projects or use a number of online resources to find high-quality, royalty-free images. If you use GoCentral to build your website, you'll have a library of free photos to choose from.
2. Simple navigation
Navigation refers to the buttons — Home, About, Contact — that help website visitors move from one place to another on a site. Think of them like stepping stones; it's important that you create clear signs to lead visitors through your website. You want them to be able to find what they're looking for without feeling overwhelmed. Your menu should always be located at the top of your website, as most consumers naturally look there when seeking it out.
3. A captivating headline
Your main website heading should tell readers what kind of landscaping company you are, what your specialties are and who you tend to cater to. For example, a commercial landscaping business located in Miami might opt to use a heading that said, "Your landscaping is the first thing your customers see when they walk into your Miami business." A Denver landscaper who caters to homeowners might try "From xeriscaping to lush valley retreats, we do it all."
4. Informative text
Once drawn in by your photos, website visitors will need clear explanations of who, what and where. Text should be informative, while describing what your business does and what services you offer, as well as the location(s) you service. This is the information search engines like Google "read," and they use this when determining where to rank your website in the search results. Include keywords throughout your text — this will help Google connect you with the people actually looking for your services.
5. Easy-to-find contact information
It's important that you include your full contact information on every page of your website. This includes your phone numbers and physical address location. Customers need this info of course, but search engines also use it, so forgetting to add it will hurt your visibility. A popular option is to include your address in the footer area of your website, and then your phone number on top, so potential customers can quickly find it.
6. A clear call-to-action
After you've hooked them with great photos and answered the obvious questions (What? Where? How much?), you'll need to tell them what to do.
A call-to-action (CTA) is the desired action you want your visitors to take while they're on your website. If you want to receive phone calls, include your phone number with a "Call Us Now" prominently above it. If you'd like to receive incoming leads, you can have a "Get Your Free Estimate" CTA that directs the visitor to a form they can fill out and submit. GoCentral comes with a pre-built contact form you can customize with just a few clicks.
GoDaddy GoCentral: Made for landscapers
GoDaddy's GoCentral Website Builder allows anyone, regardless of their technical knowledge, to build a landscaping website. Here are some of the features that make it ideal for anyone starting a landscaping business:
Quick-start templates
With designs for every industry and interest imaginable, you don't have to be a design expert to create a visually appealing website. There are multiple templates pre-built for those starting a landscaping business.
Simple management
GoCentral is meant to be easy to use by everyone, even those who are not tech-savvy. There is no need to hire someone to manage your website, as you can handle all aspects with just a few simple clicks.
Accept payments online
Want to avoid having to wait for paper checks to clear? You can collect payments directly on your website in the form of major credit cards, PayPal and even the newest payment options, such as Apple Pay.
Matching Facebook page
There is a very good chance that all of your customers and potential customers use Facebook regularly — it's the largest social network in the world. This makes having a Facebook business page an absolute necessity for you. GoCentral Website Builder will automatically create a Facebook page if your business doesn't already have one, or it will manage the one you already have.
Search engine optimization
Search engine optimization (SEO) is the process of making sure your website is found by search engines. Because in order for your future customers to find it, search engines must find it first.
Not sure how to add keywords and other tags to your website for the best possible search positions on Google, Yahoo and Bing? Don't worry — GoCentral walks you through it, helping you best-position your site for maximum visibility.
Built in email marketing
Email is one of the least expensive, yet most effective, ways to keep the work coming. GoCentral uses your website design to automatically create eye-catching emails that command attention. You can quickly add a signup form to your website and manage your email list as it grows. It even gives you stats related to open rates, so you can see what emails are working the best.
On starting a landscaping business
If you're starting a landscaping business, it is no-doubt an overwhelming, yet exciting period of time in your life. Use the tips above to make sure you take full advantage of all the benefits a landscaping website can offer your business. If you need some inspiration, check out these examples of great landscaping websites.
Want more tips? View our free checklist, "5 ways to get more local customers"
Make sure area homeowners can find you with this handy checklist. Sign up below.