Steam Crow: Bringing Monster Scouts to life
As a way to maintain peace and harmony in my household, I never make decorating decisions without first consulting my wife (and/or the Crate and Barrel catalog). It's not that I'm incapable of decorating — I've just learned that not everyone appreciates Star Wars merchandise as much as I do. There's nothing wrong with a little mix of geek and cute, right?
I'm a lover of all things strange and quirky, so when I stumbled upon the Steam Crow booth at my local Comicon, I was instantly hooked by their brand. They brought their A game with their comical and fun prints — so much so that I started to mentally redecorate my entire house (my personal favorite was a print of sushi captioned "How I roll").
Their brand was more of a lifestyle than a logo, and the folks working the booth were a testament to that. Everyone in the stall was dressed like a Boy Scout or Girl Scout — monster style. The sewn-on "spirit" badges were patches of their own creation, and they used bone-shaped, neckerchief slides to hold their scarves in place.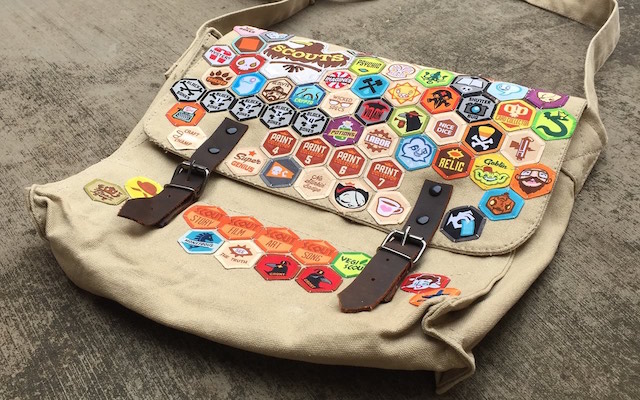 Needless to say, they were proud members of their own tribe. And I instantly wanted to throw down my cash and learn more about them.
The beginning of the Steam Crow brand
Steam Crow is the Phoenix-based brainchild of Daniel Davis and his wife, Dawna. The duo has a background in music and art, so starting Steam Crow in 2006 felt like their dream job. Daniel says it best, "We design and produce stuff that we love, for people that we really like." They nailed it, too. I didn't feel like a customer — I felt like I was part of a cool club (by association via a rad sushi print).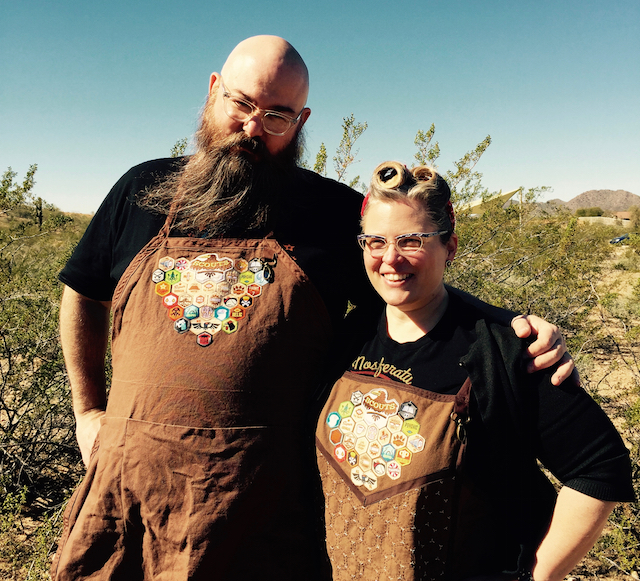 So how did it start? Daniel and Dawna had just moved to Phoenix, Ariz., and were away from family and friends while grinding out their day jobs. They got a chance to vacation to San Diego's famous Comic-Con, and everything changed.
While walking around the convention meeting famous illustrators from Disney, Pixar and Dreamworks, Daniel asked questions about their art. "When I asked one of them about Pixar, they said, 'Yeah, that's my day job, and it's just a job. What I'm really proud of is this illustrated book that I made.'"
Daniel started to realize that the magic behind these companies wasn't a huge brand — it was these creators who brought their own visions to life (and to the table). But perhaps Steam Crow never would have existed if it hadn't been for Dawna. She leaned over to him and said, "You know, you could do this. You could illustrate a Haiku monster book." Daniel's reaction was instantaneous:
"Like a spark, she handed me the huge gift of believing in me and giving me permission to do my dream job. So we did that."
With a little magic from his wife and her unshakeable support, Steam Crow was born.
The small business leap
Like many small business owners, passion was the catalyst for Daniel and Dawna. They'd spend hours just commuting to their day jobs, helplessly watching two to three hours of their day lost in the passing of cars. That motivated them to work on something else, something they loved. Like making monster-illustrated stuff.
Starting a business and launching a brand with zero fan base is hard. Instead of spending money on marketing and advertising, they made a brilliant decision — they went on the road and promoted their business at comic book conventions. By doing so, they built a cult following of fans.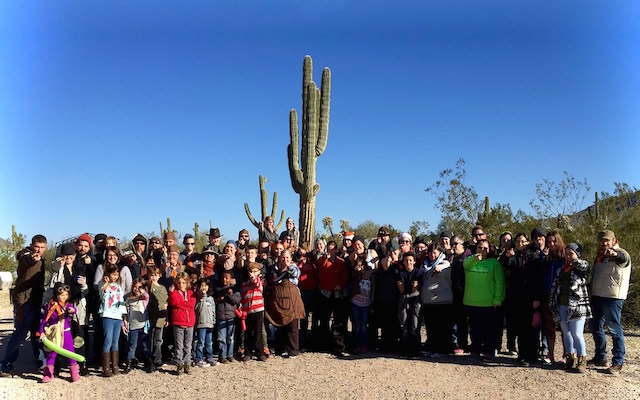 Like many successful brands, they were smart and listened to their customers. Instead of telling fans what they should like, they invited them in. Daniel started organizing hang outs, and their Monster Scouts were born. Daniel explains:
"Monster Scouts was the brand focus we'd been looking for, but it took our Scouts to let us know. This was the thing that they were excited about. They started collecting badges, creating uniforms, and wanting to do things like meetups and campouts. So now, we design products and experiences for them."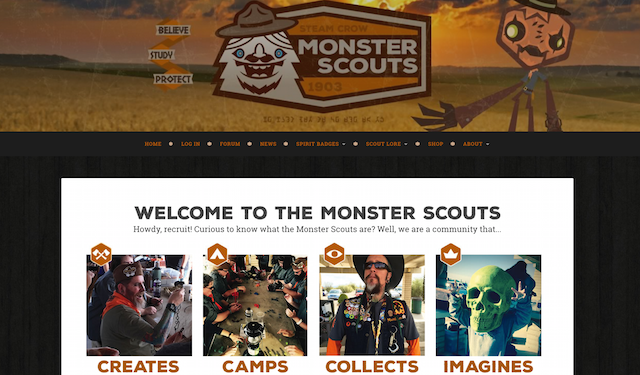 It's business 101. Listen to your customers and make things they want. By doing this, Steam Crow not only built a business, they built a community of loyal followers. These are customers who want to associate with Steam Crow and tell their friends all about it, too.
The tools to make it happen
With a brand to support and a band of loyal customers, Daniel's tools needed to be as refined as his products offerings. And he started with a domain name from GoDaddy.
"GoDaddy domains help us safely manage all of that tricky DNS stuff that I can easily mess up."
And that's not all. What's a great domain name without a kick-ass website? Daniel powers his online identity with WordPress because it's easy for him to spin up content and launch new products — fast. He also relies on GoDaddy Online Bookkeeping to keep his business on track. For him, the app is a great way to capture receipts and stay up-to-date on purchases.
In addition, Daniel uses Square for credit card transactions, BigCommerce for their online store platform, and Google's suite of tools for easy collaboration.
Be your own monster
Daniel and Dawna are a decade into running their own business, but they know they still have room to grow. Daniel made it a point to interview other successful artists to try and unearth their secrets, and they encouraged him to keep at it.
"You have to keep going and working at it. It takes time."
Whether you're an artist or a small business owner of a different kind, continually moving forward is advice worth heeding. In that respect, Daniel had some parting advice of his own (and in my opinion, it's something we could all be reminded of daily):
"Be different. Embrace your personality. Accentuate quirks that make you who you are, those quirks you might otherwise hide. Infuse that into your brand."
In the vein of Steam Crow, be your own monster. Take risks. Be brave. Your business venture could be right around the corner. And if you want to show your support for Monster Scouts, check out their site today and pick up some fresh swag. Welcome to the tribe.