Steve Langs Art makes waves online
"If you ask me what I came to do in this world, I, an artist, will answer you: I am here to live out loud." ~ Émile Zola
It was four years ago in the seaside town of Portsmouth, N.H. Steve Langs was a passionate artist on the hunt for fresh new ways to express his creativity. He had worked in digital media for many years, and he had managed to create many pieces he was proud of. But he wondered if he had hit a wall with what the medium would allow.
"As any graphic designer or artist might tell you, one of the main reasons we are driven to perform our craft is to breathe life into the the ideas, images and emotions that manifest in our heads," Steve says.
Sea change
Steve was beginning to wonder if he should experiment with pen, ink, paper and other more hands-on mediums … when he was laid off from his job. And right around the same time, his daughter brought home a school flyer advertising a craft show. This was really a chance to showcase some completely new kind of thing. But what?
Many times, he had spied beautiful pieces of sea glass while strolling the seacoast. He never considered natural materials before. But he had the time now. So he decided to experiment with creating something from sea glass.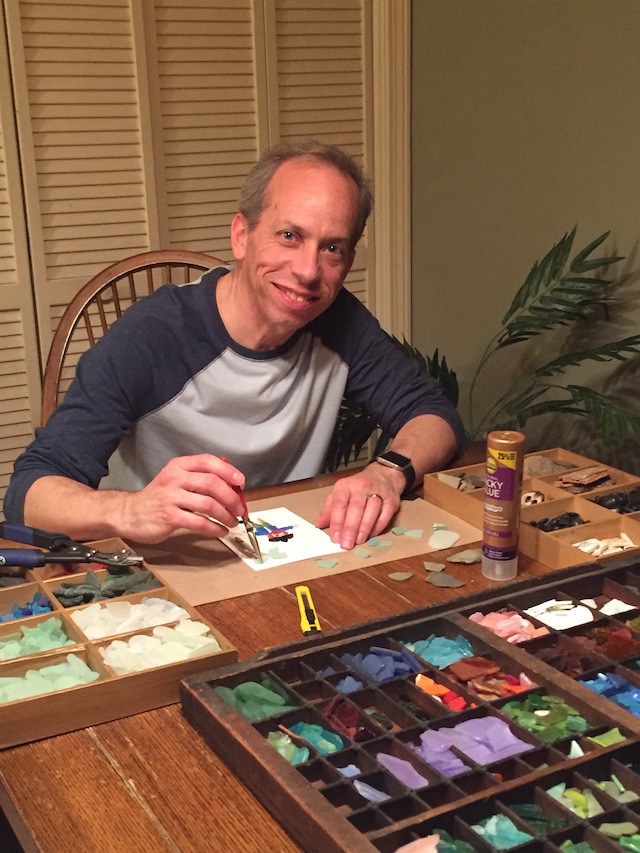 Sea glass?
His New England roots instilled in him a deep appreciation of the New Hampshire forests and hills and the peace and serenity they offer. He decided he wanted to tell that story with sea glass. And that is what he did. As Steve explains:
"I have to create the feeling of mood, depth and spacial relationships with very little material … and I love the challenge that that creative process requires. Working with wood and rock and glass gives me the feeling of connection to nature."
Sea glass is broken glass that has spent a long time in the ocean or a lake. The water tumbles the glass around and around on the sand and against other objects in the water. This softens rough edges and creates many different looks. You can find it in the most amazing rainbow of colors, from frosty whites and pale blues to blazing reds and radiant greens.
The beautiful New England scenery fostered the creation of many sea glass stories, which Steve carefully laid out by hand.
Turning tides
Inevitably, word got out about Steve's enchanting pieces. Soon, friends and family wanted their own, and they began commissioning his artwork for holiday gifts. The response was so positive, Steve decided to see what interest might lie beyond his inner circle. And just maybe, he thought, he could turn this into a business.
Not the type to skimp on details, Steve delved into his research. He found that not only were there very few artists creating this kind of art, but they weren't producing a wide range of subject matter or offering customized services. Because it's very much a niche business, he was certain Steve Langs Art would benefit from an online presence. And that's when he turned to GoDaddy and GoCentral.
Steve Langs Art + GoDaddy GoCentral
Using GoDaddy's GoCentral, it took Steve just a couple of hours to get stevelangsart.com set up on his laptop. His artist website includes both a portfolio and an online store. He updates his site with news and new pieces often, and he says the process is quick and easy.
Steve is excited about branching out to Facebook, Pinterest, Etsy, Instagram and Twitter. And he knows connecting his social media accounts to his website will be simple.
Steve lets his artistic vision, organization and determination guide his business practices.
And his gifts have served him well. All of his pieces are one-of-a-kind creations, made with natural materials from the New England seacoast, that touch on a wide range of subject matter. Customized pieces of art for specific customer needs are available for an additional cost.
"Converting from computer design back to the rudimentary stylings of this kind of simplistic organic art," Steve says, "is quite grounding and Zen-like."
A family affair
"Though I have a daytime job, I am always creating in my head and I will quite frequently jot down my ideas onto paper when inspiration calls. My goal is to make art that speaks to people's hearts while repurposing pieces of nature. And I want to take my art to a full-time career that supports my family." ~ Steve Langs
Steve's sea glass has been sourced from a variety of places, including donations, gifts and thrift shops. As nicer weather approaches, Steve and his family look forward to actually getting back to the primary source — gathering sea glass along the New England seacoast together. With the enthusiastic support and encouragement of his family (wife, daughter, mother-in-law, brother-in-law, sister-in-law, nieces and nephew), work and home become one.
"Relaxing with family and friends is most important to me. Between a full-time job, creating my art, and being a father and husband, my life is quite full. When time allows, I enjoy spending time with my close inner circle."
His piece de resistance?
"The piece I'm most proud of is called "Resilience." It's the image of the boy sitting in the tree on the home page of the website. That one is my favorite and has meant the most to me. I made it for a young boy named Tyler, a friend of our family who was in a very serious car accident in June 2016 due to a distracted driver. After six months in the hospital, he came home to a dramatically changed life. I designed this piece of art to hang in his room to represent healing, resilience and serenity."
Check out our step-by-step guide to selling your art online.
Advice for other artists
Natural material art is different from other kinds of art in a lot of ways. Steve says knowing his target customers — and continuing to get to know them — is integral to his success. And he remains open to all possibilities. His other advice?
"Be truly passionate about your talents and figure out how they can serve people in a business environment. Focus on your goals, dedicate yourself to something that brings you genuine pleasure — and don't listen to naysayers."
Steve has made his mark as an artist working with one of the most unique and beautiful souvenirs you can find walking the beach. And with stevelangsart.com and GoCentral's built-in marketing tools, he'll have more fans than ever. This, of course, means more creating. But he couldn't be more excited.
Anyone who's ever started a small business has faced fears about work/life balance and self-doubt. But now, Steve is making it happen. When it came to his art, thinking outside the box (in this case, outside the computer) helped Steve launch an exciting new side business. And with a strong online presence, he'll be able to put each carefully crafted piece into the hands of the right owner, whether they live down the street or on the other coast.
Inspired by Steve and his captivating collection of sea glass art pieces? Try GoDaddy GoCentral for free at gocentral.com. Build a simple site in under an hour and add more features like email marketing and an online store when you're ready.
Bonus: GoCentral is entirely mobile-friendly. You can build your new website anytime, anywhere on your phone or tablet and add or change photos as often as you like.