Subscribe to the Garage to get smarter
I don't know about you, but I hate to miss stuff. Like the ticket presale for the 2015 Foo Fighters tour and the Oscar's Fashion Police. And if I wasn't already immersed in it, I'd really regret missing some of the great articles in the GoDaddy Garage.
Here are a handful of my favorites:
Now, you don't have to worry about missing out on posts that can empower, inspire and (hopefully) entertain you — no matter where you are on your small business or web pro journey. That's because you have the Power to Subscribe.
That's right, you can subscribe to get weekly email alerts when new posts publish in the Garage. Unless you check your email about as often as it snows in Hawaii, you'll stay up-to-date on all kinds of cool stuff that can help you be smarter and more successful. Down the road a bit, you'll also receive a newsletter. We hope that'll make you smarter, too, but no guarantees.
Just click to subscribe
To subscribe, just click the "Subscribe" button in the pop-up on our home page. It looks like this: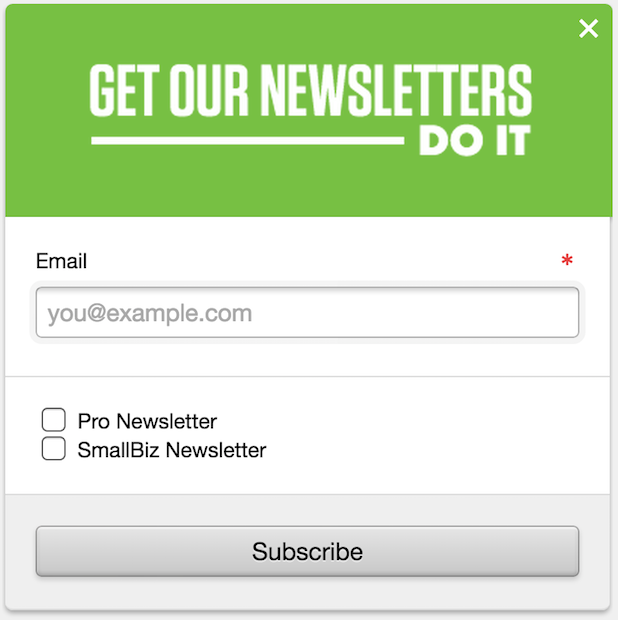 I know, nobody likes pop-ups. But seriously, our designers made what I'm sure they considered an annoying amount of revisions to decrease the pop-up's annoyance factor.
Feed your need for knowledge
If you're the type of person who checks your Feedly five times a day (or you're a fan of other RSS readers including Digg and NewsBlur), we'd love for you to add the Garage RSS feed to your daily dose of information. You can add a feed for the whole enchilada — https://www.godaddy.com/garage/feed — or the section of your choice — https://www.godaddy.com/garage/smallbusiness/feed or https://www.godaddy.com/garage/webpro/feed.
We won't spam you
When you subscribe, the only thing waiting in your inbox will be Garage article updates and, eventually, the aforementioned newsletter. If you change your mind, it's easy to unsubscribe…but we're wagering you won't want to.