Successful mompreneurs' advice for balancing work + kids during summer break
When you're a mom trying to run a business while raising your kids, it's hard enough working during the school year. Throw summer break into the mix, and it's a recipe for stress and lowered productivity. So, I went straight to the source — successful mompreneurs who are in the trenches on the cusp of summer break — to get some down-and-dirty advice for how to handle their littles without breaking their sanity. Here's what I learned.
Advice from an online business expert
Jocelyn Sams runs an awesome site with her husband, Shane, called Flipped Lifestyle. On their site they teach wannabe entrepreneurs how to "find financial freedom and gain control of their time using online business!"
Jocelyn says that when she and her husband first started their online businesses, they would take turns working while the other watched the kiddos. Now their kids are a little older, and they can just explain to them that it's work time. Because the kids are older, they are more understanding that mom and dad have to work. However, they do make sure that they have planned activities for them to do during this work time.
Jocelyn's best successful mompreneur advice is to have a plan and work the plan:
"It's really important to have goals and objectives. So we never just sit down with a computer and say 'OK, it's work time,' without a plan. We always know exactly what we're going to do, and we have specific tasks that need to be done in the time that we allot for them, and we're very intentional about that."
Not only do you need to plan out what your kids are going to be doing while work is going on, you need to plan out every minute of this work time as well. Otherwise you'll end up staring at a blank screen, spinning your wheels and wondering why you aren't making money.
Another great tip Jocelyn has is to use planned family time as motivation for your children to let you work without interruption. Of course, there may be times that distractions are imminent. However, planning things like a day at a theme park or a weekend getaway can be used throughout the week to inspire your children to keep themselves occupied and on their best behavior.
Tips from a homeschooling mom
I jumped at the chance to interview Lisa Fletcher for this article because she doesn't just have littles at home during the summer. She has them home all year. Her website offers homeschoolers across Canada products and resources to make homeschooling a little easier.
Her best advice is to try to get up before the kiddos and bang out as much work as possible before they wake up.
However, she admitted that it seems like her kids magically know she is awake, and they all get up earlier too as a result. To combat this, she'll work on things while they are eating breakfast, watching TV, playing a game or doing some other activity.
In some cases, she will intentionally give them a time-consuming activity to complete.
This way she knows roughly how long she'll have before being interrupted. One thing that helps Lisa significantly with this is that she has older children who can keep the younger ones quiet when she really needs to get her tasks completed.
Finally, this successful mompreneur suggests creating your business model based on the personalities of your children.
For example, her kids are very energetic, so a product-based business makes more sense than a service-based business model. She can work when the kids are occupied, but doesn't have to worry as much about her kids interrupting something like a client call because she doesn't really have those in her business.
Coaching from a business coach
Ariana Sylvester runs a community called Lifestyle Builders with her husband, Tom. The community is just one part of their business, however. Their bread and butter comes from their group coaching programs and their one-on-one business coaching to help entrepreneurs build ideal businesses and lives. I knew Ariana would be a perfect successful mompreneur to chat with because making business and family life work in harmony is her jam.
She acknowledges that work-life balance is a myth, but she still has some great mompreneur advice for navigating the business waters with kids in tow.
One piece of advice she has for getting work done is to get the kids out of the house. Whether it is taking the kids to a babysitter or putting them in a daycare, she says taking back several hours a week can be the difference between a business surviving, and one that thrives. If those options aren't possible, set up playdates or parent swaps with other moms.
With a parent swap, each parent takes a day where they host the kids so that the moms who aren't hosting that day can do other things. If you can get five moms on board, you can have four days a week without your children, giving you the time to focus on your business.
Another way Ariana will get her work done this summer is to take turns with her husband watching the children. Like Shane and Jocelyn, both Ariana and Tom work from home together, which helps them manage the children and their businesses as a team.
Ariana's No. 1 piece of advice is communication.
She said it's imperative you speak up when you need a break or when something isn't working in your business.
For example, if you can't handle the books and your client calls, outsource the books. Don't keep trying to do it all while slowly breaking down and suffering in silence. Speak up with your family members so you can work together to figure out a better way to manage your time, business and life.
Streamlining the summer
Nadja Williamson owns a consulting company that helps other businesses, mainly healthcare companies, streamline their systems and processes for better organization. She said she nerds out over this, as well as things like healthcare systems and HIPAA regulations. For Nadja, owning a business with small ones at home was a long process of trial and error before she got her bearings.
A few of her tricks for getting work done while the kids are at home include:
Giving them a game to play on their iPad.
Getting up early to work.
Working during nap times.
Putting on a movie for them to watch.
Enrolling them in day camps or other activities.
But the two best pieces of advice from this successful mompreneur are:
Plan everything out as far ahead as possible, but be willing to adapt your schedule at all times. Things are going to go wrong and schedules will get messed with. You have to be willing to just roll with the punches.
Batch as much of your work as possible. If you know you'll have four hours of uninterrupted time, for example, have a go-to list of tasks you can work on in the allotted time.
A freelancer finds time to write
Andrea Emerson used to work in a cramped cubicle but quickly tired of the 9-to-5 life. So, she gave herself six months to create a job for herself that would allow her to ditch her day job while still making good money. These days, she makes more than she ever did in corporate life through freelance writing, and teaches others how they can do it, too.
Andrea says she hasn't fully mastered productivity, and that it can be a battle, but her key is knowing when she works best. Her brain is most productive in the evening and when everyone is out of the house. So, when the kids are away at day camps, she finds herself getting the most work done.
One tip she swears by while her kids are home with her, though, is to close her office door.
Andrea said she tells her kids that when the door is closed they must not interrupt unless it's an emergency. Of course, it helps that her kids are a little bit older and less likely to have an emergency.
Her best piece of mompreneur advice is something most mompreneurs struggle with — to only focus on one thing at a time. She says multitasking always seems to backfire on her, and it breeds distractions. Therefore, one task at a time is all she will allow herself. Only once it's fully complete will she take on the next task.
A marriage consultant weighs in
Danielle Williams runs a website with her husband, Justin, that offers "coaching, courses and community that equip, empower and challenge couples to to find a way over, around or through every challenge, and create a great marriage full of Teamwork, Adventure and Passion."
Because there are times in Danielle's business where she needs 100-percent quiet in her house, like when recording her podcast, she does mom swaps for kid-free work time. During the times she has no children at home she will complete as many podcast interviews as she can, and then work on additional tasks until it's time to pick them up.
The trick, she says, is to swap with friends who have well-behaved children because then, the kids will keep each other occupied and you can continue working even when additional youngsters are present.
One interesting piece of advice that kind of blew my mind is to take advantage of free child care at places like your local gym. Say what?!? I didn't even know this existed, but it does.
Danielle's gym offers free child care while she's working out. Therefore, she will sometimes bring her laptop along and do a little bit of work before and after her workout to take full advantage of the kid-free time.
Another place for free child care? Local churches! Sometimes they will offer free summer bible schools where you can drop off your kids for a couple of hours, get some work done, then pick them back up.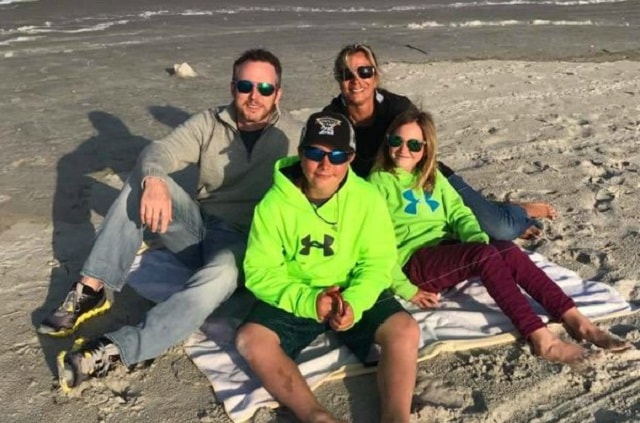 A blogger shares budget-friendly secrets
Tracy Shaw runs a blog and is a social media influencer. Her best advice is to start looking for things for your kids to do in the summer as early as January. Look out for local papers, magazines and blogs announcing summer camps, community service hours opportunities, free classes and more. And talk with other moms early and often.
Why is it so critical to plan as early as January? Simple — the free and deeply discounted opportunities are the ones that fill up exceptionally fast.
One such summer camp available in her area is a Nature's Classroom camp. It's funded by the state, so it's a hot camp that fills up almost as quickly as it's announced because it's no cost to the kids.
While Tracy's kids are in summer camp, she writes and schedules three- to six-months of blog content and social media posts. She'll drop the kids off and head to a local coffee shop where she'll work uninterrupted until camp ends. Even during the school year Tracy has been known to do this because though the kids aren't home, she admits that housework can be just as distracting.
Most successful mompreneurs do these things
After interviewing several moms, a lot of their advice started to echo each other. With that in mind, we'll finish with some of the best tips, tools and truth bombs that could help you in your business this summer:
Use a calendar
Download a digital calendar that you can access and update from anywhere that has a WiFi signal. You never know where or when you will need to add something to your calendar. Make sure it's one you can share with your business partner and/or family members as well so that everyone knows what is going on at all times.
Take advantage of your local library
Not only do they have plenty of entertainment for your kids to keep them occupied, but they usually have free WiFi and desks you can use to get work done while your children are busy. This advice courtesy of successful mompreneur Heather Clark of Home & Office Detox.
Get a project management tool
Use a project management tool like Trello or Asana for your to-do lists and idea backlogs. While running your own business there are several moving parts and a project management tool can keep you organized.
Let go of the mom guilt regarding screen time
To offset that guilt, make sure the kids are playing educational games and/or watching shows that will teach them something. Sure, don't let them have "too much" screen time, but if you really have to get something done, letting your kids play with their mobile devices and video games can be a lifesaver.
Find like-minded clients
Work with people who understand you have kids and are willing to work with you anyway.
The reality is that most parents get that having kids at home means they might interrupt a call or video session.
That's why it's important to be up front about that with your clients, and then only work with those who aren't going to get frustrated if you need to reschedule something because of your children. This tip is from successful mompreneur Jessica Dugas of Intuitive Mentor.
Know you can be a successful mompreneur
Jessica also says that you must believe that you can have both a business AND be there for your children. Don't buy into the hype that you can't have it all, because that will become your self-fulfilling prophecy. Instead, believe you can do it, and then go do it.
Use shipping subscriptions for things you regularly need
For example, with Amazon you can subscribe for things like toilet paper, paper towels and laundry detergent deliveries so it's one less thing you have to think about.
Automate, baby!
Automate and systematize as many things as humanly possible. Use software to automate tasks you have to complete over and over like invoicing and newsletters, for example. Always keep a digital memo app like Evernote on your phone for when you get business inspiration on the go.
Talk to text
Take advantage of talk-to-text programs when you want to jot things down but don't have access to a keyboard. For instance, you can be talking ideas and blog posts into your phone while preparing breakfast, lunch and dinner.
Turn off notifications
"Turn off your notifications otherwise it's like a squirrel running by, and all of a sudden you're like, OH! New thing, new thing!" says Amy Paris Jackson of Amy Paris Photography.
Hire a VA
Hire virtual assistants to handle some of the tasks for you. While doing this interview series I learned that some successful mompreneurs have VAs to manage things like Pinterest accounts, their books, writing copy and even customer inquiries. Additional helping hands can save you time and sanity. You're not a superhero, so there's no reason to act like one!
Image by: Jocelyn Sams