Sumy Designs: Combining skills for success
In 2006, sisters Amy Masson and Susan Sullivan teamed up to provide small business owners with quality websites at a reasonable price. Since then, Sumy Designs has grown to provide a full suite of marketing services for clients around the world.
Business background
What's Sumy Designs all about?
Amy: Simply put, we build websites. Our specialty is working with small business owners to help them pinpoint what their customers are looking for, and deliver a website that meets those needs. We also will help them with SEO, print design, logos and pretty much anything that enhances their online presence.
What inspired you to start your business?
Amy: In early 2006, my hairdresser asked me to make a website for her because I had been a computer teacher and knew how to do it. Another client of this hairdresser saw that website and asked me to make her one, too. Susan and I merged our skills and discovered there was a niche among small business owners who needed quality websites at a reasonable price.
What first steps did you take to get the business off the ground?
Amy: The first things we did was file with the IRS and the state to get our paperwork in order. We worked out what we needed to really make this work in terms of legal aspects, software and hardware, etc. We invested some time and money early on into getting our business off the ground.
What challenges did you face early on?
Amy: Early on it was feast or famine. You never really knew where your next project was coming from, and breaking into the search results for "web design" was a pipe dream. All work came from word of mouth, which is hard when you're new. Finding ways to promote our business that we could afford was a huge challenge.
What big wins have you had so far?
Amy: In 2013, we went to a WordCamp where a talk was on blogging for business. We were impressed with the statistics they quoted about businesses who blog, so we committed to blogging every day for a month.
At the end of that month, traffic to our site had gone up significantly, so we decided to keep blogging daily and kept it up for six months.
At the end of the six months, we dropped down to 4-5 days per week and have stayed committed to that blogging schedule. The result is that we now rank on page one in Google for 55 different web design related keyword phrases.
Where do you see your business in five years? Ten years?
Ideally, we'll be growing. I would love to be able to not just add more clients, but add employees as well so that we can take on even more projects.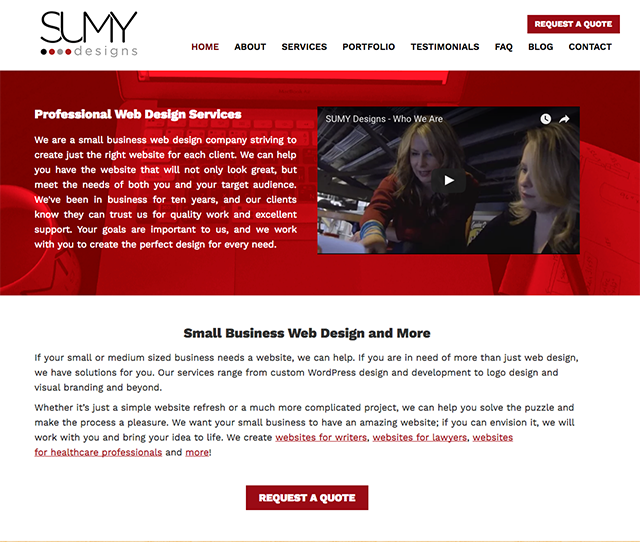 Dealing with clients
What's your ideal client?
Amy: Our ideal client is any small to medium business owner or individual who needs a quality website. We particularly enjoy creating websites for service-based businesses.
How do you find new clients?
Amy: Google loves us. Nearly all our clients find us through Google searches.
How do you retain your clients and encourage repeat business?
Amy: Our clients love us because we get to know them and their business, which makes their experience a personalized one, but also enables us to understand their personal needs as well.
Our motto is that we don't develop websites, we develop relationships.
Our clients often come back to us because they know we're reliable and fast and can get the job done. We also offer ongoing maintenance packages to help them keep their websites up to date.
What's your approach to contracts and project agreements?
Amy: Being the wife of an attorney has its benefits, so we had a great contract from day one. However, we find that having expectations laid out clearly up-front makes the process go more smoothly for all parties.
The working environment
What's your office/studio setup?
We work from home offices. We have control over our work environment and working from home means less traffic, less congestion, less noise and more productivity. We have each created a home office that is conducive to our own needs.
How do you work? What's your day-to-day routine?
Amy: I start my day by sorting my inbox. Messages either get answered, moved to the mailboxes labeled for various stages of projects (such as development or SEO), or delegated to appropriate team members who will take the lead on responding.
Once my inbox is clear, I look at the "quick to-do" tasks and knock out as many as possible in as short amount of time as I can. I also use time in the morning to respond to quote requests and write proposals. I keep a meticulous Google calendar and assign all tasks to a time slot as they come in so that I can keep track of all projects and when I'll be working on them.
Susan: I usually work normal office hours, starting with emails in the morning, followed by project tracking and organizing. I then move onto the design projects for the rest of the day, checking and responding to client phone calls and emails as received throughout the day.
Evenings are when I usually compose blog posts and make notes about things I need to follow up on the following day. Of course, one of the many great things about working from home is that I can adjust my schedule to work weekends or afternoons as needed to accommodate my personal projects and/or the needs of my clients.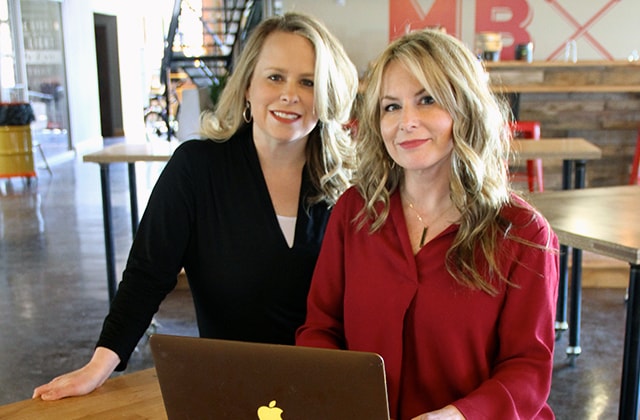 What tools do you rely on?
Managed WordPress. This is a life-saver. Being able to clone, backup, and run updates with a click is essential to my life. It also allows easier access to all websites we maintain for our team members who may not have their own logins to any given site.
dapulse. This is our project management system. We can look at it at any given time and see what stage any project is in, how many projects are open, and what we need to be working on.
Contactually. This is our CRM, which is responsible for tracking inquiries, sending auto-responders for new requests, and reminding me to follow up with past clients.
Bidsketch. We send all our proposals through Bidsketch. It allows us to track all proposals, and it allows clients to share them and agree and sign online.
QuickBooks. We use this for bookkeeping.
WordPress. Our platform for building websites.
Genesis Framework. Our theme framework of choice.
Beaver Builder. Our favorite page builder for making great page layouts in a snap.
Lynda.com. We are always learning new skills.
Skype. We communicate via Skype daily to check in on the team's progress and work.
Photoshop & Illustrator. Used for designing everything.
Evernote. Used for keeping notes so we can have access on all of our devices, wherever we are.
Having the right tools for the job is imperative when running a small agency.
These tools have had an enormous impact on our business. We're able to manage our projects better, build websites faster, and generally have a better output for both us and our clients.
Growth and learning
How do you unwind outside of work?
Amy: We are both avid distance runners. Susan is also an environmentalist, part-time beekeeper and chicken farmer. I enjoy reading, riding roller coasters, and generally being a geek.
What's on your bucket list for personal goals or experiences?
Amy: More travel! I want to take my family all over the world.
Susan: Everyone in our house is fascinated with ancient Egypt. I'd love to explore the Pyramids of Egypt with my family. I'd also love to run the Great Wall of China Marathon with my husband someday.
What books, websites, or other resources would you like to recommend?
Amy: We follow a lot of websites and Facebook groups. We love Chris Lema, Curtis McHale and WP Elevation.
For design, Susan follows Subtraction.com, Typographica, Font Squirrel, GraphicBurger, DeMilked and Spoon Graphics' blog.
We're in a number of WordPress Facebook groups. We listen to podcasts like Office Hours FM, The Matt Report and the Dradcast.
Books include Logo Design Love by David Airey, How to Be a Graphic Designer without Losing Your Soul by Adrian Shaughnessy, and How to by Michael Bierut.
What advice do you have for aspiring freelancers and entrepreneurs?
Amy: Invest time in your own business. One of the biggest mistakes people make is to sacrifice their own website, their own advertising, their own business needs to meet the needs of their clients. Investing in your own business will pay off time and time again.
Thanks to Amy and Susan for working with us on this story. You can connect with Sumy Designs on Facebook, Twitter, Linkedin and Google+.