Swimming for kids: How to make a splash online with your swim school marketing
Swim schools are an increasingly popular venture for entrepreneurs looking to start a local business. Founded on the idea of teaching safety and responsible swimming for kids, swim schools can also provide reassurance to parents who are looking to help their children become more confident swimmers.
With summer right around the corner, it's the perfect time for swim schools to start marketing their business locally.
If you want to make a splash marketing your local swim school, try some of the creative ideas below.
Swim with the tide and build digital assets
Gone are the days when local businesses can rely entirely on word-of-mouth advertising or recurring customers. To build a thriving business, locally or globally, you need an online presence.
Your website, social media channels, and other digital assets are powerful communication tools you can use to attract and retain customers.
These resources also provide valuable analytics and consumer data that make it easier for businesses to identify and target their desired market. If you operate a school that teaches swimming for kids, you need to invest time and resources in these digital assets:
Create a website about swimming for kids
Before we dive into any marketing initiatives, you first need a controlled asset that you can use to push leads to. Creating a website is the smartest choice because it gives you complete control over the user experience and marketing language. You can add pop-ups to grow your email list or use search engine optimization (SEO) to optimize your site for organic search.
Because 97 percent of consumers go online to search for local businesses before making a purchasing decision, if you don't have a website, consumers searching for information about your industry will likely end up choosing a competitor.
Using GoDaddy's GoCentral Website Builder, you can create a professional website for your swim school business in less than an hour.
Use popular social channels to reach your audience
Your website is your most important asset, but after that, you need to think about where else your target audience spends its time. Even though your service is teaching children how to swim and pool safety, your actual customers are parents.
Knowing who purchases your service will help you decide where to invest your resources online. For example, Facebook is one of the best platforms for reaching parents and is actually more popular with older generations than younger. Therefore, swim school business owners should look at building their Facebook business page and engaging with followers directly on Facebook.
As a small businesses, you'll want to make sure you have a profile on the popular local listings sites where people frequently search for information and reviews, such as Google, Yelp, Foursquare, and Facebook.
You can use a resource like GoDaddy's Local Business Listings to easily create a listing on those popular channels. Once you have a listing, you can invest some resources in optimizing them.
Publish great content about swimming for kids on your blog
Starting a blog for your swim school business will keep your audience engaged and can drive more visitors to your website. The lifeblood of a successful blog is the content you create and publish.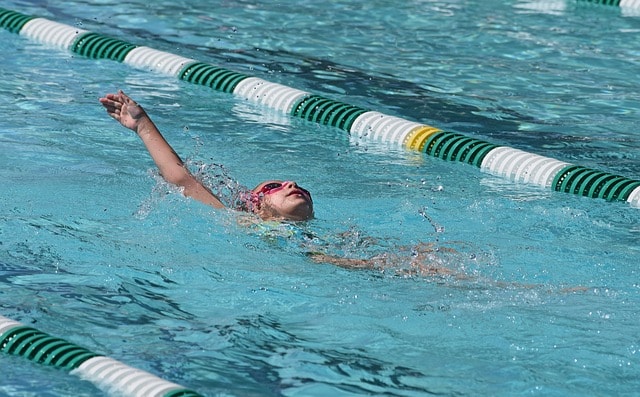 When creating content, think about ways to communicate value propositions to your target audience. For example, as a swim school business, safety is one of the biggest selling points. Knowing this, you can create content around swim safety for children, including call-to-actions throughout the content to push readers to contact you for more information or to schedule a training session.
If you focus on publishing great, relevant content on your blog, you'll likely see an uptick in targeted traffic.
Try optimizing your content for geo-specific keywords related to your area. Some examples of location-specific content might include:
Top 5 public swimming pools in Tampa
Live near the Hillsborough River? Teach your kids these 3 safe swimming habits
Why swimming for kids classes are selling out in Florida
Sink or swim with these digital marketing initiatives
Once you have your digital assets set up and are regularly publishing quality content, you'll have the foundation in place to start testing other digital marketing initiatives. From Pay-Per-Click (PPC) to email marketing, your swim school can utilize a wide range of online marketing disciplines to increase business and leads.
How you intend to track and measure success is an important consideration to make before you start any marketing initiative — online or offline. What works for one swim school might not work for another, so be willing to take a risk, but also be willing to accept if an initiative isn't working.
Some marketing initiatives to consider for your swim school business include:
Use Pay-Per-Click
PPC is a digital marketing strategy by which you pay every time someone clicks on your ad. Google AdWords is one of the most popular PPC platforms, and it's an excellent way for swim schools to drive highly targeted traffic to their website.
The best part about PPC is that it is easy to justify return on investment (ROI). If you spend $500 a month on Google AdWords and generate $1,000 in new customers, you're more than justifying your PPC expense.
With AdWords, you can be incredibly granular with your ads. For example, you can show your ad for exact match search terms like "closest swim school" or "best children's swim lessons," and even limit the ad to people who are searching that exact phrase in your city. Because PPC is incredibly customizable and provides easy to measure ROI, it's a great option for swim school business owners who want to dip their toes into a new marketing technique.
Build email marketing campaigns
Email is still one of the most powerful mediums to communicate with customers. While they might share content on Twitter, like your Facebook post, or comment on your blog article, you can really start to build rapport with customers by communicating directly to them via email.
Unlike other platforms, where communication is often at a mass scale, email offers a one-to-one communication medium. This encourages conversation with your customers and helps you develop a meaningful relationship with them on an individual basis.
You should do everything in your power to grow your email list — from adding a pop-up and forms throughout your website to asking parents for their email addresses when you have a training session.
The more targeted people on your email list, the more business opportunities. As you grow your email list, you can create segments based on:
Activity level: current customers, lost customers, leads
Interests: safety, fitness, etc.
Other information that can be useful in grouping the contacts
Using your email lists, create targeted email campaigns that will help nurture leads through the sales funnel, reengage old customers, and entice current customers to come back for additional training or to share your services with their friends and family.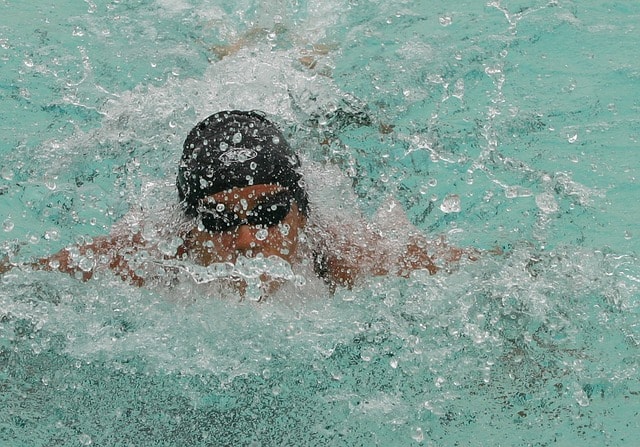 Become a thought leader and influencer
If you really want to separate yourself from other competitors, focus on positioning yourself as a thought leader in the space.
The more competitive the swim school space becomes, the more difficult it will be to differentiate yourself from the crowd.
However, if you invest resources now to help develop your personal brand as an influencer, you can develop intrinsic value that your competitors cannot match. Some ways to help build your influencer identity include:
Collaborate with local media outlets
With summer right around the corner, contact your local news stations and offer to provide swimming for kids tips on-air for an upcoming segment. Once you have that video, republish the content on your digital assets and include "Featured on" language in your marketing.
Start a podcast or YouTube channel
Create a podcast or YouTube channel to discuss tips, techniques, and other information related to swimming and water safety.
Write for other blogs
Become a contributor on other websites or blogs. This will help you be seen as an industry expert, and it's also a great way to improve your SEO.
Swimming for kids — Get ready to make a marketing splash
Digital marketing is one of the most cost-effective ways to grow a business and is a worthwhile investment, even for local swim schools. Between setting up a website, running PPC, and implementing email drip campaigns, you can have your swim school business dominating local markets in no time.