Take the entrepreneur plunge, Part 1
You've got a kick-ass idea and you're tired of taking orders from someone else. Maybe 2014 or 2015 will be the year you launch your own business. After all, more than 600,000 businesses are started in the U.S. each year…and for every person who starts a business, there are probably at least 10 more who dream about it.
Trust me, I'm all for diving head-first into the entrepreneurial waters.
I did it myself some 20 years ago, and have never looked back. There is nothing more fulfilling than calling the shots, setting your own hours, and making things happen on your own terms. However, it's not so easy to leave the security of a "real job," with its paid vacations, steady paychecks, and other benefits.
In the first part of this two-part series, I'll discuss some of the initial questions you should ask yourself before setting off on your own. While you can't prepare yourself for every aspect of running a business, you should consider if you have the right personality for the lifestyle.
Do you need motivation and guidance from others?
I started my first business right out of law school, where I had always been told what to study, when to take an exam, etc. But when you start your own business, there's no playbook to follow and no professor or boss to look over your shoulder and tell you what to do.
Not having a boss might not sound like much of a problem, but it can be hard to get started when there's no clear indication of what you should be doing, when you should be doing it, and how. To be successful as an entrepreneur, you're going to need to work hard even though no one is giving you a deadline or holding you accountable. If that isn't your strength right now, you'll need to learn how pretty fast.
Can you tolerate risk?
Think about where you are right now in your life. How important are any of the following: a steady paycheck, paid vacation, or employee-paid health insurance? Most entrepreneurs give up these perks during the first few years of starting a business. You'll need to be able to handle both the financial and emotional stress of the lean times, and remind yourself about why you wanted to launch your own business in the first place.
Can you handle rejection?
When you're pouring blood, sweat and tears into your new business, it's hard not to take each rejection personally. But bad news is a natural part of any business. Maybe your first prototype doesn't work out, an investor doesn't show interest, or you lose one of your top clients. When you're running a business, you don't have time to dwell on each rejection. Instead, you will need to learn from the disappointment and move on.
Can you work long hours?
As far as I know, the "four-hour work week" is pretty hard to find.
Are you quitting your day job because you want to spend more time at the beach or sleep in until 11 a.m.? While running a business certainly gives you more flexibility and control over your schedule, it also means long hours. As far as I know, the "four-hour work week" is pretty hard to find. Expect to put in long days and nights at the beginning. The bottom line? You have to love and believe in what you're doing in order to keep the motivation up.
Asking yourself tough questions like these can help prepare you for the realities of starting a business. Stay tuned for Part 2 of this series to learn some of the other characteristics required for being a successful entrepreneur. And if you are interested in learning more, join me on September 17 for an exclusive GoDaddy Google+ Hangout called "Are you ready to become an entrepreneur?"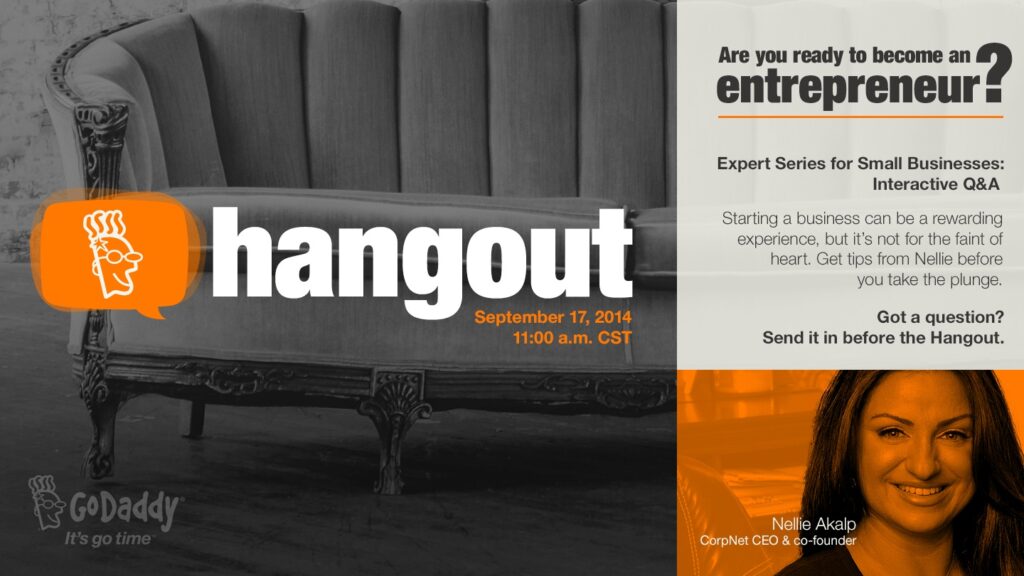 Click here to sign up for the Hangout (It's free!)