Take your offline business to the web with a .online domain
Here's some good news: more than half of the global population now has access to the internet. That's more than 3.8 billion people from all corners of the world. Isn't that amazing? For the first time, more customers are searching for your product or service online than in the yellow pages! That means the time is right for you to take your offline business to the web and experience growth like never before — with a .online domain.
When creating a business website, the first thing you need is a domain name (an address) for your website. While choosing a domain name, keep the following tips in mind:
Make it memorable and meaningful
Keep it simple (avoid hyphens, typos, filler words, abbreviations, etc.)
Choose descriptive words that make your website's name relevant to your target group
Keep the name as sleek and straightforward as possible
Before you begin your search for your small business domain name, here's something to think about: the internet has more than one billion websites live at the moment. You have to find a domain name that's not already taken! This might sound challenging, but it really isn't — especially if you are looking at a new domain extension, such as .online, to be your SMB's web identity.
The .online domain is a versatile new extension made up of the search-intuitive keyword "online." From find a groomer online to buy cake online, we tend to search for almost everything with this keyword as a suffix. This is especially relevant to products and services offered by SMBs.
If you are looking for a keyword-rich, memorable domain name to become your SMB's identity on the web, here's why .online might be the perfect choice.
1. The .online domain is available
"Yes! Your domain is available. Buy it before someone else does."
Don't you just love it when your domain search on GoDaddy results in this message? It's a great feeling, especially if it's for your first choice. But how often does that happen? Since the .online domain is new, it's likely your first choice will be available. This makes your domain name search process much simpler and quicker.
Let's say you are the owner of Perfect Spa. If you search for this .online domain, you get the following result:

Not only is the name available, it's also affordable for a small business owner. Let's elaborate a little more on the affordability aspect of .online in the next point.
2. The .online domain is affordable
For an SMB owner, affordability plays a key role in all business decisions. The challenge is to get the maximum return on investment for every penny spent. Let's say you have a business called Creative Catering. A recent search on GoDaddy showed this result: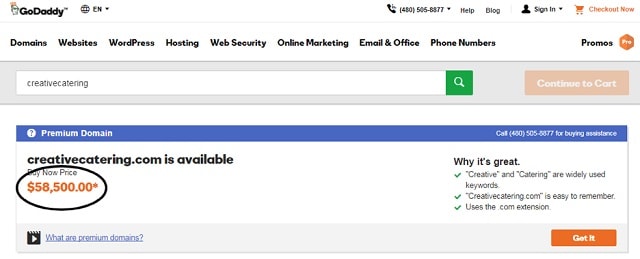 As you can see, creativecatering.com is available to buy — with a premium price tag of $58,500. For many small business owners, this might not be a practical option. On the other hand, the same name with an .online domain is available and affordable:

With a domain name such as creativecatering.online, you are well on your way to creating a memorable identity for your small business in the online world.
3. The .online domain is relevant
Another key reason why the .online domain is suitable for your small business is the relevance it adds to your business name. The word online is well understood, and a widely popular keyword used intuitively while searching for products or services on the internet. It's because of this, when SMB owners do not find a suitable first-choice domain name, they simply add online as a keyword. For example:
PetGroomingOnline.com
PetalFloristOnline.com
EliteCateringOnline.com
Instead of adding the keyword and making the domain name longer, a smarter option is to simply use .online as a domain extension, like the example below:

This domain is available, affordable and relevant without being long and clunky.
Now that you know why a .online domain might be a great choice for taking your offline business to the web, let's explore some of the ways in which you can use this domain extension creatively.
4. The .online domain is creative
Since the word online is versatile and commonly used in conversations, you can use the .online domain extension to make a creative, impressive domain name that stands out and yet fits in. In fact, you can opt for any of the following four creative domain strategies to choose a business domain name that serves you in the long term:
Make it about your product or service
If you own a niche small business, choosing your product as a keyword in your domain name can help you immensely. Let's say you specialize in different varieties of honey and wish to take orders through a website. Wouldn't it be great to own a website that communicates exactly that?

This is a common strategy for businesses marketing themselves on the internet. When you are promoting yourself through a digital ad or social media, your domain name will convey your message without any complicated ad copy, tagline or description.
If you are a local service provider, such as a plumber, a relevant domain name for keywords book plumber online could be:

Make it about your industry
If your SMB offers products across categories in an industry, choosing a domain name with your industry as a keyword is good idea. For example, if you sell salon equipment, then you could choose a domain name such as this one:

A relevant example here is the online payments service that chose www.directpay.online to be their primary domain name.
Make it about your geo-location and the product
Assume you own a thriving home-bakery Dream Pies in Chicago, which has grown because of word of mouth. When you do take your business to the web, you can include the keywords chicago dream pies online as part of your domain by registering dreampies.online and creating a subdomain for Chicago area as chicago.dreampies.online. In the future, when you expand to other cities you can roll out a subdomain for every city.
Make it a memorable message
You can use a .online domain extension to plug a message into your website name. For example, when searching for a writer online, the keyword search is most likely to be a combination of the words find writers online. You can choose a domain name with these exact keywords:

A fitting example here could be louder.online, a global digital marketing agency that offers search marketing, content marketing and social marketing services. They make their clients' voices "louder online." Another example is disabilityarts.online, an organization that offers an online platform to disabled artists to share their thoughts, artistic ideas and creativity with the world.
Take your business .online
So there you have it! Four reasons to consider using a .online domain — availability, affordability, relevance and creativity. Ready to see what you can find? Try out our domain search feature now: