Teacher blogs: Deepen the pool of knowledge
It seems like almost everyone has a blog these days (even those who maybe shouldn't!). Bloggers are moms, dads, businesspeople, health nuts, musicians, techies, students and celebrities. They can be anyone with a digital device and access to the internet. For some, writing a blog can be therapeutic or just for fun, while others do it to establish influence or make money. In some cases, as with teacher blogs, it can be a way to establish community and help others in similar situations.
Teacher blogs can be both a resource and a chance to share what you know.
The job of a teacher isn't easy. Educators are responsible for instructing our future leaders. They have to figure out how to reach their students and help them progress through lessons, even when each pupil thinks, listens and learns in a differently. It's a lot for one plate to hold, but taking advantage of teacher blogs can relieve some of the weight.
4 things all the best teachers blogs have
Passion.

Purpose.

Use of various media.

Engaged readers.
Before we jump into the must-haves, let's touch quickly on how blogging can benefit you.
Why you should start a teacher blog
Whether you're a seasoned educator or a first-year teacher, creating a blog about your challenges and successes in the classroom can be extremely valuable, both personally and professionally. Here are a few of the reasons why teachers blog:
Professional development
Comments on your blog posts give you a chance to interact with a greater network of educators than those just within your school or district. You can read (and comment on) other teacher blogs for advice, resources and insight, or share experiences and ask for feedback from the community on your own posts. This allows you to grow professionally — and help others do the same.
Shared ideas
Do you have a great idea for a classroom activity or a powerful lesson plan? Sharing ideas is a great way to be more effective with a diverse set of students, and it helps other educators who might be looking for new practices or student-engagement strategies. Inviting reader feedback allows you to pool your knowledge with that of other teachers the world over.
Assessment of methods
As you come across new ideas or share the ones you've tried, see how others have responded. Are your methods the most effective? As a whole, are there things you could be doing better? Use the experiences of other educators, as well as your own, to improve the quality of your teaching.
To become a thought leader
Sharing quality content can help you establish your position as an expert . A blog that consistently has useful resources and guidance, especially if it's focused on a particular specialty, will be revisited often and shared within industry circles.
What makes a great teacher blog
The advantages of writing and sharing online can only be realized if your blog attracts readers. Unlike Field of Dreams, "If you build it they will come" doesn't apply to blogs (or anything on the web, for that matter). But you can improve your chances by incorporating a few characteristics many of the top teacher blogs have in common.
1. Passion.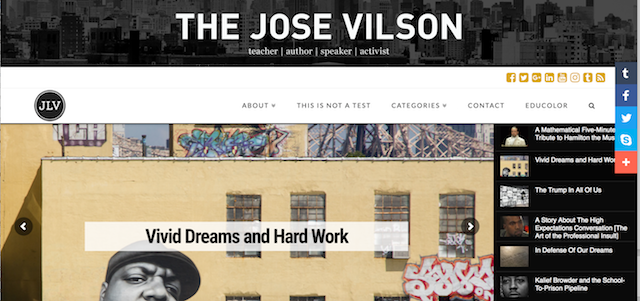 If you love your job and care deeply about your students, your blog should emanate that. For a couple of great references of what this looks like, explore blogs by Diane Ravitch and Jose Vilson. Diane, an education professor at NYU, usually posts about politics and education news, which isn't always to her liking. After reading just a few lines of her posts, you can tell her heart is in it and she's using her blog to raise awareness about topics she feels passionate about. Once you look at the active comments sections on each post, it would seem she's doing just that.
If you care deeply about your students, your blog will emanate that.
Similarly, Jose writes about topics that are important to him, including race and education. While he references news like Diane does, the focus of this math teacher, author, speaker and activist is less on actual policy and more on events in society. His insights make you think and challenge you to see things from a different perspective, which is both engaging and important.
2. Purpose.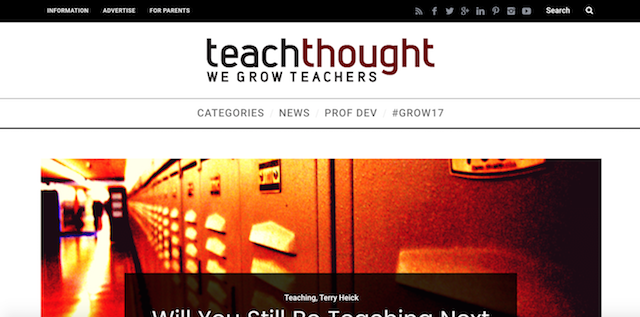 Finding a narrow focus for your teacher blog can make a big difference when it comes to standing out from the crowd. You could always write about teaching in general, but there are so many resources out there — why not pick a focus and be the expert on it?
Having multiple categories or covering different subjects is fine, but having an overarching theme can help you attract a strong following.
Passionate about brain-based learning or the flipped classroom? Focus your blog on that. For example, TeachThought makes it clear what their purpose is through their tagline, "We Grow Teachers." If you browse some of their article titles, you will see this theme throughout. They cover topics regarding understanding students, looking toward the future and tools to aid in professional growth.
3. Use of various media.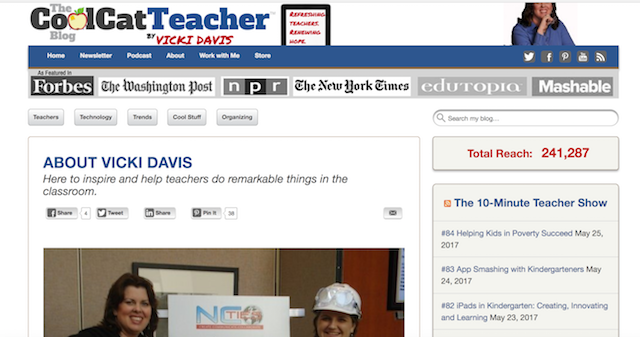 It's no secret that videos attract readers online. That's why teacher bloggers who are most effective at entertaining and connecting with readers usually include multimedia in their blog strategy. That means embedding videos, audio files or podcasts whenever possible.
Someone who does a great job of this is The Cool Cat Teacher, also known as Vicki Davis. She has a section on her blog called, "The 10-Minute Teacher Show," which consists of podcasts of interviews with influencers in the industry. She also maintains an active YouTube account that provides how-to videos and two-minute tips for teachers.
4. Engaged readers.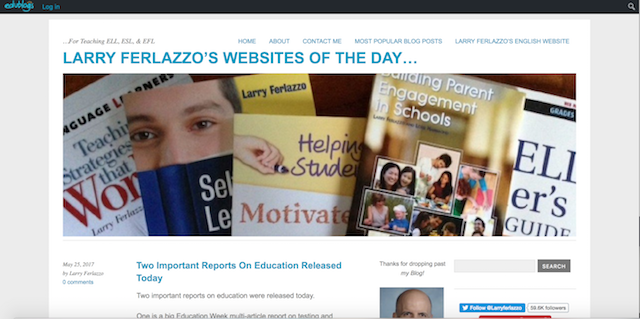 Since teacher blogs are often used to share best practices and strategies, asking your readers to chime in on topics is a great way to extend your blog's reach and increase reader interaction. This can be as simple as asking readers to leave comments on each post, or taking it a step further and creating a community forum to enable conversations among readers.
California high school teacher and blogger Larry Ferlazzo calls his Classroom Q&A "an experiment in knowledge-gathering."
Each week during Education Week, he poses a "question-of-the-week" and asks followers to provide answers. A few days later, he shares those answers and credits the responders. This provides visibility for readers who want to be featured as a resource in the space, while driving user involvement for his own gain.
Note: If you're looking for a quick and easy way to find the best teacher blogs without having to browse around for hours, Teach 100 lists the top education blogs across the web every day.
Get started: Build your own teacher blog
Once you know what your blog will cover and how to make it stand out, it's time to build it. Blog platforms like WordPress, Blogger and Edublogs (WordPress for education) make creating your blog almost as simple as choosing a theme and writing the posts.
To get started on your new teacher blog, pick a name, pick your blog builder and hosting and start customizing the look. For step-by-step instructions on how to build a blog in WordPress, read this terrific article, "How to start a blog in 7 steps (in 2017)."
[advertisement id="17440″]