The 5 best WordPress portfolio plugins of 2017
Why should you care about the best WordPress portfolio plugins? It's no secret. Everyone wants to get as many clients as they can handle, no matter their industry. In fact, for freelancers, the best-case scenario is you get so many clients that you have to hire help. So, let's look at how plugins can play a role in making that happen.
When it comes to web design and development, a picture is worth a thousand words.
A portfolio can prove that you're really good at what you do. You need to have an incredible portfolio website that demonstrates just how awesome you are. And that website needs to be great at showing — not just telling — everyone about your awesomeness.
The good news? A lot of the heavy lifting has already been done for you. We're talking about the best WordPress portfolio plugins.
The 5 best WordPress portfolio plugins of 2017
Below are five of the best WordPress portfolio plugins I found this year. These can help you look better in front of your clients, and potential ones, not to mention save you lots of time when it comes to putting together that site that showcases your ability.
Take a sec to visit their respective pages, and then we'll dive into deeper detail.
1. NextGEN Gallery
NextGEN Gallery is a free portfolio plugin for WordPress that has more than one million active installations. It makes it a snap to create slideshows, watermark your images, organize images into albums, and more.
There are two versions of NextGEN, one's free and the other is the paid Pro version. This plugin receives 1.5 million new downloads every year, and is considered a very simple photo gallery that remains, in their own words, "powerful enough for the most demanding photographers, visual artists, and imaging professionals."

2. Envira Gallery
Featuring a top rating, Envira Gallery earned five stars as one of the best WordPress portfolio plugins due to its drag-and-drop capabilities. Amid the glowing reviews, you'll find one user noting it is, "super user friendly and creates beautiful portfolios with minimal effort," while another remarked, "I can go months without using it and then decide to add more and it is easy to pick up where I left before. No retraining is needed. That is huge for me."
Personally? I could not agree more. As I was looking through the features, I noticed a few things that would make me want to use this plugin, too. First, anything drag and drop sounds awesome. Second, they make it easy to share on social media. Envira Gallery also plays nicely with other plugins and helps you load your portfolio quickly and with little effort. Add that to Managed WordPress Hosting from GoDaddy, and you've got a real game-changer.
3. WordPress Portfolio Plugin (WP Portfolio)
While it isn't fancy, WP Portfolio gets the job done. It's free. And, in fact, it's been called one of the best WordPress portfolio plugins for newbies by several reviewers. If you're considering solutions more complex than otherwise top-tier portfolio website building applications like GoDaddy's GoCentral, this is a great place to start.
Features include automatically generated website thumbnails, unlimited listings, assigning those listings to multiple groups, and a fully customizable layout.
For those hoping for an out-of-the-box solution, start here.
The team also has glowing reviews around support and responsiveness — always a plus in the design/development realm.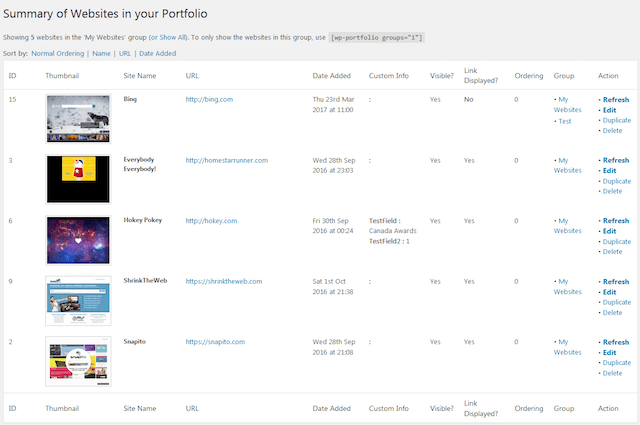 Nimble Portfolio
While the Nimble Portfolio plugin is free, there are additional upgrades you can buy. With Nimble Portfolio, you can easily add a pretty portfolio to your site. Simply create a new portfolio entry, and then upload images and other digital files. Group these images and files into filters.
Users say it's easy to install, configure and a breeze to use — a few important boxes to check when you're searching for the best WordPress portfolio plugins.
Projects by WooThemes
Standing among the best WordPress portfolio plugins for free, Projects by WooThemes lets you create a basic portfolio on your website. Each of your portfolio entries will have it's own dedicated URL with all the relevant details you would like to include — and you can categorize and sort them as you see fit. This plugin also works well with WooCommerce, allowing your clients to add products to a cart for purchase.
Which WordPress portfolio plugin is the best for you?
As you can see, the possibilities are vast when it comes to evaluating the best WordPress portfolio plugins. Whether it be it highlighting the latest code developments or showcasing your stellar design work, you should take a look at each one in detail — before sharing your expert opinion with other users.
Image by: suneko via VisualHunt.com / CC BY-SA