The best WordPress themes to get customers to order food online
If you're familiar with WordPress, you probably know just how hard it can be to decide on one of the many available WordPress themes. When you're choosing a theme for a specific brand or business goal, it's important to be strategic and thoughtful. For example, how do you select the best theme for a restaurant that wants its visitors to order food online?
Before we find the right theme for our restaurant, we need to first take a look at what makes a good WordPress theme.
What makes a good WordPress theme?
It's important not to get caught up in the theme's aesthetics. Making an impulse decision based strictly on design can lead to problems down the road. Here are a few functional elements to keep in mind when choosing your restaurant's WordPress theme.
1. Mobile-friendliness
Around half of all online traffic comes from mobile devices. For the restaurant industry, this number is often higher than 50 percent.
As you search for WordPress themes, look for the keyword "responsive." If a theme is responsive, it will adjust to screen size of the user's device. So whether a customer is on her desktop computer, mobile phone or tablet, she will always have an optimal viewing experience on your website.
Without a mobile-friendly theme, your website is most likely unusable on a mobile device. The text will be too small (and links too close together) to click on, and your customers will end up leaving your website as they head to your competitors' sites.
You can use Google's Mobile-Friendly test to check if your restaurant's website is mobile-friendly.
2. Fast site speed
Have you ever been on a website that took forever to load only to give up and look elsewhere? You're not alone. Around 25 percent of people will leave a website if it takes more than four seconds to load. If you're a restaurant owner, that translates into a loss of potential customers.
While having a good hosting plan can lead to a fast website, the theme itself can also play a large role in determining a website's speed.
Use a website speed test such as Pingdom to test your website's load time.
[advertisement id="17440″]
3. Solid support and documentation
Another important factor in choosing a good theme is whether it includes support and documentation.
If you have experience with WordPress, you may be able to build the website yourself, or you can hire a developer to work on it for you. However, even experienced developers may have problems with a theme that only the theme developer can solve.
Before purchasing a theme, make sure that the developer offers ongoing support and includes documentation on how to set up the theme.
4. Quantity of sales and strong reviews
One of the best and easiest ways to identify a good theme is if it has received a lot of sales and strong reviews. WordPress theme shops such as ThemeForest show the number of sales for each theme as well as the rating. If you don't know what to look for in a theme, trust that if a large majority of people purchased a theme and gave it a good rating, then it's probably a pretty good option for you.
5. Search engine optimization
Search engine optimization (SEO) is often forgotten when people are searching for a good WordPress theme. Most people assume this is done once your website is up and running. However, Google now uses website speed and mobile-friendliness as factors that affect your ranking. Choosing the right theme can help your restaurant rank higher than your competition.
Prompt customers to order food online
Now that we have identified what to look for in a good WordPress theme, we can focus on finding a theme that will help your restaurant get more online food orders and, therefore, increase sales.
We'll look at two things in a theme: simplicity and call-to-action functionality.
You have a limited amount of time to convince someone to order from your restaurant before they leave your website. Having a simple website that is easy to navigate will allow people to find what they're looking for quickly. Having a big, bold call to action for online ordering will ensure everyone knows where and how to order food from you.
There are several places to find WordPress themes including ThemeForest, Elegant Themes, StudioPress and Themify, among others.
Here are some of my favorite themes that might work well for you:
Resca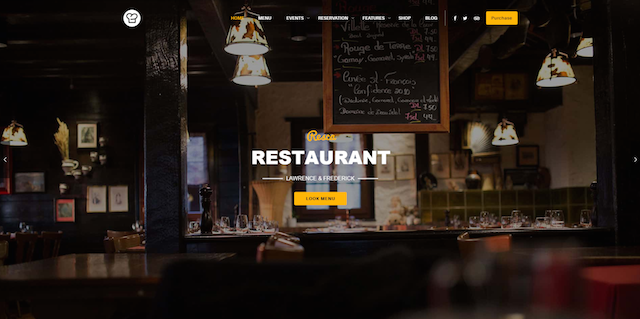 What's great about this theme is its landing-page-style homepage. With two buttons, one in the main navigation and one in the slider, it's easy to create a bold call to action for your online ordering menu.
Main features:
Fast site speed
Prominent call to action on all pages with a fixed header
Plenty of space for large images of food and the restaurant
Built-in reservation form and OpenTable support
Responsive
Piquant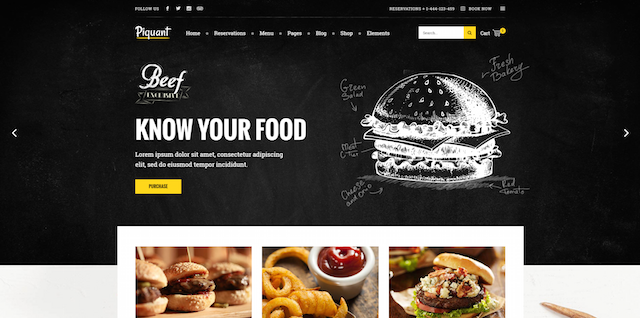 The moving homepage slider allows you to showcase your online ordering call to action in a more unique and attention-grabbing way than a simple button. While there are a few examples to follow on the demo, you must be creative to stand out. The theme also includes the restaurant's phone number and reservation call to action, which is easy to find in the header.
Main features:
Ability to create unique and attention-grabbing sliders to use as calls to action
Six different layouts included based on your restaurant type
OpenTable compatibility
Responsive
Rosa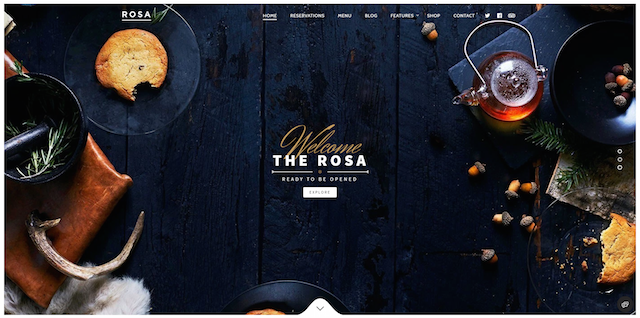 This theme has been purchased more than 8,000 times — and for good reason. While it's hard not to get caught up in the overall design of the theme, it's actually very well suited to boost your online food orders. Another theme using a landing-page-style homepage, the simple navigation and call to action in the center of the page will leave your customers one click away from being able to order food.
Main features:
Fast site speed
Easy to navigate
Good call to action for online ordering buttons
OpenTable integration
Great reviews and support
Responsive
Divi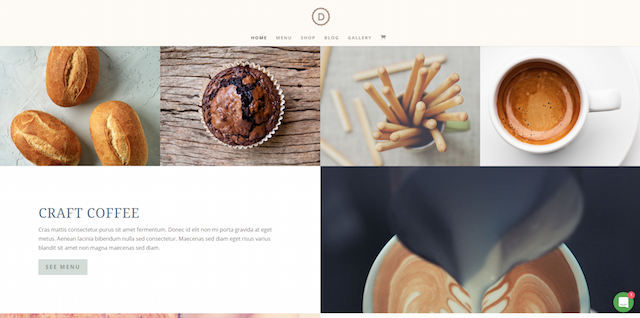 Pre-made WordPress themes for restaurants are great, and you can almost always find one that perfectly suits your restaurant. But what if you need something a little more customizable? If you have a solid knowledge of WordPress, or can hire a developer, Divi may be the way to go. It's an extremely robust platform that will let you build almost anything without the restrictions of some of the other restaurant themes.
Find out what works for you
There are many factors that go into finding the best theme, creating a call to action and convincing your website visitors to make a purchase. What works for some restaurants may not work for others. Don't get discouraged if your first website doesn't convert the way you had hoped it would. Continue to test out new themes, design layouts, images, messages and calls to action.
There isn't a perfect WordPress theme for all restaurants, but when you consider what matters most to you, there is certainly a theme out there that will help boost online food orders for your restaurant.
Image by: stevendepolo Flickr via Compfight cc