The business of art: Sell paintings online
Entrepreneurial artists are jumping at the chance to get online, knowing that eCommerce is the fastest-growing way to market their work. If you want to sell paintings online, too, you can list them with a large number of marketplace sites or you can create your own website to present your art and make sales. My recommendation? Feel free to participate in third-party marketplaces, but make it a priority to have your own website. Let's take a look at the difference and the benefits of both.
Art marketplaces can offer flexibility and exposure
Marketplace sites use a variety of business models that can help artists sell. Some online galleries specialize in selling original art; others help artists sell reproductions or solicit commissions. There are huge marketplace websites that specialize in art and handmade work, and sites that cater to artists who are looking for business sales.
Print-on-demand (POD) websites are very popular. But because they do the lion's share of the work, they keep most of the money.
POD providers not only help you sell paintings online, but you can upload your art images to the site for the purpose of printing on any number of products — pillows, cell phone cases, T-shirts, mugs and other items. These sites provide shopping carts, printing services and shipping. Artists may earn royalties (usually less than 10 percent) or a small flat fee per item, which means you most likely can't make a full-time living using this method. But it may create a passive stream of income for you. And income is good.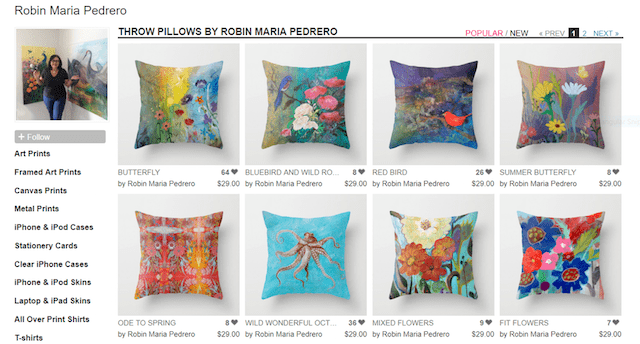 Artist Robin Pedrero has been able to successfully sell paintings online for years and has her work featured on several marketplaces that offer print-on-demand goods. She finds these sites useful, but her own website is her main online presence. She knows that although there are benefits to third-party sites, there are clear downsides, too.
The pros? Third-party sites offer the work of many different artists to draw interest, and often have an existing audience and lots of traffic. They tend to be trusted destinations that shoppers know and where they feel comfortable placing orders.
The cons? Art marketplaces have complete control, and they can remove your work if they feel you don't follow the rules, literally putting you out of business. And, shoppers often see the work of other artists who also want to sell paintings online on the same page as your art, which pulls them to your competition. In addition, these sites also usually have costs to them, some of which can be significant.
The biggest downside is that marketplace sites gather the names and email addresses of visitors for the purpose of email marketing. They don't share them with you.
As email is one of the most powerful ways to cultivate fans, collectors and customers, this practice puts you at a distinct disadvantage. You simply don't know who's viewed your art and you cannot follow up with them personally.
Why artists must have their own websites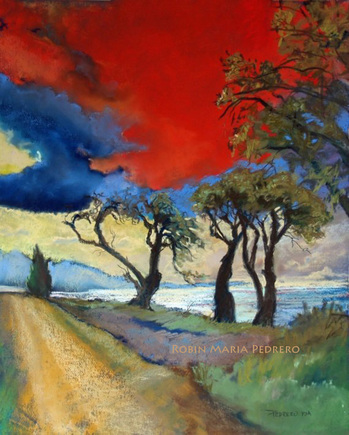 When you have your own individual art website, it says you are serious and professional, which helps to build your credibility and authority as an artist. People want to buy art from professionals, not amateurs, and having a place to sell paintings online that belongs to
you alone is important.
In fact, it's your global headquarters that shares your art with the world 24/7.
You have complete control over your own art website; no one else can put you out of business. You can brand your site as you see fit, and decide on the content you want to share.
Sell paintings online with your own eCommerce store — it's painless.
In the not too distant past, setting up an art website was difficult and costly, and came with a lot of headaches. Fortunately, artists today can use services that make website creation a breeze. These three steps will get you started.
1. Get a domain name
You will need a name that reflects who you are or what you do. Using your own name is often a good idea, unless the spelling is difficult. Or, if your name is common, that .com domain may already be taken. But you can look beyond .com to other domain endings that are available.
Consider .art or .gallery for your domain name. These endings clearly show that you're an artist, leaving no doubt in the mind of the art buyer.
You might also include an adjective, such as watercolor or abstract, before the dot to add a keyword to your web address. Keywords are the words or phrases your buyers type in when looking for your work online.
2. Build a website with eCommerce capability
If you want to actually sell paintings online, then a shopping cart on your website is a must-have. Website eCommerce functionality includes:
A payment gateway (this allows you to accept credit cards and transfer the funds to you).
An SSL certificate to protect customers' credit card and personal information.
The beauty of using a provider for these services means that you don't have to deal directly with credit card numbers yourself — who would even know how? Plus it's much easier to stay in compliance with laws that protect consumers from fraud.
There are different options for making your website eCommerce friendly, such as plugins for WordPress websites, but one of the easiest ways to set up shop is with GoDaddy's new GoCentral Online Store.
GoCentral Online Store accepts all major credit cards, PayPal and Apple Pay and comes with an SSL certificate, shipping, social media and email marketing.
It offers a lot of flexibility in design. And your eStore is automatically formatted for viewing on smartphones and iPads, used by more and more people to browse while waiting in line at the food truck. Sample templates give you an idea of different looks you can achieve.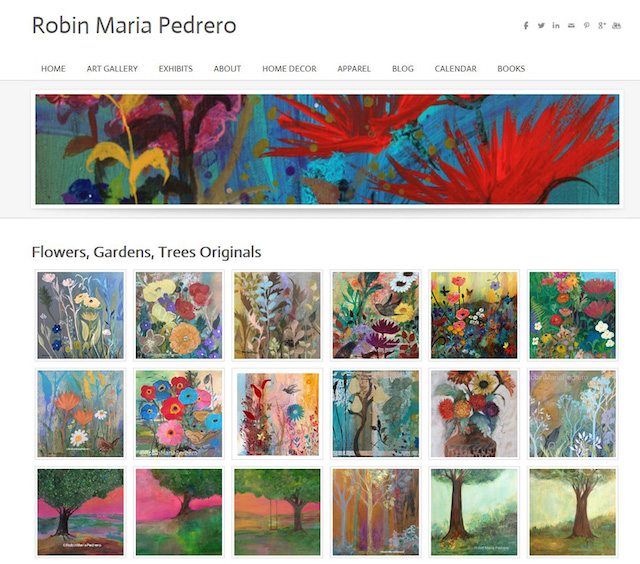 3. Add images and text to your website, and fill your shop with products
Here's where you get to customize your website in a way that shares your unique artistic vision with online shoppers.
Always use excellent photographs of your art, and give clear descriptions of each painting to improve the customer shopping experience. You may even choose to add a link to your navigation bar that leads to a print-on-demand site that offers your work on other products, combining the best of both worlds.
Like things spelled out? Get step-by-step instructions for building a web store here.
As an artist who wants to sell paintings online, you have plenty of online eCommerce options that give you the ability to offer your work in a compelling way to prospective collectors. Fortunately, these tools are easier to use than ever before, and empower you to build a successful art business.
Check out our step-by-step guide to selling your art online.
Image by: Annie Spratt on Unsplash