The introvert's guide to participating in the WordPress community
If you manage a WordPress website, you know how important the WordPress community is. Sure, everyone knows WordPress is one of the most powerful content management systems out there (and much more), but the open-source aspect means that anybody can contribute to the core code updates, build plugins to give websites more functionality, and create themes to help grow online businesses.
Being intimately connected with the community will allow you to continually learn new things, stay up-to-date on new plugins, themes, and security measures and build relationships with people who can help you grow your website.
The WordPress community is extraordinarily welcoming
But it can also be a bit intimidating to dive in and make friends. This can be especially true if you enjoy working on WordPress projects yourself and flying solo. I get it. After two full days at WordCamp Baltimore, I needed a few days completely to myself. My wife wasn't thrilled, to say the least.
But getting involved and making friends in the WordPress community might be easier than you think. If you consider yourself an introvert or are self-conscious about your lack of technical knowledge, there are more than a few ways to find a home in the WordPress community.
1. Engage in Quora discussions
The internet allows us to interact with people around the world without ever speaking with them face-to-face. I've never spoken with most of my clients, let alone met them in-person.
WordPress forums are a great way to engage in the WordPress community without taking your hands off the keyboard.
There are a few good ones out there, but I find the most value in Quora.
If you're a WordPress beginner, this is a great opportunity for you to ask questions. When I was starting out with WordPress, I was embarrassed to ask basic questions because I didn't want to be the guy who was asking "stupid questions." These forums allow you to ask questions (anonymously in some cases) and start getting to know experts in the WordPress community.

You'll also start to realize that there are a lot of people who are asking the same questions you are.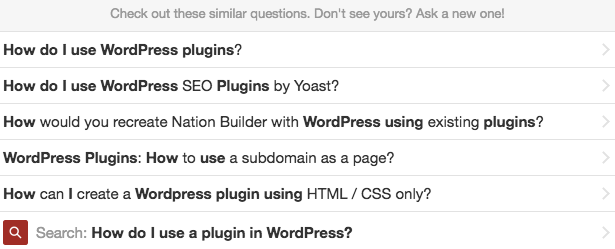 These forums have a lot of people answering WordPress questions, so not only will you find solutions but good people who want to help others with their websites.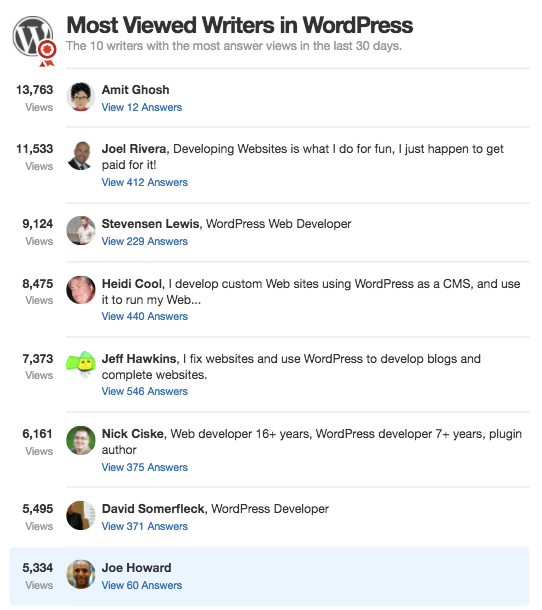 On the other hand, you may be experienced in WordPress and want to help others. If that's the case, you can follow topics like WordPress Plugins, WordPress Themes or WordPress Hosting to answer questions and see who else likes to stay engaged in the community.

As you can see, the top writers on Quora get a lot of visibility, so start answering questions there to become a more relevant face in the WordPress community.
2. Participate in Facebook Groups
Like online forums, Facebook Groups house a terrific community of WordPress users who want to find answers to their questions and engage with others.
Facebook has more than 1 billion active users, so it's safe to say that at least a few of them are WordPress enthusiasts.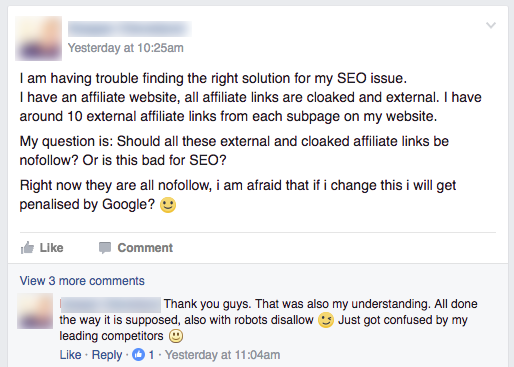 Five of the most active and popular groups are:
Ask questions, give answers and build relationships! One of the best part of Facebook Groups is when you make a connection with someone or simply strike up a good conversation, you can take the discussion into Facebook Chat or email. This makes the transition from public forum to private chat much easier.
Be sure to read and follow the group rules closely! These groups are so successful because the administrators are notoriously watchful for spam and self-promotion.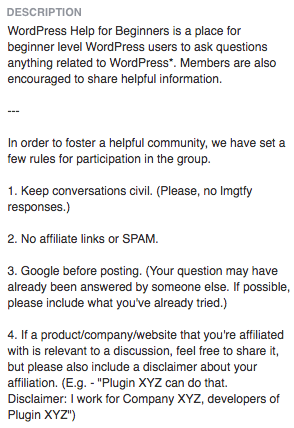 3. Send a few cold messages
Remember when I said the WordPress community is extraordinarily welcoming? Time to put it to the test.
If you come across somebody in the WordPress community who you want to get to know, just reach out! Email them, Facebook message them or direct message them in Twitter — do what works for you.
That being said, here are some tips that will help you get a response:
No templates. The easiest way to make sure every email you send is personalized is to make the rule never to copy / paste. That way, every message you send has a personal touch and nobody will receive a message that could have been sent to anybody. Mark Manson's contact page portrays this sentiment perfectly.
If they have contact rules, read them. Some people have multiple email addresses or different contact forms depending on the reason for your message. Be thorough and know you have the right contact information. Use Hunter to find email addresses; it's a no-brainer.
Offer before asking. If you're writing to somebody and asking for something, be sure you offer them something beforehand. While most people in the WordPress community are friendly and will want to help you, they're infinitely more likely to respond positively if they think there's something in it for them, too.
Use personal details. When you email or message someone, always include a nugget from their non-WordPress life. Do some Googling and add in some details about the beer they like to drink, their favorite dog they have at home or any number of personal information. This way you can hit them right in the feels and they'll know you put time and thought into your message.
Here's an email I sent to someone at 10up after I met them at the WordPress DC meetup; I'm sure it got at least a chuckle.

Be yourself. Do you like to use lots exclamation marks? Do it! What about smiley faces? Those too :) If you don't like to include a lot of emotion in your communications, there's nothing wrong with that. Don't try to be someone you're not — write like you speak and the person reading it will be able to tell.
4. Do work for free
If you're a WordPress developer, designer or offer any kind of related service or product, a great opportunity to get more involved in the community is to offer something for free.
Donating time or resources to a project to help somebody else succeed is the best way to gain recognition and by far the easiest way to get people talking about you.
Most people consider their best friends people who would drop what they're doing and come to their aid no matter what. This is the kind of feeling you want to instill in others in the WordPress community!
Free work has the capacity to win you paid work, get you introductions to others in the WordPress community and even put you into consideration for a part- or full-time job with a WordPress agency! People have done something for free and ended up with a job — it's happened.
5. Attend a local WordCamp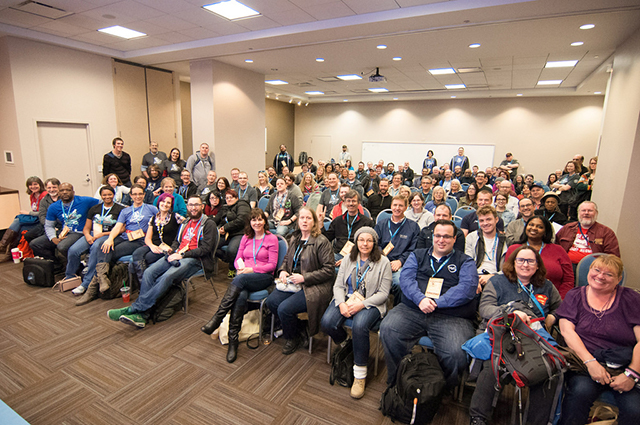 I know, I know — you're more of an introvert. Getting out there and talking with people face-to-face might not be your thing.
But I think for introverts, attending WordCamps is the one things that can help you engage with the WordPress community the most.
Here's why:
There are lots of introverts who attend WordCamps! Once you put yourself out there and start interacting with everyone, you'll realize that many people attending aren't traditional extroverts. WordCamps are far from a networking event and feel like meeting up with some close friends to talk WordPress.
In 2015, 21,000 people attended 89 different WordCamps. They were hosted in 34 different countries on 6 continents. The good news is these numbers have and will only continue to grow, meaning there's probably an annual WordCamp near you!
Seeing people at multiple events allows you to build a rapport and make a connection exclusive of WordPress. People always enjoy interacting with smart WordPressers, but getting to know somebody who's friendly and means well is just as important.
WordCamps are never more than a few days. When you make it home, you can spend the rest of the week recharging your batteries with some alone time.
If you're not really a "people person," you feel self-conscious that you're not up-to-speed when it comes to WordPress or you are just a flat-out beginner, find a way to get involved in the WordPress community that doesn't require a lot of in-person interaction.
WordPress itself is entirely digital, so the people using it are happy to be as well!