The Lingerie Addict: Discovering a niche within the fashion blog market
Cora Harrington found her niche in fashion blogging by focusing on the ins and outs of intimate apparel. Covering everything from plus-sized clothing to the construction of lingerie, Cora's blog, The Lingerie Addict, has millions of visitors a year and six-figure revenues.
The Lingerie Addict
What inspired you to start The Lingerie Addict?
I started The Lingerie Addict (TLA) because I was interested in buying lingerie, but had no idea where to start. There were just no resources at the time.
No one was writing articles on where to buy things, how to buy them, or even what was good quality.
My blog started as a way to share things I was interested in trying or had already tried, and it turns out lots of other people were looking for exactly that kind of content.
How did you identify your niche in the market?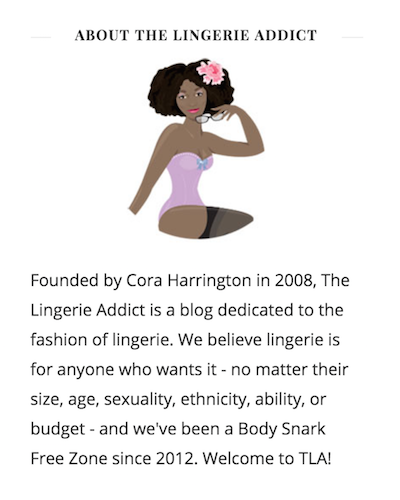 My niche was accidental in that I honestly tripped and fell into running a lingerie blog. However, in the years since, I've refined my direction. TLA is a fashion blog dedicated to intimate apparel. We focus on trends, shopping advice and design features in much the same way as a fashion magazine would — except we only discuss lingerie.
What sets your blog apart from other competitors?
The Lingerie Addict is one of a handful of lingerie blogs, and we're the largest lingerie blog by a very significant margin. In terms of what sets TLA apart from other lingerie blogs, it has to be the breadth and depth of content.
Because The Lingerie Addict has several columnists, we're able to cover everything from plus-size lingerie to discussing how your undergarments are made. No other lingerie blog is doing that.
As far as what sets us apart from other fashion blogs, it's our niche and focus. If someone wants lingerie-specific advice, TLA is the place to go. There are no other blogs with our rich archives of intimate apparel content.
What obstacles did you face when you first started blogging?
The biggest obstacle was not knowing how to run a blog, much less a business! I really can't overemphasize how much TLA started on a lark, and when I first began blogging (on Blogspot, no less), I knew nothing about managing the thing. Nothing about editorial calendars or SEO or analytics or social media marketing or target audiences or any of that. So just bringing myself up to a baseline level of knowledge was the biggest challenge those first couple of years.
How did you start to monetize your blog?
Like a lot of bloggers, I started with Google AdSense. However, because Google categorizes my blog as adult content (which makes me ineligible for their program), I knew early on that diversification would be necessary. Once brands noticed the Google AdSense banners, they began to inquire about placing their own display ads.
What three words epitomize success in your book?
My dad always had a saying for me growing up: "Performance, productivity and results." I still keep those words in mind. You have to perform. You have to produce. And you have to show results.
What online tools do you use for your blog?

I am a tremendous fan of MeetEdgar because it allows you to create what is, in essence, a permanent social media queue. It's an amazing tool, and I can't recommend it enough, especially to other bloggers with extensive archives.
Pinterest is one of my top traffic referrers, and I love Tailwind's scheduling tools and analytics for that platform. I also use Talkwalker Alerts, which is like Google Alerts, only more robust.
You always want to be able to keep track of where your brand is mentioned, and Talkwalker is excellent for that.
What's the most valuable lesson you've learned since starting your blog?
I'd say that you can get a lot done if you're OK with not being famous. I live in Orange County, and I'm a bit of a homebody. You're not going to see me at any fancy parties or on any top blogger lists, but my blog receives millions of visitors a year and has revenues in the six figures. I think there's this idea that bloggers have to be really big personalities — almost celebrities — to find success, and while that's definitely a path, it's certainly not the only one.
What's the best advice you can give for budding bloggers out there?
Blogging has an incredibly high attrition rate — lots of people start a blog and abandon it after a few months or maybe a couple of years.
Stamina and perseverance make all the difference.
If you're able to build your platform and stick with it, you can be a key resource for your readers. It's not glamorous and it's not exciting, but there's something to be said for showing up day after day, doing the work, and building a solid foundation.
At the end of the day, what do you hope to accomplish with your blog?
I want people to feel like there's a place on the internet they can visit to read about lingerie, learn about it, and interact with like-minded folks without worrying about harassment or body snark or slurs or any of the other stuff that often happens on the internet (and especially when discussing women's bodies).
Life is rough out here for a lot of folks, and I just want The Lingerie Addict to be, in some small way, a safe haven from some of that. A refuge of beauty and art and interesting design that, hopefully, makes you feel welcome, too.
Big thanks to Cora Harrington for sharing her story! You can learn more about Cora's blog at TheLingerieAddict.com. You can connect with The Lingerie Addict on Facebook, Twitter, Pinterest and Instagram.
Image by: Nomi Ellenson