The WooCommerce 2016 year in review
As part of our series of roundup pieces looking back on major events in 2016, it's time to turn our attention to the world of eCommerce and WordPress' flagship solution for selling online — WooCommerce. Welcome to the WooCommerce 2016 year in review.
It's been a big year for the eCommerce platform, with both store owners and analysts curious to see if the software's high-profile purchase by Automattic would prove to be a blessing or a curse. Now firmly into its second year as an official part of Matt Mullenweg's online empire, the story so far is a largely positive one. We'll be picking through some standout events from the last 12 months to support that view of WooCommerce 2016.
Let's kick things off with a reminder of how WooConf in Austin got the year off to a great start back in April.
WooConf 2016 set the tone for a successful year
The second annual WooConf gave store owners plenty to get their teeth into, and more than matched the high standards already set by the more established WordCamp community. Pretty much everywhere you looked across the speaker lineup, there were industry giants offering top-notch insight to an audience hungry for detail.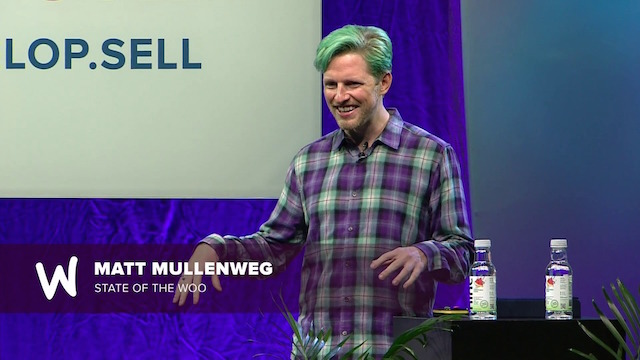 One obvious highlight here was Matt Mullenweg's State of the Woo address, but special mention also has to be made of Brian Krogsgard's excellent practical eCmmerce talk, and the Scope of WooCommerce store owner panel talk. Patrick Rauland's Future of eCommerce Dev talk was also particularly interesting from a developer perspective.
Matt Mullenweg's State of the Woo address was a highlight for WooCommerce 2016.
Overall, the talks were refreshingly lean and straight to the point, with many clocking in under the 20-minute mark — a couple of hours checking them out is well worth your while as both a store owner and developer.
WooCommerce Connect hinted at a more service-oriented future
First trailed around the time of WooConf, the announcement of WooCommerce Connect showed that Automattic are pursuing an increasingly consistent strategy across their product portfolio. As the initial developer announcement and subsequent commentary at WP Tavern made clear, a service-oriented and REST API-driven architecture is at the heart of the next generation of development on both WordPress.com and WooCommerce.

Though further news on WooCommerce Connect has been relatively thin on the ground throughout the year, it's likely to play a major role in the plugin's future. Now's as good a time as any to start kicking the tires if you've been sleeping on it so far.
Zipping Zebra delivered slick shipping and cleaner account pages
Hot on the wheels of WooCommerce Connect's announcement, the release of WooCommerce 2.6 (Zipping Zebra) put further focus on the areas of shipping and the general User Interface (UI). The introduction of Shipping Zones tackled a major pain point for many store owners, and the UI overhaul of account pages brought some much needed visual sanity to this key part of the admin.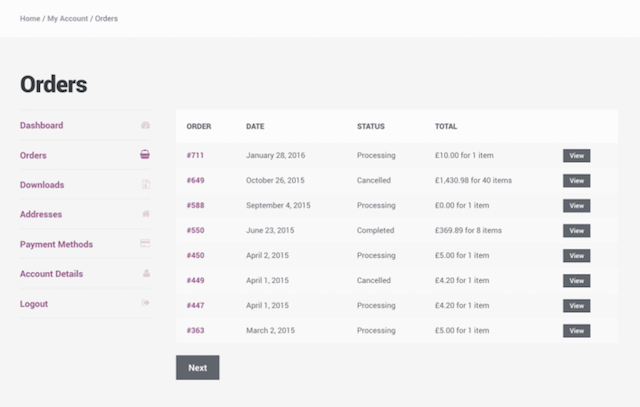 The announcement of a WooCommerce API was also a welcome step, and further reinforced the impression that API-driven interfaces are going to be a big story in the WordPress world going forward.
Look for API-driven interfaces moving forward.
Though we're still at an exploratory phase in that context with WooCommerce, the release of WooCommerce 2.7 is likely to fill in a lot of those blanks.
WooCommerce's content commitment paid off for store wwners
One of the huge benefits of being owned by a billion dollar company is that you get to throw money at some pretty obvious problems. In the case of WooCommerce, there's been a noticeable (and very welcome) uptick in both the amount and quality of public-facing content pumped out over the last year.
As the folks at WooCommerce were quick to point out, this was no mere happy accident — they've taken a conscious decision to up their game of late, and the results are there on the blog for all to see. This trend has been particularly apparent in the run-up to the holiday season — a time where many store owners are understandably panicking about how best to prepare for a make-or-break part of the retail year.

The team at the blog have been knocking it out of the park since at least back in early September, with a slew of highly actionable and informative pieces. Mitchell Calahan's developer checklist for holiday store optimization, and Danny Wong's piece on the post-purchase holiday emails you should send are just two of a slew of high-value pieces that have recently been produced.
WooCommerce 2016: In summary
There have been plenty of significant WooCommerce events throughout 2016. In addition to those we've highlighted, both Square integration and the upcoming compatibility with StudioPress themes are just two of several further examples to keep an eye on for the future.
Our four main WooCommerce 2016 highlights show an eCommerce platform that's exceptionally well poised for the future, and already showing clear signs of benefiting from Automattic's investment. Let's recap them one more time to close things out:
WooConf 2016 provided plenty of insight, info, and opportunity for store owners.
WooCommerce Connect pointed to an increasingly service-oriented future.
WooCommerce 2.6 stuck the landing as the first major post-Automattic purchase release.
The WooCommerce blog team deserve praise for producing a stream of useful content throughout the year.
Were there any particularly relevant WooCommerce 2016 events that impacted you? Get in touch via the comments section below and let us know!