There's no magic to maximizing marketing on Instagram
Since Instagram has rapidly become the most popular social media network on the planet, curious marketers and savvy brands have been asking themselves this question: Is there a secret formula for mastering marketing on Instagram and engaging more followers?
Discovering a magic spell for making the most of your Instagram activity would be like spotting a unicorn.
The truth is there's no alchemist's recipe for turning an Instagram account into gold or a sorcerer's trick for conjuring up a host of followers. There is, however, helpful research from smart data scientists that reveals three tenets that you can apply to maximize the results of your Instagram marketing efforts.
Tenet No. 1: Don't go dark.
This is what you need to remember: Posting frequently doesn't make a negative impact, but slowing down or suddenly going dark will cause you to lose followers. The phrase "flooding the feed" comes to mind when people post dozens of photos in rapid succession. As surprising as it seems, posting frequently doesn't seem to have a significant impact on total follower count.
Hayes Davis and his social analytics team at Union Metrics recently released a new study with interesting findings. They took a look at 55 brands over a period of several months. One of the most fascinating facts is that "frequency of posting doesn't seem to have much, if any, impact on engagement on posts." Davis continued, "brands on average post 1.5 times a day," though some share up to 20 photos a day during special events."
But not posting enough does have a detrimental impact on follower count. Davis explains their findings: "It does seem that on Instagram, users are actively pruning the people they follow. A continued cadence of posts seems to be a good idea in terms of follower growth." In other words, taking a break from Instagram may actually cause your followers to unfollow you — and never come back!
The key is finding a balance that works for you and your team.
If you're a lean team, then trying to post 10 times a day may not be sustainable, especially since you want to post quality images. Set a specific, achievable goal and then reevaluate it after you adopt an established routine. (Hint: an editorial calendar can be super helpful in helping you stay on track!)
Tenet No. 2: There's no ideal time to post, but there are optimal timeframes.
Although there does seem to be a best day to post, there aren't any secret formulas that guarantee maximum engagement day after day.
Instagram scheduling tool, Latergramme, recently released a helpful study that found the best day to post is Wednesdays, ideally around 5 p.m. EST. To find when Instagrammers are most engaged, Latergramme analyzed over 60,000 posts to learn which images garnered the most likes and comments.
And while Wednesday at 5 p.m. EST was the overall winner, the study also revealed that posts generally got the most attention from followers between 2 a.m. and 5 p.m. EST throughout the whole week.
The key takeaway is that you must understand when YOUR audience is active.
If you're a local bistro in New York City hoping to reach diners primarily living in Manhattan and Brooklyn, you probably won't want to post at the same times as a global brand like Burberry. Carefully consider what times your followers (and prospective followers) are active on Instagram.
Test out this theory from the smart folks at Buffer: synchronize your Instagram post schedule to specific time zones. For example, did you know that 50 percent of Americans live in the Eastern time zone? And 80 percent live in the Eastern and Central times zones combined!
So, consider posting in accordance with these time zones, especially if you're a national business. That's when your posts are most likely to get seen by the maximum number of Instagram users.
To get even more specific, try testing a series of posts when your audience is more likely to be paying attention — early in the morning and later in the evening. The trick is to post during times that users aren't distracted by work, school and other 9 a.m. to 5 p.m. commitments. (C'mon, admit it, we all know that we've woken up and checked our Instagram feed first thing in the morning!)
Tenet No. 3. It's all about that face.
It turns out Instagrammers love faces. In fact, they absolutely adore them.
A study by the Georgia Institute of Technology and Yahoo labs analyzed 1.1 million photos posted on Instagram and found that images with human faces are 38 percent more likely to get "likes" than photos without faces. Photos depicting faces are also 32 percent more likely to earn comments.
That's a brilliant insight for brands hoping to tailor their Instagram strategy to attract real customers and keep them coming back for more!  "Faces are powerful channels of nonverbal communication," says Saeideh Bakhshi, the Georgia Tech College of Computing Ph.D. student who led the study.
The study should encourage all smart marketers to include more human faces in their Instagram strategy.
Take a closer look at your brand's Instagram feed. Is it full of product shots, empty interior rooms or vast landscapes? Or does it include plenty of real people, prominently displayed with faces forward?
Incorporating more real customers in your Instagram strategy could go a long way to increase your overall engagement. One brand that does a great job curating thousands of real customer's faces in their Instagram feed is Bonobos.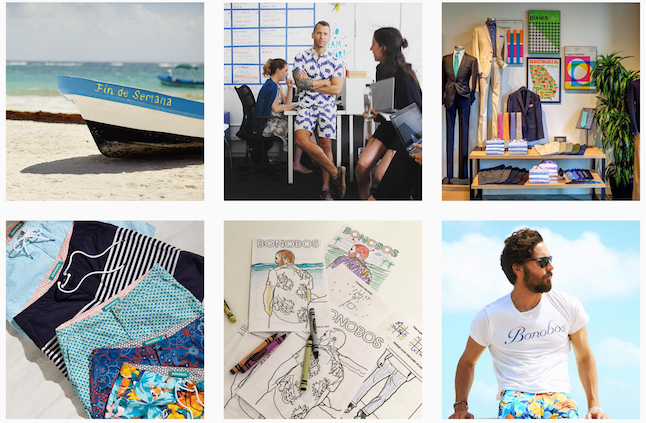 The popular men's apparel company uses their own followers as models, encouraging them to post pictures while wearing the brand's clothing. It's much more authentic and memorable than simply posting a bunch of professional models and overly-photoshopped images.
So how does Bonobos get all of these great photos? They established their own custom hashtag — #bonobosnation. By adding the hashtag to their personal posts, fans can submit images of themselves wearing Bonobos clothing, which the company then curates and features on its Instagram feed.
Let's face it: we all love looking at other humans! You can quickly take action on these findings to improve your Instagram marketing strategy. To read more of the Georgia Institute of Technology and Yahoo Lab's findings, check out this article.
Image by: ▓▒░ TORLEY ░▒▓ via Compfight cc