Three top WordPress business themes for financial pros
Research shows that website visitors reach conclusions about a site's credibility after only 50 milliseconds. And in a sensitive industry like finance, credibility is everything. So if a financial professional comes to you, looking for a new website or a website redesign, what should you do? Look at WordPress business themes.
3 great WordPress business themes for financial pros
To make your job easier, we've selected three top themes from the WordPress.org Theme Directory, and explained why we think they're a good fit for financial professionals.
1. Optimizer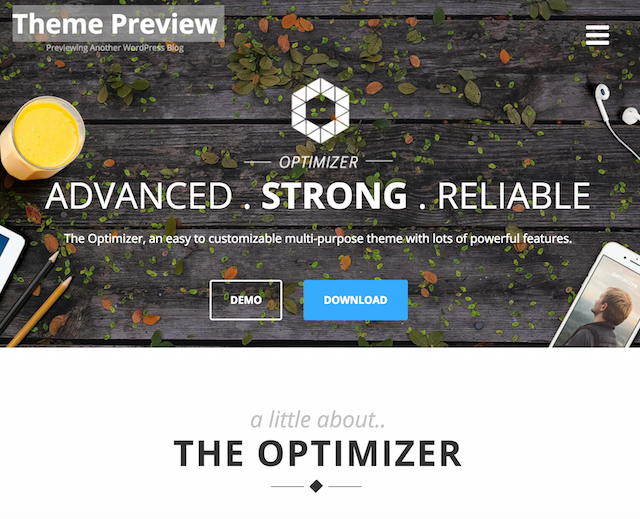 Optimizer sits at the top of the list for providing a high level of control and flexibility. It's a responsive, mobile-ready theme that more than 50,000 users trust.
The Optimizer theme enables you to build entire pages with drag-and-drop widgets that can be reordered in many configurations.
For example, you could use these widgets on the homepage:
Slider: Display a high-quality photo of the client.
Blocks: Display the client's services.
Advanced Text Widget: Embed a contact form.
Profile Widget: Display the client's biography.
Posts Widget: Display a list of the client's recent blog posts.
You can find a full list of Optimizer widgets in the theme documentation.
Upgrading to Optimizer Pro unlocks the one-click preset importer, a feature that enables you to easily import preset layouts.
Why is Optimizer ideal for financial professionals?
The flexible, code-free widget system gives your client the freedom to make updates on their own.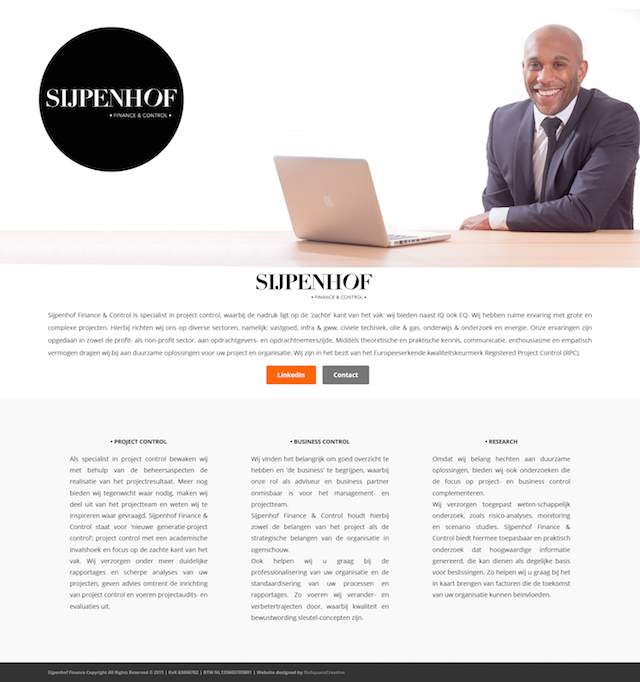 2. Biography
The Biography theme excels for individuals looking to showcase their services — like business consultants, financial advisors, accountants and legal professionals.
Built on Twitter's Bootstrap framework, Biography's design is bold and responsive. Front page customization is handled with sections, including:
Header Text Slider: Introduce the client.
Front Service Section: Display the client's services.
Front Review Section: Display testimonials or case studies.
Front History Section: Display recent blog posts.
(Sections and their options are explained in the theme documentation.)
Why is Biography good for financial professionals?
This theme is purpose-built to demonstrate an individual's expertise and experience. It's a fitting solution if you need to get a site up quickly, if you're working with a tight budget, or if customization isn't necessary.
3. Minamaze
Minimaze rounds out our list. It's a popular, multi-purpose WordPress theme suitable for corporate websites. The free version includes two features for the home page:
A slider, where you can display the client's image.
Blocks, where you can display your client's services.
More features are available through a paid upgrade to Minamaze Pro.
Why is Minamaze good for financial professionals?
Consider it a middle ground between the Biography theme and the Optimizer theme. Minamaze could be the right solution if Biography is too restrictive and Optimizer provides too many options.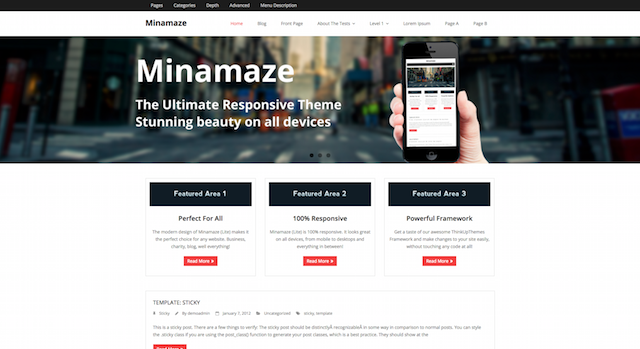 Next, fill in the content
You've chosen one of these great WordPress business themes (or another theme that's ideal for financial pros). Now what about the content? Before you launch your website, you need to invest the necessary time and effort to make the content stand out.
Financial products can be complex, so the site's content should help prospects make an informed decision.
According to the Financial Advisor Website Checklist — a convenient tool that Michael E. Kitces created — your client's site must clearly communicate:
Their identity.
The type of customers they serve.
The type of services provided.
The price of of the services.
You can use the features in Optimizer, Biography and Minamaze to cover this information on the home page, then link to the internal pages where more detail is provided.
Good luck with your project!
Remember: The home page of a financial professional's website needs to establish credibility within 50 milliseconds. These free WordPress business themes will help, but you'll still need the content to create a winning first impression.
If you find this post helpful and know someone else who will benefit as well, please share it with them.
Image by: frankieleon via Compfight cc