Traveling Tiger Wedding Films thanks GoDaddy phone rep in the coolest way imaginable
It's not every day that a phone support rep at a large company gets to meet customers in person. But that's exactly what happened to Julie Manuro, a GoDaddy business advisor whose happy customers at Traveling Tiger Wedding Films swooped into Arizona to film her wedding day.
Wedding filmmakers Karen and Lev Yarborough are elevating wedding videography to a fine art. Goodbye, shaky footage shot by Uncle Bob and his trusty camcorder. Hello, beautiful film that artfully captures the momentous day. But it took Traveling Tiger Wedding Films a while to hit its stride, and that's where Julie came in.
Starting a wedding film business
Wife-husband duo Karen and Lev met at the Northwest Film Center in Portland, Ore., where Karen was working and Lev was finishing up film school. They kept bumping into each other around town and on film sets. "It was serendipity," says Karen.
They didn't initially set out to start a wedding film business. What would later become Traveling Tiger Wedding Films started as a wedding present. When their good friends were getting married, Karen and Lev decided to film the wedding as a gift to the couple. As Karen remembers:
"We created a fun, moving wedding film for them. We not only had a great time capturing their special day, we felt a genuine sense of importance, that what we were capturing was something that they would cherish over the years, and that they would share it with their family and future generations."
So the couple started looking for more opportunities to build their wedding film portfolio. At the time, professionally produced wedding films were a relatively new thing. "Most people weren't thinking about videography for their weddings until the venue and all other vendors were booked," recalls Karen. "And then they wouldn't have much of a budget left for video. So sometimes it was difficult to book at prices we felt were fair for all of our hard work and expertise."
Building a unique brand
To identify their niche in the market, Karen and Lev critiqued the work of other wedding videography companies and thought about what they'd do differently. Karen explains, "We wanted the couple and their friends and family viewing the film to feel like they were there again, reliving the energy and excitement."
"We weren't going to produce cookie-cutter, glossed-over, lukewarm wedding films." ~ Karen, Traveling Tiger Wedding Films
Karen and Lev have the film chops to back up their vision. They have expertise in filmmaking, work with top-notch equipment and keep up with the latest technology. "Our guiding business philosophy is to keep learning and growing, to never become complacent," says Lev. "We learn something with every wedding we do, every film we edit, and our work grows from that."
At the end of the day, their goal is always to exceed the expectations of their clients. Brides and grooms often say that their wedding day was a complete blur.
A wedding film helps them celebrate their big day year after year and be able to share it with others.
Karen reports that many couples tell her that video is the most important thing to them as they plan their wedding day.
Today, Traveling Tiger Wedding Films operates out of Seattle, Wash., Portland, Ore., California's Bay Area and the Hawaiian islands. And as their business name suggests, Karen and Lev take on projects in other locales as well. But it took some work to get their name out there.
Leveraging the internet to get found
"We knew we were going to need a great website to show off our work," says Karen. "Lev did the research and decided that GoDaddy was the one for us. That first summer, we had only three weddings on our new site. The following year, we booked 30 weddings."
What made the difference? When GoDaddy business advisor Julie Manuro heard that Traveling Tiger was struggling to book wedding film gigs, she recommended adding Get Found and Search Engine Visibility their website.
Just a short time later, she heard back from an elated Karen — business had completely taken off.
"Julie Manuro is fantastic!" raves Karen. "She has a way of making you feel like you've been friends for years, while helping you understand all the different tools and products. She had unbelievable patience with me during numerous phone calls, answering our many questions about the website builder tools, Get Found, the SSL cert, etcetera."
When Karen learned in late 2016 that Julie was engaged, she had an idea. "She told me that she was in the middle of planning her wedding in Arizona, and I instantly wanted to capture it for her. She is such a character, so funny and charming, and the more we talked, the more I knew her wedding day would be like no other."
So Karen and Lev traveled to Arizona to film Julie's wedding. "I loved what I saw on their website," says Julie. "They've filmed so many unique weddings. The diversity of their portfolio really impressed me. So having them film my own wedding was a dream come true."
That's a customer support story with a fairytale ending! But the relationship between Traveling Tiger Wedding Films and GoDaddy didn't end there.
Moving to GoDaddy GoCentral
When GoDaddy released its new mobile-friendly GoCentral Website Builder in early 2017, Karen and Lev decided to build a new site. They formed a connection with another GoDaddy phone rep.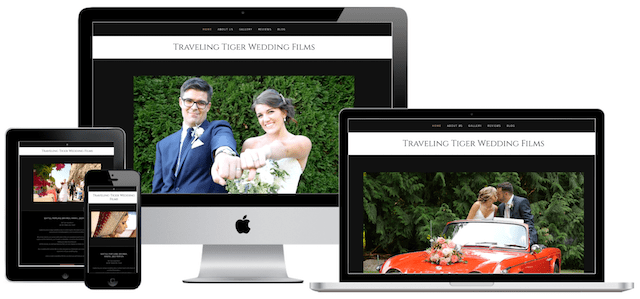 "Steven Yoder at GoDaddy talked me through many of the tools that were available to us on the GoCentral builder," explains Karen. "One of the main reasons we chose to go with it is because it works great for viewing our website on a mobile phone as well as a desktop. Steven was very patient and helpful. I was pleasantly surprised to see how quickly I could start building the site, and the transition from our old site to the new one happened the very day we decided to switch. I started on my Mac desktop computer, and within an hour I had created a beautiful site showcasing some of our favorite wedding films."
In addition to having a great website, Karen and Lev know that social media is crucial for a strong online presence.
Since social media means easy sharing, more and more people are now able to watch their friends' wedding films — the videos no longer collect dust in a box in the basement. Which is just one of the many reasons why Traveling Tiger Wedding Films maintains both a Facebook and Instagram account.
Looking toward the future
The most valuable business lessons Karen and Lev have learned so far are to never give up, stay positive, and always keep growing through experience. As their business grows, Karen and Lev hope to continue strengthening their base in Hawaii and the Pacific Northwest and do more destination weddings.
"No matter where we are geographically," says Lev, "we see ourselves continuing to provide beautiful and exciting wedding films to our clients while exceeding their expectations."
When they aren't filming weddings, Karen and Lev love to travel and hike. They've hiked the Andes in Peru, the Camino de Santiago in France and Spain and have some favorite hiking spots in Hawaii. "We love to hike in the beautiful Columbia River Gorge where we were married," adds Karen. In addition to hiking, the couple loves to take their dogs to the dog park, work in their vegetable garden, and watch Netflix.
Traveling Tiger Wedding Films is a great example of how people can build a business that helps them pursue their passions and create a lifestyle that makes them happy.
And for Karen and Lev, that means doing it together. "When we decided to start this business, we each brought years of experience and strengths that complemented each other," says Karen. "We feel truly grateful everyday that we get to do what we love, together!"
GoDaddy is grateful to be part of their journey. We're proud of our extraordinary 24/7 support team — reps like Julie and Steven who build relationships with entrepreneurs like Karen and Lev Yarborough. Cheers to many more years of working together!
Try GoDaddy GoCentral for free
Inspired by Karen and Lev and their beautiful wedding film website? Try GoDaddy GoCentral for free. Build a simple site in less than an hour, and add additional features like email marketing and an online store when you're ready.
Bonus: GoCentral is entirely mobile-friendly. Build and preview your website anytime, anywhere, on your phone or tablet, and add or change photos as often as you like.