Trends in mobile-preneurship: Top U.S. cities for mobile website building [infographic]
In 2017, it's a no-brainer that every small business needs a website. In the past, that often meant hiring a top-dollar consultant to build a site. Small business owners were dependent on the more technically inclined to bring their products and services to the masses online. No longer.
Increasingly, small business owners are building their own websites with DIY website builders that make the process quick and easy.
Earlier this year, GoDaddy launched GoCentral, a disruptor in the small-biz website builder space.
GoCentral
 is designed for mobile website building.
That's right — you can build a website from scratch on a mobile phone or tablet.
Rise of mobile-preneurship
Why would anyone want to build a website on a mobile device? Globally, more and more people are accessing the web on the go. In November 2016, global web traffic became primarily mobile. Today, more web traffic comes from mobile devices (52%) than from desktop computers (48%) — and mobile usage will continue to grow.
It turns out, American small business owners are ready for the ease and flexibility of mobile website building. Approximately 20 percent of people who build a website using GoCentral start building on a mobile device. But this is still an emerging trend.
Top cities for mobile website building
"Mobile-preneurs" are pioneering a more flexible approach to website building. But where do these early adopters live? Today, GoDaddy is releasing new data that shows in which U.S. cities it's most common for people to build websites on mobile devices.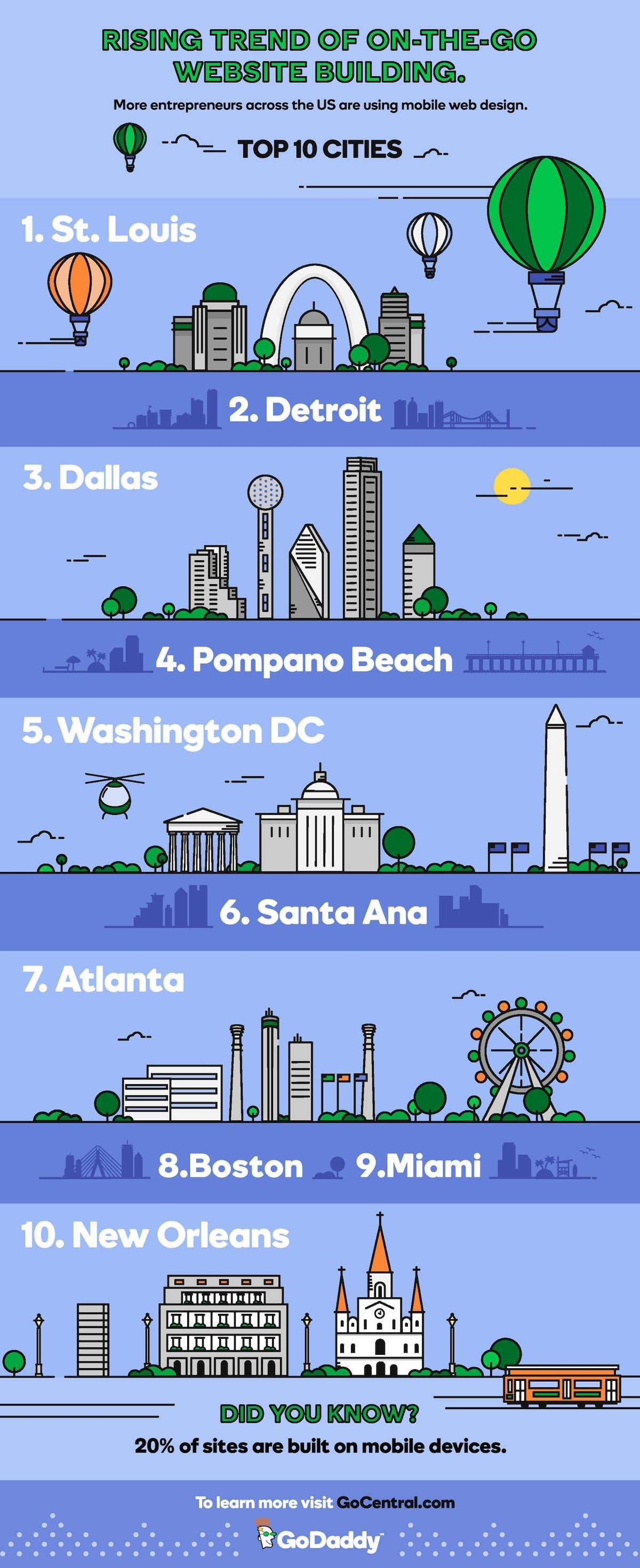 Typically, we think of tech-savvy places like San Francisco and New York as being hubs of early adoption. But those cities didn't make GoCentral's top 10 for mobile website building. In fact, two Midwestern cities topped the list — which reflects the percentage of websites built on mobile devices.
Customers based in St. Louis and Detroit were most likely to build their sites on mobile devices.
Here's the full list:
St. Louis, MO
Detroit, MI
Dallas, TX
Pompano Beach, FL
Washington, DC
Santa Ana, CA
Atlanta, GA
Boston, MA
Miami, FL
New Orleans, LA
These rankings were compiled using device-specific Google Analytics data. Interestingly, a smaller city like Pompano Beach, Fla., (population approximately 100,000) made the list. Located in tourism-rich Broward County, Pompano Beach is experiencing strong real estate growth in 2017.
Top industries in GoCentral's mobile-preneurship hubs
We compiled the top website categories in each of the cities that made our top 10 list. In St. Louis, the city in which mobile website building is most prevalent, the top GoCentral website categories are real estate, political and clothing/apparel.
| City | Top GoCentral Website Categories |
| --- | --- |
| St. Louis, MO | Real Estate, Political, Clothing and Apparel |
| Detroit, MI | Clothing and Apparel, Financial Services, Art and Design |
| Dallas, TX | Real Estate, Lifestyle, Interior Design |
| Pompano Beach, FL | Real Estate, Financial Services, Event and Party Planning |
| Washington, DC | Political, Nonprofit, Real Estate |
| Santa Ana, CA | Real Estate, Marketing, Nonprofit |
| Atlanta, GA | Clothing and Apparel, Real Estate, Nonprofit |
| Boston, MA | Real Estate, Personal Profile, Travel |
| Miami, FL | Real Estate, Clothing and Apparel, Travel |
| New Orleans, LA | Clothing and Apparel, Insurance, Personal Profile |
Across the top 10 cities, some themes emerge:
Real estate is a very popular website category in these locales.
Clothing and apparel websites are also quite common.
Many entrepreneurs in these industries are turning to GoCentral to build modern, affordable websites that look great on mobile phones.
Mobile website building in your city: A good sign for growth?
Could mobile website building on a DIY website builder like GoCentral be a good sign for a local economy? Let's see what's happening in St. Louis — GoCentral's No. 1 city for mobile website building. For starters, St. Louis has an extremely robust startup scene — one of the strongest in the United States.
St. Louis is also experiencing what has been described as a red-hot housing market. And, as noted above, real estate is currently the top GoCentral website category in St. Louis.
A fast-paced real estate market could inspire new and existing agents to find creative ways to stand out online, including single-property websites.
Overall, the state of Missouri is seeing small business growth. According to the U.S. Small Business Administration's State Economic Profiles, the number of small businesses in Missouri has grown by 1.5 percent in the past year. Each quarter, around 4,000 new small businesses spring up in Missouri. As a whole, Missouri small businesses employ more than a million people — 47 percent of the state's private workforce.
What's going on in Texas?
We studied year-over-year small business growth (i.e., the number of small businesses) for the nine U.S. states that comprise GoCentral's top 10 mobile website building cities. All saw an increase in the number of small businesses between 2016 and 2017. But one stands out. What's happening in Texas?
| State | # SMBs in 2016 | # SMBs in 2017 | Growth of SMBs |
| --- | --- | --- | --- |
| Missouri | 507,712 | 515,227 | 1.5% |
| Michigan | 856,352 | 866,196 | 1.1% |
| Texas | 2.4MM | 2.6MM | 8.3% |
| Florida | 2.3MM | 2.4MM | 4.3% |
| DC | 68,236 | 71,146 | 4.3% |
| California | 3.7MM | 3.8MM | 2.7% |
| Georgia | 982,112 | 1MM | 1.8% |
| Massachusetts | 620,432 | 639,334 | 3% |
| Louisiana | 427,290 | 436,867 | 2.2% |
Between 2016 and 2017, Texas saw an 8.3-percent increase in the number of small businesses. When Dallas-based GoCentral customer Catherine Wehba heard that Dallas was among the top three cities for mobile website building, she wasn't the least bit surprised:
"We all seem to be on-the-go people — it's a fast-growing and fast-paced city. People can easily travel and still work towards bettering their businesses by using mobile devices to do so!"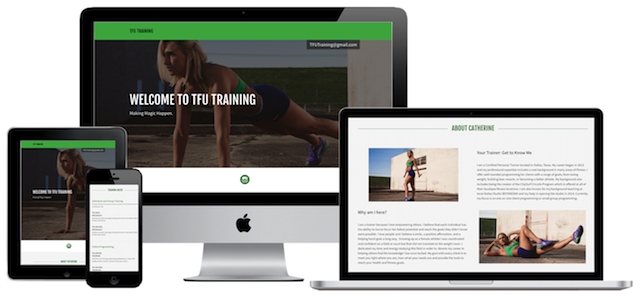 Catherine Wehba is the entrepreneur behind TFU Training. "I built the majority of my website on my phone and only made a few edits when I had a desktop available to me," she explained. "I don't have access to a computer throughout the day. I'm a personal trainer and only have a few minutes between clients to jump on and add things a bit at a time!"
Tip of the mobile iceberg
Mobile devices will continue to change how we do business, both as business owners and as consumers. Small business owners who want to be competitive in 2017 and beyond should check whether their existing website is responsive (i.e., it adapts to look right on any device, including a mobile phone).
Currently, more than half of all visitors to GoCentral websites (eCommerce or otherwise) are using a mobile device. Small business websites need to be mobile-friendly not only to provide a better experience for website visitors, but also to land more traffic.
Mobile-preneurs in cities like St. Louis, Detroit and Dallas are early adopters when it comes to building and managing a website on mobile. As more people become accustomed to performing routine business tasks like banking on mobile phones, the appetite for mobile business solutions is sure to grow. Will you be ready?
Image by: Francisco Diez via VisualHunt.com / CC BY