Tricks and treats for geeks
It's that time of year again – the time when we feed our inner child and dress up in costumes and munch on so much candy we put our teeth and our waistlines in jeopardy. Yup, Halloween is here. This season, we've come up with some ideas that speak to both our love for Hallow's Eve festivities and our undeniably nerdy side. Break out the ghouls and pumpkin décor, dress up in one of this year's trending costumes, and start the horror movie marathon as we unwrap some awesome tricks and treats for geeks!
Tasty treats
While some might be partial to candy corn and others to chocolate bars, there is one thing we can all agree on: we need more techy treats! This Halloween, don't just pass out the candy to neighborhood kids, pay your inner-geek some attention with these nerdy finds.
1. Morph DigitalDudz
A free app for iPhone and Android that brings your clothing to life. It functions almost exactly like it sounds. It's a must-have for this year's most astonishing costume. You can paint on a scar or create a gaping gash out of makeup, but nothing is more lifelike than the beating organ display you get with this app. Just download it to your phone, slip it into a shirt pouch (which you can get online as part of a costume), and set it to go. The squishy sound of an organ not enough? Don't worry, you can pick from an array of videos featuring maggots, snakes, gears and more. Watch this video to see it in action:
2. Proton Pack splendor
Dr. Egon Spengler: There's something very important I forgot to tell you.

Dr. Peter Venkman: What?

Dr. Egon Spengler: Don't cross the streams.

Dr. Peter Venkman: Why?

Dr. Egon Spengler: It would be bad.

Dr. Peter Venkman: I'm fuzzy on the whole good/bad thing. What do you mean, "bad"?

Dr. Egon Spengler: Try to imagine all life as you know it stopping instantaneously and every molecule in your body exploding at the speed of light.

Dr Ray Stantz: Total protonic reversal.

Dr. Peter Venkman: Right. That's bad. Okay. All right. Important safety tip. Thanks, Egon.
If you don't watch Ghostbusters at least once this Halloween season, then you're not worthy of emulating one of the ghost-busting characters from this classic flick. You'll miss out on the chance to put on the tan jumpsuit and stage a scene with ghastly specters. The best part?  The proton pack, of course. You can't defend your friends and family from apparitions if you have no way to make them disappear. If you want the professional-grade, kick-assery that comes with a state-of-the-art proton pack, you can buy one for a pretty penny. Already have a start-up in the works? You can get individual parts to finish your pack with a bang. Or you can tap into your geekdom and build a proton pack with common household items. Like this:
3. Loot Crate
This nifty website truly is the cream of the crop when it comes to geeky treats. Each month, subscribers receive a crate filled with nerdy treats that follow a trending theme. Check it out to see this month's theme:
Tremendous tricks
There's nothing wrong with a harmless prank. We know all too well that our offices are filled with sneaky tricksters and clever pranksters, so here are some office-friendly ways to show your colleagues just how silly you can be.
Please note: Some of these shenanigans involve working with a computer's operating system and/or configuration. Please abstain if you're not confident in your ability to execute. Even an innocent prank paved with good intentions can cause more harm than good.
1. The IE User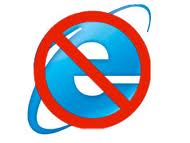 We all know them. And we stare in confusion when we see them open the deadly blue "E" on their desktop. Why, why must you continue to use such inferior technology? Well, for those of you who have an old-fashioned friend, here's a surefire way to make them rethink Explorer: Set it so that every time he clicks on his IE icon, his system will restart! All you have to do is right-click on the icon and change the target to "%windir%\system32\shutdown.exe -r -t 00" and watch the magic happen. Click here for more detailed instructions and other nifty IT tricks.
2. Frozen (and not the Elsa/Anna kind)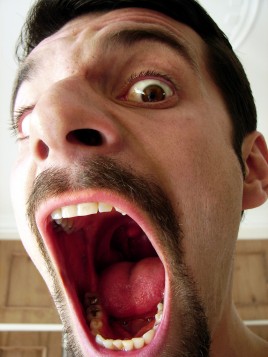 I'm guilty of pulling this prank on my roommate, and he had himself a good ole fashioned freak-out. It's easy-peasy and for those who are easily flustered, it's definitely a funny one to pull. Just take a screenshot of their computer desktop screen exactly as it appears. Then, remove all of the icons on the desktop and change the background image to that of the screenshot you just took. Next time your friend sits down to work, he'll be frantically clicking around, restarting his computer, and pulling his hair out in frustration. It's awesome.
3. What did my mom just say?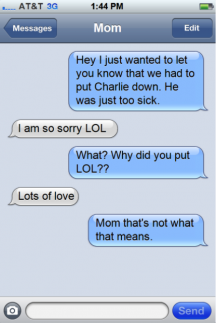 Mom: Had a great time last nite hon ;)
You: Mom?
You can imagine where the conversation could go from there. If you can get into your friend's phone, you can really mess with her mind! Open the contact info for someone important, like her mother, then simply change her phone number to your phone number. Most phones these days don't show the number when you get a text message, just the name of the contact. Be sure to switch the phone number for your contact, too. This might be a short-lived prank, but it will be sweet while it lasts.
Want more fun trickster ideas? There are a variety of sites like IT World, How-To Geek, and Lifehacker that are filled with geeky ideas for teasing your office family. You might come across some duplicates in there, but all-in-all you'll find yourself cackling with humor from these awesome tricks. We hope you enjoy your spooky holiday with a splash of nerdy fun.
Do you have a favorite geeky trick or treat? Please share in the comments!