Use an email sign up form to maximize email list growth
An email sign up form is the most powerful tool for collecting email addresses. It's accurate, meets permission-based standards, and is mostly hands-free for you! You can literally grow your email list while you sleep. If you recognize the value of sending email newsletters, growing your email list is also one of your goals.
Let's go through the basics and the best locations for a form to maximize email list growth.
What is an email sign up form?
An email sign up form is the form on websites or blogs that allows one to sign up for an email list. It's usually a box in the sidebar with (at least) an "Email" field. Email sign up forms are also called web forms,webforms and signup forms.
Wait, remind me why an email sign up form is awesome?
Email sign up forms are the gold standard for gathering opt-in contacts. By entering their email address, a contact actively agrees to receive your newsletter. That's fantastic because contacts who sign up to hear from you are healthy and most likely to engage with the content you send.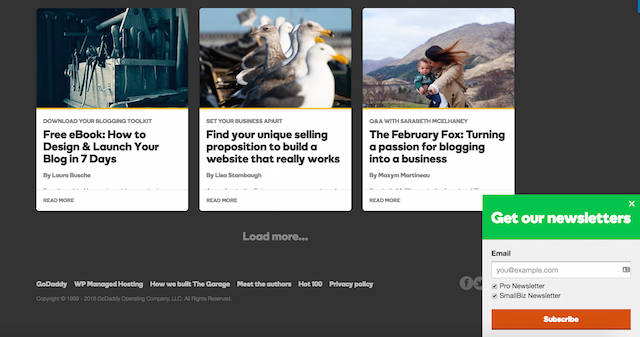 If you offer an email sign up form, you're effortlessly building your readership. More readers mean more engagement, more community and more business. If you don't offer an easy way to sign up, it's unlikely visitors to your website will reach out and ask to be added to your email list. Basically, if you use an email sign up form, they will come. It stands to reason, the more places you give people an opportunity to sign up, the more sign ups you'll get.
Where do I put it?
You can embed or link to an email sign up form almost anywhere you have an internet presence! Here are the most effective options :
A prominent place on your website or blog – Embed a webform on your homepage, in your sidebar and on your "Contact" page. Add one wherever you think the most visitors to your site will see it, with a winsome note to join your email list!
Facebook – They provide a specific place for a sign up form. You can also share the link to a form on your timeline.
Share on social media – It's a great idea to share the link to your email sign up form on your social media channels regularly. Tweet it, too! You'll catch new visitors.
In emails – Make the link to your webform part of your email signature, or include it inline in personal emails.
Are you sure this won't be too scary?
If you're not using an email sign up form because you're intimidated by unknowns – Do I have to mess with my site? Do I need to know HTML? What does "embed" mean? – it's time to power through! You're working really hard to drive traffic to your website or Facebook page, so it's a no-brainer to give these visitors the opportunity to become subscribers.
Email service providers, like GoDaddy, offer webforms and integrate with a ton of other webform providers, so there really is a fairly painless solution out there for you.
We have a team of webform gurus to help you get a form on your site – or we'll help you integrate your existing form to your GoDaddy audience lists. The goal is to link your webform with your GoDaddy audience lists, so that new sign ups are automatically added to your lists and all you have to think about is creating engaging content.
Get started by reading through these related documents :
Editor's note: GoDaddy GoCentral's Email Marketing feature helps turn visitors into customers with tools to easily create, send and track professional email campaigns.