Use Pinterest to inspire and engage customers
My favorite thing about the popular social media site Pinterest® is the idea sharing that's inherent to the site's success. Every time I log on, I'm inspired to do something out of the ordinary. Make cupcakes shaped like flowers. Start a dance exercise routine. Go camping. I'm constantly impressed with what I find from both individuals and small businesses — the creativity is endless!
While you might consider Pinterest little more than as a way for friends to share secrets about the best cupcake recipe, it's actually an excellent tool for small business owners to communicate with their customers and build their brands. We've talked about using Pinterest for business before, but there's so much you can do with this platform that it's worth taking another look.
Pinning for inspiration and engagement
As I mentioned, jumping on Pinterest is a great way to find inspiration, and even stir your company's creative juices. Businesses across the board are seeing the value in using this media sharing format to connect with their target audience. Take a look at Caribou Coffee.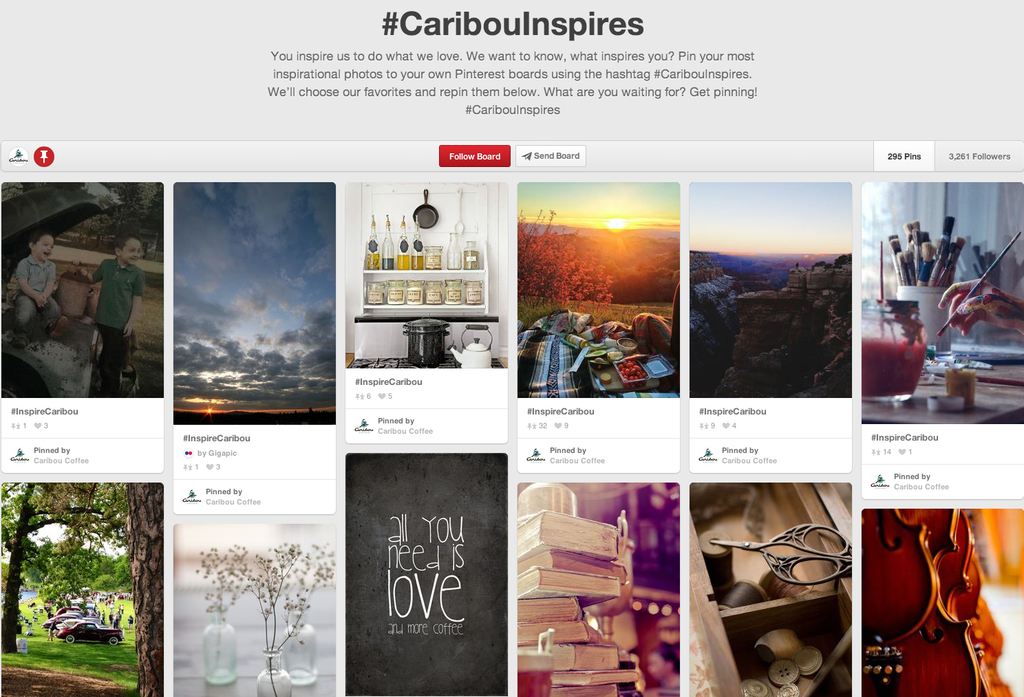 Caribou fills its Pinterest pages with all sorts of fun stuff, but this company's social inspiration for other businesses stems from its use of Pinterest to engage customers. Here's what Pinterest has to say about Caribou's success on the platform:
"Caribou started using Pinterest to inspire customers, filling their board with pins worth staying awake for. They'd share memorable quotes, inspiring photos, their favorite flavor combinations and coffee drinks and great Pins they curated from other Pinners. But Caribou also wanted to be inspired by their customers, so in preparation for launching their newest coffee, Real Inspiration Blend, they asked their Pinterest followers to help. Pinners added inspiring images with the hashtag #InspireCaribou on Pinterest, and Caribou looked at the Pins to decipher what the new blend should be…"
Caribou's pages suddenly started filling with all sorts of images that Caribou Coffee customers believed represented their idea of coffee. And that's the kicker — what inspires customers is what sells. And customers felt vested in Caribou's new blend because they helped to inspire it.
Pinterest gives businesses the opportunity to connect with customers through compelling visual content, to understand their point of view, and to build and promote the brand based on real-time feedback.
Make Pinterest work in your interest
Pinterest is all about pictures, so to leverage this site successfully you'll need to take a visual approach to interacting with customers and marketing your business. Be creative. Find a different way of looking at your business. Would you normally make a connection between coffee and water running over pebbles? Caribou did — and it works. There's nothing wrong with following other businesses for your own Pinterest inspiration. See what seems to be working, and put your own twist on it.
As you explore Pinterest, look for other businesses you'd consider influential in your industry. Follow them. Like their Pins. Post meaningful comments. By authentically supporting the influencers who inspire you, you're likely to gain a bit of Pinterest traction from their audience.
Also, keep Pinterest in mind when you're adding images to your business website. People love to share what interests and inspires them on their own Pinterest pages, so you want to make the images on your site highly Pinnable (here are some tips for creating Pinterest-friendly images on WordPress@ sites) and easy to share. Add a Pin It button (even with a Hover Pin option) to your site for one-click sharability.
[advertisement id="28770″]
There are plenty of hints and tips out there for getting the most out of Pinterest. After you mine the Pinterest for Business Getting Started section for useful info, check out this tip-filled Social Media Examiner article. It's awesome.
Happy Pinning!